10 Print Ad Campaigns That Will Inspire You
Nab some inspiration for your next print ad from some of these creative campaigns.
Ever since the birth of advertising, some of the most innovative minds have strived to create designs that would appeal to the collective.
Good design is judged on universality, which is a requirement in any form of advertising, since the end goal is to convey your message to as many people as possible.
Here are 10 examples of renowned print advertisements that showcase the creative minds behind the brands. You can view 192 more creative ads here.
1. Fanta's "Tastable" Print Advertisement
The new Fanta campaign boasts the title as the first tastable print advertisement. This means that you tear a piece of their advertisement and place it in your mouth. Of course, you can do that with any advertisement but this once tastes like oranges, similar to their signature soft drink. The advertisement, created by OgilvyOne in Dubai, reads, "Like a burst of sunshine through a cool wisp of wind, it's sweet and tangy, surprising and juicy. It tickles like a delicious secret that you cannot bear to share". You can see how it all works in the following video:
2. Volkswagen "Car Key"
To convey the message across to their potential customers that they could be getting 620 miles out a single tank of fuel with their Amarok range, ad agency Below, developed a series of print advertisements to invite people to turn on to adventure. The creative concept, features three images with the groves of the car keys shaped to appear like a city, safari and mountain landscape.
3. McDonalds "Whole Potato"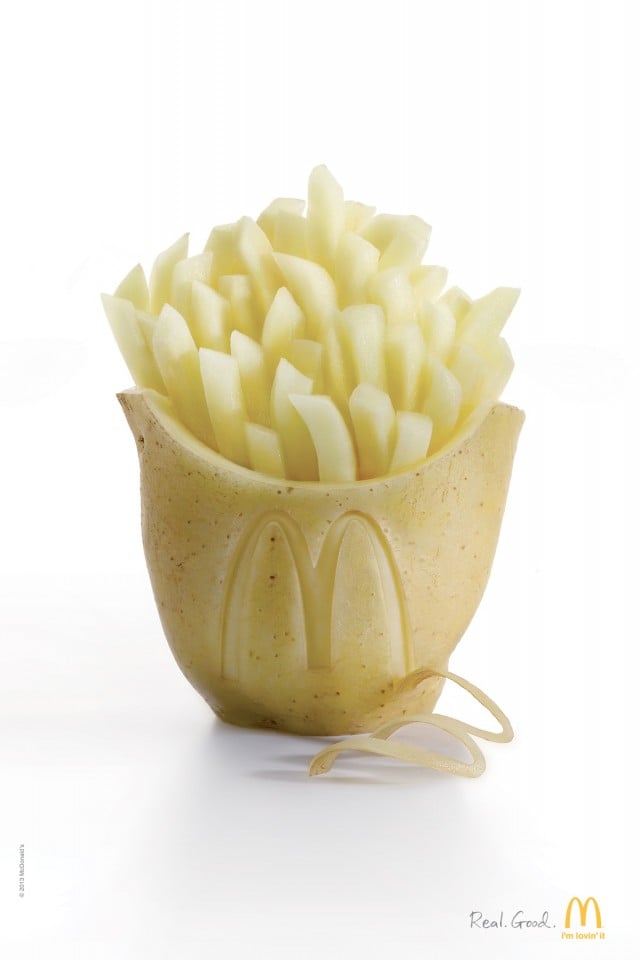 Leading fast food restaurant, McDonalds, teamed up with Shanghai's TBWA to create another new and innovative advertisement to convey their latest offering to their customers. This time, the advertisement collection features a box of fries, carved directly out of the very ingredient from which they are made.
See the other seven ads here.