Be Warned: Angry Customers Going Berko!
Ben Motteram, a Melbourne-based customer experience specialist, says an angry customer ranting on social media can have serious and long-term consequences for businesses who don't take immediate action.
Social media has effectively turned customers into broadcasters. We all know the old statistics that a satisfied customer will tell 2-3 people about their experience with a company while a dissatisfied consumer will tell 8-10. Platforms like Facebook and Twitter where a post or tweet can be shared thousands of times have amplified those numbers exponentially.
Over the last few years we've seen a lot of damage to brand equity when a dissatisfied customer took to social media and then went viral. In today's post I want to look at something a little different though. These next few customers were so frustrated by their experiences with companies that they actually spent considerable amounts of time and/or money to vent their anger with the intention of damaging that company's brand.
United Breaks Guitars
As he was sitting on the tarmac waiting to disembark his Delta Airlines aeroplane, Dave Carroll looked out the window to see luggage handlers throwing his band's guitar cases around as they were being unloaded. Upon discovering that his $3,500 Taylor guitar was broken as a result of this, he complained to the airline.
The airline's response was less than sympathetic: they claimed he had waited longer than 24 hours to process a claim, and was therefore not eligible for compensation. For nine months, Dave went backwards and forwards with United trying to his claim processed. The response was always a firm and consistent "no."
Eventually, frustrated at United's response, Dave took the time to write a catchy little song called, you guessed it, "United Breaks Guitars".
It went viral and within four weeks, United's stock price had dropped by 10% – a decrease in valuation of $180 million.
As of this morning, the song has now had over 15m views on YouTube. Add to that the press coverage that has since accompanied its release and this has been a public relations disaster for United.
Don't Fly @BritishAirways
United isn't the only airline to be publicly humiliated by an angry customer though. When British Airways lost the luggage of Hasan Syed's father and then neglected to reply to emails, Hasan didn't just vent his dissatisfaction to his 500+ followers. No, Hasan paid US$1,000 for some promoted tweets.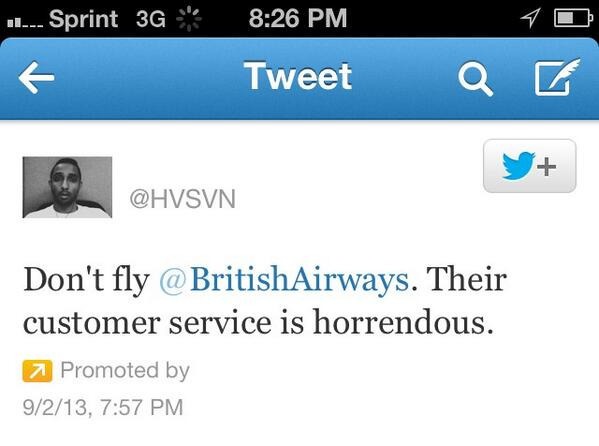 In addition to this, he tweeted "BritishAirways is the worst airline ever. Lost my luggage & can't even track it down. Absolutely pathetic." and  "Thanks for ruining my EU business trip #britishairways. I shouldn't have flown @BritishAirways. Never flying with you again."
He targeted his ads at all 302,000 followers of British Airways and vowed to continue running the ads until "BA fixes this mess."
Eight hours after the first tweet and after the tweet had been picked up by news sites, the airline meekly tweeted back, "Sorry for the delay in responding, our twitter feed is open 0900-1700 GMT."
That was back in September, 2013. BA's twitter account (now @British_Airways – I wonder if this episode was the reason they changed their handle?) now proclaims "We love reading your tweets & are here 24 hours a day, 7 days a week to help."
Bad News Billboard
George Prokas bought a phone for his son from South African telco Cell C in 2013. Unfortunately for Prokas, the phone's number belonged to someone else, who ran up a bill of R5,000 (just over A$500) by the time it was detected and fixed.
Prokas was unaware of the unpaid bill until he tried to buy a car earlier in 2014 when he was told he was listed as a bad debtor. He sought to have the bill waived by Cell C and to be removed from the list of bad debtors but got nowhere with the company.
One of his employees explains what led to his next action:
"We tried every which way to get hold of somebody, anybody to speak to at Cell C to explain to Cell C what the problem was, and we were stonewalled all the way. We could never get through to anybody senior; we eventually got one e-mail address but they block all the other e-mails and when we couldn't get any further my boss sat me down and said 'this is what they do to every little man out there, I've got money! On behalf of everybody watch me I'm gonna put up a board and then we'll see what they do'."
In early November, 2014, put up a board he did. On a busy intersection in Sandton, just outside of Johannesburg, Prokas paid R61,000 (~A$6,500) to have a huge billboard erected claiming that (in his opinion – this was in very small writing) Cell C was "The most useless service provider in SA". For good measure he included the name and phone number of the Franchise Manager who in his opinion had been unhelpful.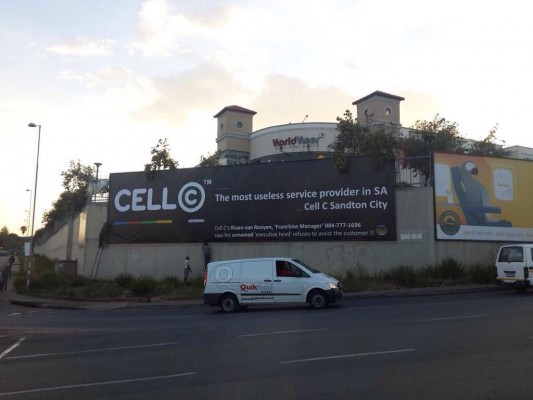 Rather than try to solve the customer's problem, Cell C chose to fight him in court taking legal action against Prokas and the World Wear shopping centre to have the banner removed. They lost and were ordered to pay Prokas' legal costs. The billboard remained up.
After much publicity, the CEO has since expressed his disappointment that the company failed its customer.
Hijacked Domain
When HSBC sold Christopher George what he thought was unnecessary insurance on a business loan that in his words played "a part in the demise of (my) business", he took matters into his own hands.
In September 2014, George trademarked the domain name for HSBC's original name, The Hong Kong Shanghai Banking Corporation, and set it up as a sperm bank.
thehongkongandshanghaibankingcorporation.com is no longer active but George says his point was made:
"Many people in my position would have no idea how to stand up for themselves against a financial behemoth such as this –- but in registering this domain name, I have proven that there are ways in which these banks can be got at, in the most public manner."
These are just 4 examples of extreme measures that customers have taken to right perceived injustices. In each case their stories went viral, got picked up by the media and the brand damage was enormous.
If your company has policies that could to lead to this type of anger (and with rigid, non-customer-focussed policies this is often the case), I don't need to tell you how important it is that you have escalation processes that will deal with customer complaints before they get to this point.
In today's hyperconnected world its a must.
When it comes to New Zealanders, are they really just glorified Tasmanians who are much better at sport?
Google lumped with latest $100 million-plus fine. Which, when it's all said & done, is like 50 cents to the rest of us.
Much like navigating the single-malt whiskey menu at Rockpool, Thursday night TV proves a tricky one for network bosses.
Image lead story
The Avid Collective MD reveals his life pre-adland. As exciting as it is, it's not international playboy spy & Lothario.
Aussie adland in strife over some of its 'green' claims. By that we mean environmental claims, NOT fibrous vegetables.
The only thing B&T would love more than a chat with Rod Prosser would be a game of squash. Yes, he's a 'yellow dot' man.
Take B&T's trivia quiz for your chance to win a $100 booze voucher and possible cirrhosis of a major internal organ.
As the Latins famously say "in vino veritas" or "in wine, there is truth". And, truthfully speaking, B&T hated this ad.
Think the month leading into Christmas is all Curtis Stone's Christmas prawns? It's Apple to the rescue today, readers.
Do you have "litterbug" on either your resume or LinkedIn profile? Change your trashy ways immediately on this news.
B&T warns this article contains language readers may find offensive. And by that we don't mean Elon Musk.
The Gold Coast is Australia's "glitter strip". That is if you think bogans, bikies & personal trainers are "glitter".
SenateSHJ has launched a new digital, data and insights capability designed to help clients tackle the growing complexity of communication challenges. SenateSHJ Digital, Data and Insights (DDI) will combine the firm's existing Digital and Insights functions to create a Trans-Tasman capability focused on digital communication, and the generation and use of data to improve communication. […]
Want to make yourself the most despised person in the office? Read on with the launch of Taylor Swift radio.
B&T's chatting with outdoor supremo, QMS' John O'Neill. Eerily the outdoors never got mentioned in any small talk.
There are now stricter ad rules applying to kids. Yet, nothing a bottle of Fanta & a box of Froot Loops can't fix.
Creative technology platform Bonzai has announced the launch of BrandStory – a new premium mobile ad format. BrandStory offers triple the ad space and 2.8 times greater time in view than single scroll ad formats, addressing the surging demand from brands worldwide for more real estate to drive real results by seamlessly intertwining awareness, exploration […]
The corgis, anyone in the Palace with a funny hat & even Camilla off the hook, as Piers delivers royal racist dirt.
Mrs McGuire reportedly unhappy about Eddie loafing about the house after Nine cans Hot Seat.
B&T went through the looking glass this morning, with editor-in-chief David Hovenden (above) appearing on Channel 7's The Morning Show to get the general public involved in our search for Australia's Greatest Ad. Hovenden chatted with Kylie Gillies and stand-in host Matt Doran about what makes a great ad and showcasing some of our favourites […]
They're the ones with the best hair and the whitest teeth! Yes, it's adland's top 10 directors of first impressions.
The science is not in question – smarter people than I, with far more data, have codified it. The logic is not up for grabs…it makes sense that creating mental shortcuts to your brand keeps you at the top of your mind. Lead image: Kate Smither – Owner, The Tall Planner I wouldn't even take […]
Two Australian-born technology providers have joined forces to bring more power and choice to marketers in Australia and New Zealand with mobile messaging that is more local, cost-effective, and integrated. It's a partnership that sees two Australian software companies come together to deliver a world-class mobile-first solution for marketers building data-driven, personalised, omnichannel campaigns. While […]
Seven's Luke Smith quits for PubMatic. However, he's still in line for one of James Warburton's annual Christmas hams.
Snap Inc. has announced a number of new recruits. B&T unaware if it positively impacted SEEK's share price.
Think AM radio has a bit of an angry boys' club feel? It's not improving things with this news.
This will be of interest to any Reddit fans, graphic designers or lovers of an orange so bright it burns the retinas.
Hopefully this news will get you in the Christmas spirit. Either that or go and stand in Westfields for nine hours.
Zitcha and Broadsign have teamed up to integrate the Broadsign out-of-home (OOH) advertising platform with Zitcha's retail media platform. The collaboration empowers retailers to maximise and monetise in-store digital display networks and enables advertising partners to easily view and book available in-store inventory and review campaign performance alongside the retailer's other media channels. With the […]
B&T's vote for Australia's greatest-ever ad is much like the recent referendum sans the mudslinging and Kamahl.
If there's one sport in the world that's thumbing its nose at global emissions, it's probably drag racing.
Print's not merely an excellent vehicle for brands, it's also perfect for getting the barbecue alight for the sausages.
Today, 7-Eleven has announced a one-of-a-kind collaboration with the popular Sydney-based anti-resort wear label Double Rainbouu. Dropping tomorrow, December 1, just in time for summer, this limited-edition capsule will infuse the fashion brand's rebellious spirit with a distinctly iconic 7-Eleven flavour. The unisex collection features five must-have styles comprising two signature Hawaiian shirts, a peaked cap, a bucket hat […]
Work in media? Want to cover next year's Cannes In Cairns? There'll be no free piña coladas without this form.
In-housing is definitely an industry hot button topic. Admittedly still a long way behind office affairs.
Who doesn't love the out of home medium? Apart from the very real chance of being shat on by a bird.