Be Warned: Angry Customers Going Berko!
Ben Motteram, a Melbourne-based customer experience specialist, says an angry customer ranting on social media can have serious and long-term consequences for businesses who don't take immediate action.
Social media has effectively turned customers into broadcasters. We all know the old statistics that a satisfied customer will tell 2-3 people about their experience with a company while a dissatisfied consumer will tell 8-10. Platforms like Facebook and Twitter where a post or tweet can be shared thousands of times have amplified those numbers exponentially.
Over the last few years we've seen a lot of damage to brand equity when a dissatisfied customer took to social media and then went viral. In today's post I want to look at something a little different though. These next few customers were so frustrated by their experiences with companies that they actually spent considerable amounts of time and/or money to vent their anger with the intention of damaging that company's brand.
United Breaks Guitars
As he was sitting on the tarmac waiting to disembark his Delta Airlines aeroplane, Dave Carroll looked out the window to see luggage handlers throwing his band's guitar cases around as they were being unloaded. Upon discovering that his $3,500 Taylor guitar was broken as a result of this, he complained to the airline.
The airline's response was less than sympathetic: they claimed he had waited longer than 24 hours to process a claim, and was therefore not eligible for compensation. For nine months, Dave went backwards and forwards with United trying to his claim processed. The response was always a firm and consistent "no."
Eventually, frustrated at United's response, Dave took the time to write a catchy little song called, you guessed it, "United Breaks Guitars".
It went viral and within four weeks, United's stock price had dropped by 10% – a decrease in valuation of $180 million.
As of this morning, the song has now had over 15m views on YouTube. Add to that the press coverage that has since accompanied its release and this has been a public relations disaster for United.
Don't Fly @BritishAirways
United isn't the only airline to be publicly humiliated by an angry customer though. When British Airways lost the luggage of Hasan Syed's father and then neglected to reply to emails, Hasan didn't just vent his dissatisfaction to his 500+ followers. No, Hasan paid US$1,000 for some promoted tweets.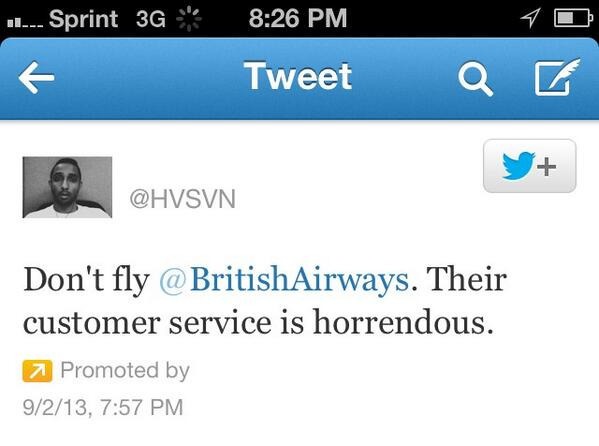 In addition to this, he tweeted "BritishAirways is the worst airline ever. Lost my luggage & can't even track it down. Absolutely pathetic." and  "Thanks for ruining my EU business trip #britishairways. I shouldn't have flown @BritishAirways. Never flying with you again."
He targeted his ads at all 302,000 followers of British Airways and vowed to continue running the ads until "BA fixes this mess."
Eight hours after the first tweet and after the tweet had been picked up by news sites, the airline meekly tweeted back, "Sorry for the delay in responding, our twitter feed is open 0900-1700 GMT."
That was back in September, 2013. BA's twitter account (now @British_Airways – I wonder if this episode was the reason they changed their handle?) now proclaims "We love reading your tweets & are here 24 hours a day, 7 days a week to help."
Bad News Billboard
George Prokas bought a phone for his son from South African telco Cell C in 2013. Unfortunately for Prokas, the phone's number belonged to someone else, who ran up a bill of R5,000 (just over A$500) by the time it was detected and fixed.
Prokas was unaware of the unpaid bill until he tried to buy a car earlier in 2014 when he was told he was listed as a bad debtor. He sought to have the bill waived by Cell C and to be removed from the list of bad debtors but got nowhere with the company.
One of his employees explains what led to his next action:
"We tried every which way to get hold of somebody, anybody to speak to at Cell C to explain to Cell C what the problem was, and we were stonewalled all the way. We could never get through to anybody senior; we eventually got one e-mail address but they block all the other e-mails and when we couldn't get any further my boss sat me down and said 'this is what they do to every little man out there, I've got money! On behalf of everybody watch me I'm gonna put up a board and then we'll see what they do'."
In early November, 2014, put up a board he did. On a busy intersection in Sandton, just outside of Johannesburg, Prokas paid R61,000 (~A$6,500) to have a huge billboard erected claiming that (in his opinion – this was in very small writing) Cell C was "The most useless service provider in SA". For good measure he included the name and phone number of the Franchise Manager who in his opinion had been unhelpful.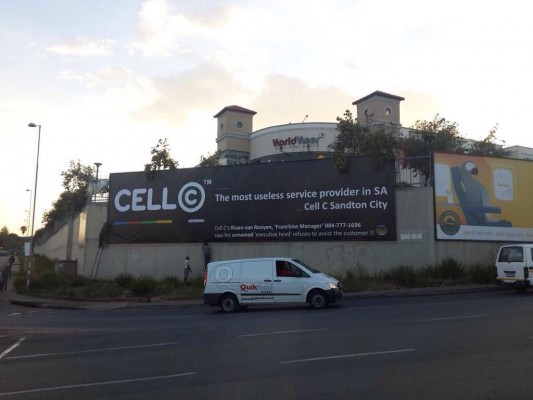 Rather than try to solve the customer's problem, Cell C chose to fight him in court taking legal action against Prokas and the World Wear shopping centre to have the banner removed. They lost and were ordered to pay Prokas' legal costs. The billboard remained up.
After much publicity, the CEO has since expressed his disappointment that the company failed its customer.
Hijacked Domain
When HSBC sold Christopher George what he thought was unnecessary insurance on a business loan that in his words played "a part in the demise of (my) business", he took matters into his own hands.
In September 2014, George trademarked the domain name for HSBC's original name, The Hong Kong Shanghai Banking Corporation, and set it up as a sperm bank.
thehongkongandshanghaibankingcorporation.com is no longer active but George says his point was made:
"Many people in my position would have no idea how to stand up for themselves against a financial behemoth such as this –- but in registering this domain name, I have proven that there are ways in which these banks can be got at, in the most public manner."
These are just 4 examples of extreme measures that customers have taken to right perceived injustices. In each case their stories went viral, got picked up by the media and the brand damage was enormous.
If your company has policies that could to lead to this type of anger (and with rigid, non-customer-focussed policies this is often the case), I don't need to tell you how important it is that you have escalation processes that will deal with customer complaints before they get to this point.
In today's hyperconnected world its a must.
Verizon Media's talent program has come to an end for the third year, closing with a hybrid pitch-off event for Musicians Making A Difference (MMAD). The Verizon Media Academy class of 2021, made up of 44 emerging leaders from across Australia and New Zealand media, advertising and marketing industry, were given just one hour to […]
Facebook has announced the expansion of initiatives focused on increasing transparency and controls around social issues, electoral, and political ads in Australia. According to a blog post from Facebook, while political ads play an important role in every election, customers have said they want the option to see fewer of these on their Facebook and […]
Advertising

Marketing

Media
Social purpose organisation UnLtd's Big Games competition has raised a combined $85,000 for children and young people at risk. Running over five weeks, the competition involved 32 teams from across the advertising, marketing and media industries battling it out virtually for a chance to qualify for the Rocket League final. The tournament culminated in a […]
Stan has announced that the Stan Original Film Transfusion commenced filming in Sydney earlier this week and will premiere on Stan in 2022. Transfusion is a taut, muscular thriller starring Sam Worthington (Avatar) as Ryan Logan, a former Special Forces operative, who is battling to cope with life after the loss of his wife and is thrust […]
This has all the hallmarks of an episode of 'The Love Boat', sans one of Issac's daiquiris and an unwanted STI.
According to a decade of data collected by iStock, Australian brands turned to imagery depicting outdated gender stereotypes during the pandemic. Tracking the keyword 'women', iStock by Getty Images found that in 2020, ANZ brands and businesses reverted to gender stereotypes. Images of mothers home-schooling were used at almost twice the rate of images of […]
Advertising

Marketing

Media

Technology
Consider this our FINAL WARNING about Best of the Best entries. Well, at least until we remind you again next week.
B&T warns this article comes with a number of puerile schoolboy jokes.You'll almost get afternoon detention reading it.
Big news out of Melbourne today. A new GM for Saatchi & Saatchii & someone spotted in Flinders Street not wearing black.
Schwartz Media is congratulating Maddison Connaughton on her three years as editor of The Saturday Paper. Connaughton has decided to finish up her editorship this month. "It's been an honour to edit the paper," Connaughton said. "The Saturday Paper is one of the brightest voices in Australian media and I have been happy to see […]
As domestic travel booms, AUSTRALIAN GEOGRAPHIC has partnered with Tourism Australia. Together, they have produced a special edition that reveals the nation's best-kept secret locations across all states and territories. The collaboration highlights the hidden gems on our roads less travelled, expanding tourism into many places that will no doubt welcome a boost to local […]
On Thursday night's MasterChef ep, the chefs were tasked with cooking with classic culinary staple two-minute-noodles. Instead of serving them with a handful of shredded cheese and plenty of watery, dubiously beef-y 'soup' (as is the B&T preferred method), the chefs had to use the noodles to make something new. To a bonafide two-minute-noodle lover, that […]
Oliver Carthy appointed Carat's new head of digital and unofficial de-jammer of paper jams in office copier.
Research from EdBbirdie using Spotify data has identified the most popular songs to study to. After analysing thousands of studying and homework playlists on Spotify, American singer Olivia Rodrigo's 'drivers license' came out as top song to study to. It featured on 48 study playlists, while other top songs included 'Ophelia' by The Lumineers, 'Falling' […]
Oasis want to sell their back catalogue to advertisers. And to be fair, you'd pick up their last few albums very cheap.
Nine has announced a record six major sponsors for the 2021 season of adrenaline charged Australian Ninja Warrior. Leading health insurer AIA Australia joins Nutri-Grain, ALDI, Energizer, KFC and Bendigo Bank. Season five of Australian Ninja Warrior premieres Sunday June 20 and will feature innovative, bespoke in-show branding that compliments both the editorial of the […]
Cannes Lions has published its entry numbers ahead of Cannes Lions Live, which will run from June 21-25. 29,074 pieces of work have been entered from 90 countries, with entries spanning two years after the awards were paused due to the global pandemic in 2020. Simon Cook, managing director, LIONS, said that this was a […]
Dayna Stewart is the Business Director – Digital Marketing, Media & Creative Services at The Nudge Group. Here, she discusses the challenges that come with building a successful marketing team when working remotely. Before COVID-19 changed the way businesses work, most marketing teams spent their days together in a meeting room collaborating on the next […]
The line-up for the 2021 iHeartRadio Music Festival has been announced as the legendary event returns live in Las Vegas in September. This year, the epic two-day lineup for the iHeartRadio Music Festival main stage will feature performances by Billie Eilish, Cheap Trick, Coldplay, Dua Lipa, Florida Georgia Line, Journey, Khalid, Lil Baby, Maroon 5, Nelly, […]
Why fall backwards into the arms of colleagues to improve career development when there's this concussion-free read.
Shop! ANZ is calling on shopper and retail marketing professionals from all retail related disciplines to participate in the first ANZ Shopper and Retail Marketing Industry Survey in four years. This important research provides a guide of where the retail marketing industry in Australia and New Zealand has come from and what is anticipated to […]
In this guest post, Ania Kubiak (main photo), A/NZ country manager at Lucid, offers her tips on how to align your brand with customers' fast-moving expectations… In today's digital world, the speed at which consumers' perspectives and opinions on political and social environments is changing faster than ever before. Consumers are inundated with new information […]
Woolies' media business Cartology unveils new appointments. B&T notes it also had a good deal on Tim Tams at the moment,
The broom continues to go through WPP's local operations. Yet, not where it's most needed - the dusty skirting boards.
Akcelo has launched an innovative gaming experience to showcase Tribeca's Official Selections and celebrate the inaugural Tribeca Games Award at this year's Tribeca Festival.
Pinterest reveals what Ys & Zs are shopping for online. And if you're thinking peacocks or fez hats, you'd be wrong.
In a further blow to the Catholic Church, the CNN masturbator has returned to work and has reportedly not gone blind.
Unlike many "celebrity" reality TV shows, 10's Celebrity MasterChef does appear to have actual bona fide celebrities.
For your reference, Hansen Yuncken is a construction company and not some weird European ice-cream brand.
B&T would be surprised if they don't turn the Ben Roberts-Smith case into a movie. Or musical starring Hugh Jackman.