Victorian Taxis Throws More Poo At The Fan, Tweets About Remembrance Day
Victorian Taxis have piggybacked off Remembrance Day to remind people that veterans catch taxis, because the whole #YourTaxis debacle wasn't enough of a PR disaster.
This week the Victorian Taxi Association (VTA) decided to start a discussion about people's taxi stories, which understandably didn't get the response the VTA was expecting but what we were all thinking.
To follow from this hashtag mess, the Your Taxis twitter account tweeted this yesterday: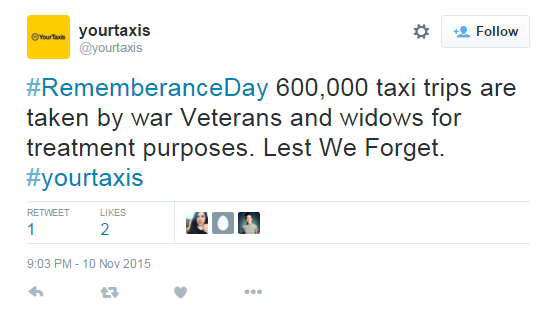 The tweet has since been deleted, but the damage was done:
.@VeronicaDrake @yourtaxis Newsjacking Rememberance Day for marketing. Holy shit they just keep digging.

— Nelli Huié (@nellihuie) November 11, 2015
@yourtaxis just stop tweeting. Just stop. — Josh Popow (@popow) November 11, 2015
@KenMcAlpine @HappySinger Obviously not fresh in @yourtaxis's memory.

— E. Bearington-Smythe (@beebearninja) November 11, 2015
@yourtaxis another one? This just keeps getting better (read: worse) #YourTaxis — Lep Beljac (@LepBeljac) November 11, 2015
@LepBeljac @yourtaxis They should have learned the first time that the internet is forever 🙂

— Phillip Callan (@pmvcallan) November 11, 2015
The VTA released a statement and a tweet apologising for the mistake "The Victorian Taxi Association has apologised unreservedly for a tweet sent on behalf of the YourTaxis campaign that it does not believe displayed the appropriate level of respect to Australian servicemen and women and their families.
"The tweet was sent on the official @yourtaxis Twitter handle by an external supplier but the VTA accepts that it should have been reviewed and vetoed by its own staff. In order to minimise any unintended offence, the tweet in question was deleted immediately."
We've deleted an inappropriate tweet. We are reviewing our processes and will be issuing a media statement soon. — yourtaxis (@yourtaxis) November 11, 2015
Victorian Taxi Association apologises unreservedly over Rememberence Day tweet https://t.co/2GoJWdp3Sn

— taxi industry (@victaxis) November 11, 2015
But, as ABC Local Radio journalist Mark Colvin pointed out:
.@victaxis It's 'Remembrance', not 'Rememberence'. If you can't even get that right, there's no hope for you.

— Mark Colvin (@Colvinius) November 11, 2015
Tho hole just keeps getting bigger for Victorian taxis.