It Gets Worse For Pepsi, As Police Threaten To Sue Over Godawful Kendall Jenner Ad
If the global embarrassment and brand damage from Pepsi's ill-conceived Kendall Jenner ad wasn't bad enough, now comes news that police in the US aren't happy how they were depicted and are threatening legal action.
You've no doubt seen the ad (below) where Kendall leads a protest up to a line of fierce looking police who are soon won over with a can of fizzy drink. (However, a fan of the ad was B&T's editor-in-chief David Hovenden. You can read his take on it here.)
However, the San Francisco Police Department are now "investigating" the ad due to similarities with its own uniform and badges and those used by the actors in the ad. Check out each logo below: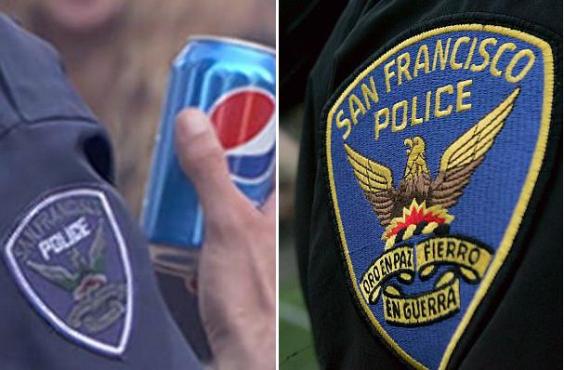 Robert Rueca, a spokesperson for the San Francisco Police Department, told the US ABC's Eyewitness News, "It's not 100 percent identical but it appears to be our patch."
The logo is never shown in the actual ad and only appears in the behind-the-scenes version. Still, the San Francisco Police Department wants to know if Pepsi was even given approval to use it.
"After our understanding that this occurred, we are investigating the matter," Rueca said.
The ad has since been pulled, with Pepsi issuing this following grovelling statement: "Pepsi was trying to project a global message of unity, peace and understanding. Clearly we missed the mark, and we apologise. We did not intend to make light of any serious issue. We are removing the content and halting any further rollout. We also apologise for putting Kendall Jenner in this position."