oOh! & Junkee's Student Study Busts Gen Z Buying Myths
The myths around buying habits of the often misunderstood Gen Z and the influence marketing has on them have been dispelled by a new, comprehensive study of young Australians conducted by oOh!media and it's youth publishing platform Junkee Media.
By combining the new research report Y Gen Z are Next – an oOh! and Junkee Media's report into Australia's youth – with Quantium's data, oOh! has found that young Australians have more disposable income and brand affinity than typically thought. 
The two rich data sources also show that the hard to reach Gen Z market, in particular students, are willing to connect with brands and are positively influenced by marketing, particularly branded content via social channels and Out Of Home media. This generation are not saving for a house or a car, they are saving and spending on life experiences.
Y Gen Z are Next, launched by Junkee at the Millennial Marketing Conference in Melbourne, found:
82% of Gen Z's get more local, national and international news from social media than newspapers and TV news programs

Facebook is their main social media channel – 99% of Gen Z use it every day

Snapchat is their second most used – 84% use it every day, with Instagram third at 79%

98% use their mobile phone to access news and entertainment content

78% have searched for information after seeing an OOH advert

14% of monthly income is saved for travel, while 8% of income is spent on fashion and 20% on events and entertainment

27% of students earn more than $30k per year

55% of full time students have a part time job, and 10% of part time students have full time jobs

4

0% rent a home, while 49% live at home (14% of those pay rent)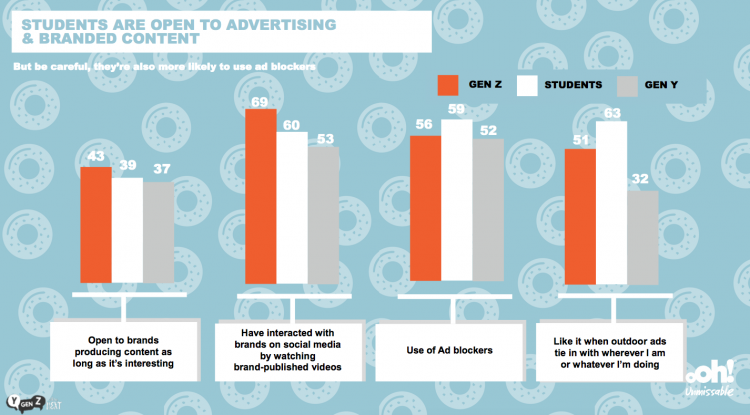 Using these insights and combining with Quantium data, shows that students: 
Like shopping for newer, modern brands with an online presence – 2.3x more likely to shop at Asos, 2.2x at UniQlo, and 1.9x at Zara.

·

Have a high affinity for budget-conscious travel brands like Hostel World (3.6x), Airbnb (1.7x), AirAsia (1.9x).

Stick to their budgets by buying in bulk and

 

there is a big opportunity for more established brands to engage with these audiences
 Michaela Chan, CMO of oOh!media, said the insights gained from the Y Gen Z are Next study combined with Quantium data, equips advertisers with the critical insights they need to know to create deeper connections with this audiences. 
"There used to be this perception that students don't spend money and are immune to marketing messages, but our research shows they are receptive to brand messages, just not in traditional ways, and their buying habits show they simply don't spend money the way young people did in the past.
"For example the study shows that they are more likely than other generation to engage with brands through social media, will consume branded content as long as it's relevant and interesting and are engaged by Out Of Home advertising – with 78 per cent of them saying they've searched for more information online as a direct result of seeing an Out Of Home ad. 
"Understanding the buying habits of young people, in this case students and using Quantium data, we can see that when compared to the average Australian, there's higher levels of spend for certain brands, particularly those that offer experiences like travel, live sporting events and music and food festivals. 
"They're also big drivers of the access economy and have a much lower affinity for brands in the hardware and home decorating space.
"Due to the exclusive nature of the Quantium data coupled with the Y Gen Z are Next insights, oOh! are the only Out Of Home provider that can paint a really vivid picture of the spending habits of these young Australians and in turn, allows advertisers to understand this audience on a much deeper level than was previously possible.
The Y Gen Z are Next research is a collaboration between oOh! Locate's Study offering, Junkee Media, and Pollinate Research. It is the largest research undertaking since oOh! acquired the Junkee Media business in 2016 and demonstrates oOh!'s strategy to become a new media player enabling marketers to engage with a broad range of audiences through a diverse range of platforms.
If Kyle Sandilands can make a semi-decent vax ad then it really can't be that hard, can it? Prove B&T wrong here.
Australian mental fitness charity Gotcha4Life is launching its most comprehensive communications platform via a national campaign produced by Initiative Studio. Gotcha4Life works to end suicide by delivering programs that create meaningful mateship, build emotional muscle and strengthen social connection in local communities. The charity was established as a not-for-profit foundation by media personality Gus Worland in 2017. https://vimeo.com/582293453/872cd42796 […]
One month into the new financial year, Melbourne-based agency Theory Crew has won four new clients across the beauty and FMCG divisions. New clients include the gourmet fruit spread range from France St. Dalfour; organic tea range Higher Living, new to market Australian baby skincare range from Biophysics Group Avo Baby, and soon to be […]
Australia's advertising market has stepped up its strong COVID recovery by creating history in June after delivering the largest month of ad spend ever recorded in a first half period in SMI history, with the feat also ensuring the market total was above the pre-COVID levels of June 2019. Total bookings soared 44.3 per cent […]
SCA has appointed Commercial Radio Australia Brian White Scholarship winner Zac De Silva (pictured) to its Albury newsroom as it invests in new talent for regional radio newsrooms nationwide. De Silva received the prestigious Brian White Scholarship in 2020 and completed a paid internship at SCA as part of the award. He is just one […]
Spinach has been appointed to manage the media strategy, buying and data capabilities for Australian property developer Beulah. The Melbourne-based developer has several projects in the works including STH BNK by Beulah, one of the most ambitious developments to be undertaken in Australia. With backing from the City of Melbourne's Future Melbourne Committee, the $2 […]
Following on the success of last year's Think with Google "Rethink The Mix" campaign, this week sees the brand inviting marketers to "Rethink the Line" via a campaign created by The Hallway. The campaign is spearheaded by a video that tells the story of "The Line " via animation and is complemented by a collection of shorter videos and […]
Digitas, the Connected Marketing Agency, part of Publicis Groupe, has announced the promotion of Adrian Farouk as CEO of Digitas APAC. Farouk (pictured above) is currently CEO of Digitas & Epsilon ANZ, he will take on the new role with immediate effect whilst continuing his leadership at Epsilon, the group's data and tech platform business […]
This comment piece is by Jasmin Bedir, CEO of Innocean and founder of FckTheCupcakes. It's been a month since Zoe Scaman's amazing article. When I read it, I kept nodding along and readied myself for an industry discussion in Australia. But nothing happened. Not a peep. And it's not because we're so much better in […]
Magnite (Nasdaq: MGNI), the world's largest independent sell-side advertising platform, today announced that James Young will remain as Managing Director of Australia for Magnite following the acquisition of SpotX.
Zenith Brisbane wins Bundaberg Brewed Drinks' media and, with the extra staff, creates a glass half-full conundrum.
Major sporting clubs and local sporting leaders have united in response to community concern about the effect of prolific sports betting advertising on young people in the Victorian Responsible Gambling Foundation's new Love the Game campaign. The 'Join the club' campaign includes elite and community level players and administrators, parents, kids, umpires and coaches from […]
Red Havas has announced the appointment of Haylie Marchant to the role of executive director, Red Havas Brisbane. In addition to leading the agency to drive growth in the Brisbane market, Haylie will also join the Red Havas national senior management team. Marchant brings 15 years experience building and running successful agencies in Australia and […]
After three years as executive creative director, Vince Lagana has departed The Monkeys to explore new interests and opportunities. Lagana said: "I've really enjoyed these three years as ECD at The Monkeys but now feels like the right time in my career to pursue other new and exciting opportunities. I'm proud to have worked on […]
As part of L'Oréal's global corporate governance process, which sees a media review completed every four years, L'Oréal Australia and New Zealand have appointed GroupM agency Wavemaker as its new media agency from 1st October 2021. The review process was overseen by Ebiquity, an independent advisor to manage the process on behalf of L'Oréal Australia and […]
Outage leaves Aussies locked out of Microsoft accounts. And it's not like Bill's farting about going into space & all.
Logo designer BrandCrowd has created its own logo to align with the federal government's 'Arm Yourself' vaccine campaign. Taking inspiration from the iconic World War Two image of Rosie the Riveter, the logo was created by a network of designers. According to BrandCrowd, "with the Australian government's COVID-19 vaccination rollout under increasing scrutiny and accompanying […]
Rupert, Lachlan & co forced to spit their Beluga cavair from laughing so much after fleecing $10 million in JobKeeper.
It's your Olympics madness wrap! Yes, all the oddball action from Tokyo that Bruce McAvaney dare never tells you about.
In one of the great ironies, two of the great destroyers of journalism have teamed up to actually support journalism!
After eight months on Jenny Craig, unfortunately the B&T editor's 'after' photo is so far yet to materialise.
OOH media provider Revolution360 has partnered with independent verification platform Seedooh to provide end-to-end transparency for its proprietary planning and data tool 360Intelligence.
If we didn't have the royals, who'd appear on our bank notes? Who'd open our fêtes? Who'd be on New Idea's next cover?
Of all the shocks at this year's games, it would appear the owner of the local pizza shop has won the men's 100 metres.
YouTube serves Sky News with a one-week ban. Meanwhile, Alan has summoned the minions for immediate dictation.
Nova 919 has announced that Jodie Oddy will officially join the station, with The Jodie Oddy Show set to kickstart Nova's weekends. An Adelaide radio favourite and one of the most enduring and successful female media personalities in SA, Oddy joins Nova with over 13 years breakfast radio experience and is excited to be getting […]
With Pete Evans lying low, thankfully Pauline's returned to take-up the mantle of nation's favourite nutjob.
Keith stars on latest Rolling Stone cover & confirms he should probably pinch some of Nic's hair shampoo & conditioner.
If Aussie Olympians with a mullet don't prove the 80s are hip again, this retrospective will confirm it's 1987 all over.
Here's a good news story, if ever we've seen it. Sure, not as good as Emma McKeon, if that's your current expectations.