Melania Trump Billboard Used To Flog English Lessons To Croatians
An image of the US First Lade, Melania Trump, is the talk of Zagreb in Croatia after it was used to promote a local school offering English lessons.
The out of home campaign is the work of private educator the Americki Institut of Croatia and comes with the tagline, "Just imagine how far you can go with a little bit of English."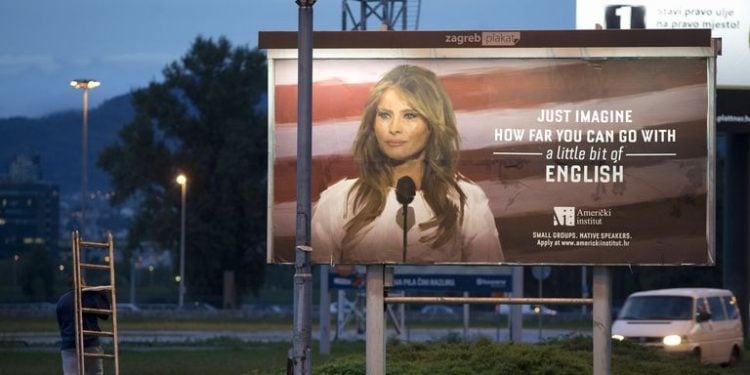 Despite the fact the Melania is actually Slovenian and not Croatian, apparently she is regarded as the most famous woman in the world from that particular region and, hence, why she was chosen to adorn the campaign.
It's not clear whether the President's wife gave permission for her image to be used. Presently, two of a planned five billboards have been erected.
Ivis Buric, theInstitut's communications manager, told the US media site CNBC, that Melania was picked because she was "the most recognised emigrant to the US from this region".
Buric added: "In no means is it some kind of political message. It's ambiguous, and we suppose a conversation-starter, but nothing more than that.
"Tens of thousands (maybe hundreds) are leaving the country and moving to places like Ireland, Canada, Australia, and the US primarily in search of a better paycheck. And for those who don't leave, Croatia's primary industry is tourism. So at the moment, the importance of learning English–and learning it well–has never been higher here in Croatia," Buric said.