Fuze Tea Turns Up The Heat With New Summer Campaign
Coca-Cola South Pacific has announced details of its Fuze Tea summer campaign which will accelerate consumer trial and build on the already strong results achieved since launching last year. To achieve this, Fuze Tea will take 'surprising fusions' to the next level by closely aligning the product with food moments.
Targeting 30-49 year old females, the brand is tapping into Australian consumers' obsession with food, with insights revealing that the Fuze Tea audience enjoys not only eating out, but also takes pride in entertaining and making meals at home for friends.
Research results have shown that 80 per cent of people have been to a restaurant with friends in the last month, confirming that social occasions are ingrained in Aussie culture.
The launch of a multimillion dollar integrated marketing campaign in 2017 will push the idea that Fuze Tea's surprising, deliciously good fusions can enhance social moments with food. The campaign will deliver mass awareness through new, large format out of home advertising placed in iconic locations, including the iconic Kings Cross Coke sign, as well as high foot traffic food courts. Experiential activations, distributing 300,000 samples over summer and activating food outlets will drive trial and continue the strong food association through the line.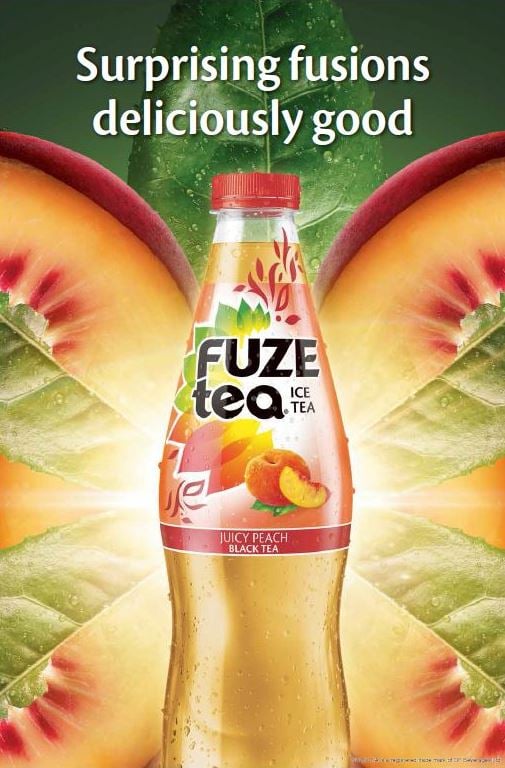 Fuze Tea will also seek to dominate screens with mass reaching TV and targeted food specific sponsorships with Channel 7, Channel 9, Channel Ten, SBS Food and Lifestyle FOOD.
The brand's audience will be encouraged to create their own fusions at home using customised video recipes promoted on two of the largest online food properties, TASTY and taste.com.au, reaching around two and a half million consumers.
Emma Harper, brand manager, Fuze Tea, said: "Since launching Fuze Tea in Australia last year, the brand has gone from strength to strength and we know consumers love the taste of our surprising fusions. This summer campaign is all about further building brand awareness.
"Aussies have fallen in love with the exotic and unexpected flavour combinations of Fuze Tea and we hope many continue to enjoy the various fusions while celebrating social occasions with friends and family this summer.
"The food combination is a natural fit for the brand and we can't wait to see all the new fusions the Aussie public come up with."
The Fuze Tea range offers unexpected fusion flavour combinations including Wild Raspberry & Hibiscus, Summer Mango & Chamomile, Juicy Peach, Crisp Apple & Lemongrass, Luscious Peach and Zesty Lemon.
Sustainable soap brand Single Use Ain't Sexy has been greeted with a huge influx of support after raising over half a million dollars in funding via a crowdfunding campaign. The brand has launched itself into the 'green economy' by calling on the Australian public to financially back them and their mission to get Aussies to […]
Queer Artist Ryan James Caruthers has publically slammed software company Unfold after it asked to use the artist's work for free as part of its Pride Month social media campaign. Caruthers took to Instagram to show screenshots of the conversation he had with Unfold after it asked the artist to share 12 of his images […]
After relaunching in September last year, TWOOBS has become a 'kinda' shoe brand by also focusing on making the world a 'kinder' place and creating more consumer-conscious shopping. The vegan shoe brand founded by sisters Jess and Stef Dadon changed its marketing approach last year and stopped using social media to push sales the old-fashioned […]
Highly experienced tourism marketer Kelly Ryan has been appointed to lead the marketing efforts at Visit Sunshine Coast (VSC). During the past 12 years, Ryan has supported Canberra's tourism industry in senior marketing roles, including as director of strategy and insights as well as director of marketing at VisitCanberra. Most recently, Ryan has been working […]
This poses the serious question: should only attractive people appear on TV? And it's an unequivocal 'yes' from B&T.
GHO Sydney has developed a new educational platform for Family Planning NSW to help parents and carers of children with disabilities navigate the changes to their bodies, emotions and social interactions. The project, 'Planet Puberty', was made possible through funding from the federal government's Department of Social Services, and was co-designed with people with disability […]
Nike's just one of those brands that never seems to put a foot wrong. So this cock-up's a wonderfully refreshing change.
To be on 'I'm a Celeb...', it seems you only need to know, have slept with or lived on the same street as a celebrity.
Apparently a dog is one of the best things to add to your dating profile. Well, apart from a mansion and a Ferrari.
Advertising

Marketing

Media
Female? Work in media & advertising? Is your work often considered "the boss" or "the bee's knees"? Enter here & pronto.
Do you own four maxed-out Visa cards? You could blame Natalie Lockwood or you could blame internet shopping & Uber Eats.
It appears you can be sued for making jokes about politicians. Hence why B&T has refrained from making any jokes here.
Nothing says "bowel health" like a diet of fresh fruit & veggies. Sadly, however, that doesn't include lychee daiquiris.
Great to see a petrochemical company with a good heart. Helps distract from all that "global warming" press, doesn't it?
It wouldn't be a Fashion Week without controversy. This time, however, it's nothing to do with everybody not eating.
Once again, toilet paper is hogging the headlines. And if COVID's given us anything marvellous, it's given us that.
Here's some terrific new work for BWS. Still, let's be honest, even if it was godawful we'd still shop there regardless.
It was all Origin on Wednesday, but it was all AFL last night. That said, Origin had The Veronicas & better fireworks.
JCDecaux today announced conservation organisation, Bush Heritage Australia, as its major charity partner for 2021. The partnership is part of a series of 'social impact' initiatives the business is launching this year, under the banner of JCDecauxHEART. JCDecauxHEART focuses on three areas of social impact: health and mental health, environmental sustainability, and enriching urban communities. […]
Here's a top initiative from the team at Pedestrian. It's that good, it deserves a fruit basket or bonus ab-roller.
Shameless Media's Michelle Andrews and Zara McDonald's latest podcast, The Books That Changed My Life, will launch exclusively on LiSTNR on Tuesday, 15 June. Throughout the series Michelle and Zara will talk with guests including Kevin Kwan, Laura Henshaw, Jock Zonfrillo, Susan Carland, Hamish Blake and Delta Goodrem about the books that have had a profound impact […]
New campaign sets out to prove that gamers aren't all nerdy addicts with poor diets and possible homicidal tendencies.
It's top tips to ensure your CX stands out from the competition. Then again, you could simply plagiarise their stuff.
B&T's dubious about the "burgers are better at Hungry Jack's" claim. However, it has to be said that ads definitely are.
This expert argues the future of work is hybrid. Which is sad news, as B&T'd preferred it was rhumba or the bossa nova.
Hardhat snares WPP's Kate Walker for GM role who doesn't even bother with high vis or even a jackhammer for press photo.
In celebration of Pride Month, cult streetwear brand Champion has announced an Australia-and New Zealand-first Pride range, Champions of Pride, and ongoing partnership with the Queer Sporting Alliance. Championing a cause, celebrating community, and aiming to create real change, the capsule collection proudly heroes the Pride colours in a selection of signature Champion tees, iconic […]
Following the successful deployment of BankiFi's technology platform at The Co-operative Bank in the UK, BankiFi has appointed Lloyd Parata to lead their expansion into the Australian Financial Services market. BankiFi's technology platform ensures banks remain relevant by offering SMEs an innovative solution to operate their business, whilst avoiding common challenges like late payment. Parata, […]
Feared that safari suit or kaftan wouldn't get another airing 'til summer? Another reason to come to Cannes in Cairns.
Mars Wrigley 5 Gum has partnered with Twitch to launch Team CLUTCH, a team of Twitch streamers who will assemble on for three live squad streams tackling popular games like Fortnite while embodying the brand's ethos of 'life happens in 5'. This partnership builds on 5 Gum's 2020 Twitch activation, and is set to create […]