The 30 Under 30 Awards – The Winners Announced!
On Thursday night last week B&T celebrated the achievements of all the up and coming young-guns in the industry at the 30 Under 30 Awards, presented by The Newspaper Works.
With a packed house of almost 400 people in attendance, and many others requesting last minute tickets, the evening – at Sydney's super-swish NSW Art Gallery – was a rip-roaring success.
Here at B&T we say a massive congratulations to the winners in each of the six categories!
And a huge congrats to all those shortlisted!
Kate Gamble from Resolution Media took out the Grand Prix, and Tanya Moore from Conn3cted nabbed the People's Choice award.
A huge thank you to all of our sponsors who made the night possible.
Check out below for the full list of winners.
Grand Prix Winner
Kate Gamble – Resolution Media
Advertising/Design
| | |
| --- | --- |
| Emily Field | BMF |
| Simon Fowler | BMF |
| Nicole Hetherington | BMF |
| Ed Howley | By All Means |
| Iain Nealie | Google |
Digital 
| | |
| --- | --- |
| Hayley Rose | Isobar |
| Ryan Beck | Upside.Digital |
| Cyrus Rafizadeh | Elite Marketing |
| Kate Gamble | Resolution Media |
| Scott Nolan | Drifter |
Marketing & PR 
| | |
| --- | --- |
| Lewis Shields | N2N and Fuel Communications |
| Heather Marano | Heather Marano Freelance Consulting |
| Rebecca Gibbs | Merivale |
| Vuki Vujasinovic | Sling & Stone |
| Melody Hyndman | Movember Foundation |
Media 
| | |
| --- | --- |
| Liz Anderson | Facebook |
| Heather Young | Vice |
| Zoe Lassig | News Corp |
| Kate McMahon | Nine |
| Jessica Hunter | Daily Mail Australia |

Media Agency
| | |
| --- | --- |
| Benjamin McInerney | MediaCom |
| Claire Fenner | Atomic212 |
| Lachlan Sweet | Maxus |
| Allister Hercus | MEC |
| Nick Thomas | MediaCom |
Specialist
| | |
| --- | --- |
| George Photios | G Squared Digital Marketing |
| George Pappas | G Squared Digital Marketing |
| Phillip Ohren | Mindshare |
| Gina Lednyak | L&A Social Media |
| Simon Williams | Dentsu Aegis |
People's Choice Award
Tanya Moore – Conn3cted
Photos are coming, so stay tuned!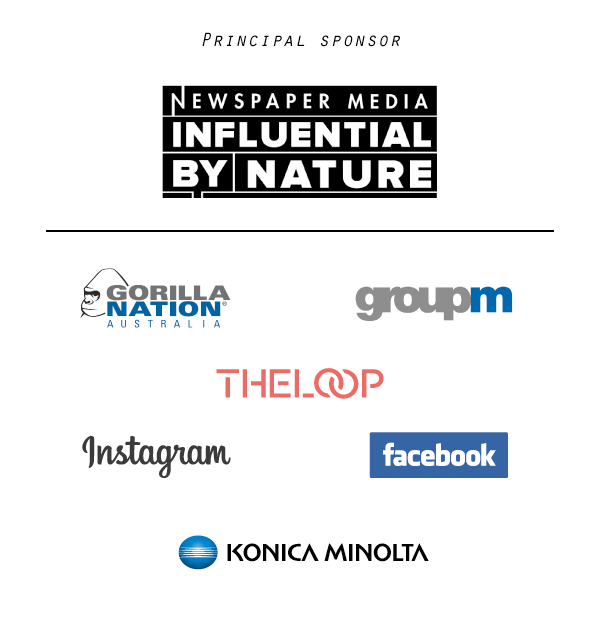 This stunt proves a great idea will usurp a massive budget every time. Although blowing massive budgets is far more fun.
There's no better place to be on a Sunday than on the couch in your PJs & UGGs. Just remember not to go out in public.
It's not one but two sweary headlines on B&T today. Let's say the office swear jar is starting to look f@cking full too.
As a warning, this could get the blood boiling. Unless you're one of those horrendous climate denying pains in the arse.
Facebook unveils important blood donating feature. But don't worry, it already knows if you're A, B, AB negative or 0.
Is your marketing personalistion proving as popular as being sneezed on on public transport? Well, don't blow this off.
It's a public holiday in many parts of Australia today, hence why B&T's made the editorial decision to run any old shit.
There is NOTHING worse than swooping seagulls stealing your hot chips. Well, aside from clowns or Tony Abbott, that is.
You could spend the Queen's Birthday holiday scoffing $1 hot dogs at IKEA or enriching the mind with this probing piece.
Judging by this Youngblood industry event, adland's relationship with the booze industry appears as rock solid as ever.
Admittedly, B&T has never faked a business-class flight. However, we regularly lie about the mile-high club.
Revenge is a dish best served cold, yet this journo serves it with some fiery jalapeños & a squirt of Sriracha sauce.
If it's got Shane Jacobson, you're guaranteed good fun. Well, maybe not 'Charlie & Boots', which was f@cking terrible.
Would you like something more sustainable on your pits, goolies or general orifi? This eco-soap company may rate.
Software giant in strife for not paying queer artist. And, as you'll read, it's not one of the usual software giants.
The TWOOB appears to be Australia's answer to the Croc. Yet, that's not to infer it's taking the UGG's hideous title.
Visit Sunshine Coast hires new head of marketing. Insists wearing a Maroons jersey & loving Powderfinger not essential.
This poses the serious question: should only attractive people appear on TV? And it's an unequivocal 'yes' from B&T.
GHO Sydney has developed a new educational platform for Family Planning NSW to help parents and carers of children with disabilities navigate the changes to their bodies, emotions and social interactions. The project, 'Planet Puberty', was made possible through funding from the federal government's Department of Social Services, and was co-designed with people with disability […]
Nike's just one of those brands that never seems to put a foot wrong. So this cock-up's a wonderfully refreshing change.
To be on 'I'm a Celeb...', it seems you only need to know, have slept with or lived on the same street as a celebrity.
Apparently a dog is one of the best things to add to your dating profile. Well, apart from a mansion and a Ferrari.
Advertising

Marketing

Media
Female? Work in media & advertising? Is your work often considered "the boss" or "the bee's knees"? Enter here & pronto.
Do you own four maxed-out Visa cards? You could blame Natalie Lockwood or you could blame internet shopping & Uber Eats.
It appears you can be sued for making jokes about politicians. Hence why B&T has refrained from making any jokes here.
Nothing says "bowel health" like a diet of fresh fruit & veggies. Sadly, however, that doesn't include lychee daiquiris.
Great to see a petrochemical company with a good heart. Helps distract from all that "global warming" press, doesn't it?
It wouldn't be a Fashion Week without controversy. This time, however, it's nothing to do with everybody not eating.
Once again, toilet paper is hogging the headlines. And if COVID's given us anything marvellous, it's given us that.
Here's some terrific new work for BWS. Still, let's be honest, even if it was godawful we'd still shop there regardless.