Brands Post Tributes To Prince – Can't Help But Make Them Sound Advertorial
To tweet or not to tweet- that is the question brands are pondering today after the announcement that music legend Prince has died at the age of 57. Prince was found unresponsive in his home in suburban Minneapolis, Minnesota. The cause of death is not yet known.
Early this year, brands followed a similar product-placement condolences when David Bowie passed away at the age of 69. So far, two brands have deleted tweets about Prince after backlash from Twitter fans: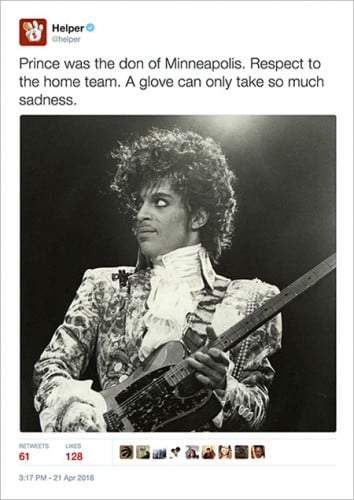 The company behind Cheerios, General Mills, told website Consumerist: "As a Minnesota brand, Cheerios wanted to acknowledge the loss of a musical legend in our hometown. But we quickly decided that we didn't want the tweet to be misinterpreted, and removed it out of respect for Prince and those mourning."
Check out some of the brands tweeting about Prince's passing, including a tweet from Getty Images which included a purchase link to a Getty image of Prince:
Often imitated, never duplicated. #Prince https://t.co/07gxbfFGvV pic.twitter.com/eNSiqnZ26S

— Getty Images (@GettyImages) April 21, 2016
— Maker's Mark (@MakersMark) April 21, 2016
Pornhub has changed its logo to honor Prince. Darling Nikki would be touched. Probably by herself. pic.twitter.com/pqyPgR1uHK

— Damian Holbrook (@damianholbrook) April 21, 2016
— 3M (@3M) April 21, 2016
#RestInPurple #MNLove #Prince pic.twitter.com/hhJ0S6GxqG

— Caribou Coffee (@Caribou_Coffee) April 21, 2016
We are saddened today at the news of Prince's passing. His music meant so much to so many. pic.twitter.com/qMpnSO5zIq

— TiVo (@TiVo) April 21, 2016
A purple nebula, in honor of Prince, who passed away today. https://t.co/7buFWWExMw pic.twitter.com/ONQDwSQwVa

— NASA (@NASA) April 21, 2016
On Pixar's company homepage today. #tribute pic.twitter.com/y4dg9c5Z0f

— andrew stanton (@andrewstanton) April 21, 2016
People on Twitter have not taken kindly to brands jumping on the bandwagon:
@MakersMark Prince took a strong stance against alcohol.
He would hate this.

— Eric Clarkson (@Eric_Clarkson) April 21, 2016
Prince was a true original and a Minnesota icon. We will miss him dearly.

— Best Buy (@BestBuy) April 21, 2016
@MakersMark Inserting yourself into this conversation just to promote your brand is despicable. https://t.co/eb7xLmyrdk @michaeljhudson

— adriana (@escualida) April 21, 2016
.@TiVo hey dickholes this isn't a brand awareness opportunity go fuck yourselves

— Julian Spindell (@julianspindell) April 21, 2016
prince died. buy cereal. https://t.co/uXzdNsdRjC

— Steve Kovach (@stevekovach) April 21, 2016
Capitalism is insufferable. https://t.co/fa4rJzpJrh

— Dan Riffle (@DanRiffle) April 21, 2016
Nine has named the judging panel for its much-anticipated State of Originality, Australia's richest advertising award, aimed at making State of Origin the equivalent of Australia's Super Bowl in advertising terms. Announced at Nine's Upfront last September, the winning campaign will take home much more than a trophy – there's $1 million in advertising inventory […]
British supermarket Marks & Spencer has taken an intellectual property claim against fellow supermarket ALDI over the latter's Cuthbert The Caterpillar Cake, which they allege is too similar to their own iconic Colin The Caterpillar Cake. Colin the Caterpillar (pictured above) has been a staple of birthday parties across the UK since 1990, when the […]
We all felt helpless in the face of 2020's constant barrage of disasters and catastrophes. And 2021 hasn't let up either. Last year, Australian Red Cross experienced its biggest demand since World War II, so it has responded with a new brand campaign bringing attention to this overwhelming feeling and highlighting its 106-year track record […]
As Master Chef prepares to launch back onto screens on Monday 19th April, B&T had the opportunity to speak to the show's hosts, food critic Melissa Leong and chefs Jock Zonfrillo and Andy Allan, who won the show's fourth season. The three judges first appeared on last year's Masterchef: Back To Win, which saw returning contestants […]
Partner Content

Technology
Undoubtedly one of the most overused slogans in marketing's and advertising's history is John Wanamaker's iconic "half the money I spend on advertising is wasted; the trouble is I don't know which half". And it's a credit to the quip's longevity that last year the line celebrated a real milestone – its 100th birthday. But […]
The SingularityU Australia Executive Program will take place this may, celebrating leadership at the intersection of the values of humanity and the value of technology. The Elon Musks, Apples and Xeros of the world are taking risks for humanity and creating new  technologies that streamline and beautify business operations. They simplify life by providing basic […]
Brisbane media professional and former OMD Australia Account Director Taylor Fielding (pictured) has officially launched TFM Digital. TFM Digital is a specialist media agency based in Newstead which primarily provides media buying services, and strategy development, to businesses chiefly, but not exclusively, within the franchise sector. Prior to the launch of TFM Digital, Fielding spent […]
This twerk video has divided the B&T office this morning. By that we mean "hilarious" to "absolutely f@cking hilarious".
The Australian camera accessory brand, Urth, famed for their focus on sustainability, has appointed Croud as their new digital marketing partner, in order to power global and local growth.
Leading mobile creative technology companies, VMG Digital and TreSensa Technologies, join forces to fuel best-of-breed playable Facebook Ads to help clients drive app installs.
Eight in ten Aussies (86%)* believe telling a furphy is a unique part of Australian culture, now Furphy is on a mission to celebrate the art of storytelling and uncover the nation's best furphies. 
B&T's on the hunt for Australia's top marketers! Sure, not as interesting as Australia's top yodellers or log rollers.
Image lead story
Judging by the hangovers in the B&T office today you can count yourself damn lucky we even managed this photo thingy.
B&T would've added sacre bleu to this Publicis headline, however, we have no idea what it means or how to spell it.
Advertising

Marketing

Media
There's sure to be some tears with the reveal of the Young Lions competition. Even more so if you actually entered.
Canva owners set to become even more obscenely billionairey after doing latest thing.
In this day & age of tech behemoths & media barons, it's nice to see the humble old photojournalist getting a look in.
Look, it's top tips to harnessing your Gen Y and Z employees sans any Spanish Inquisition torture techniques.
Launch marketing specialists Five by Five Global have been appointed by FutureFeed to develop their brand, international certification trademark and go to market strategy. The innovative livestock feed ingredient developed by CSIRO, Meat and Livestock Australian and James Cook University uses a specific genus of seaweed, Asparagopsis, which significantly reduces methane emissions in ruminant livestock. […]
Excellent hair clearly part of the recruitment process, as Clems Melbourne announces 10 new hirsute starters.
B&T hosted the 30 Under 30 awards last night AND is bringing you last night's telly numbers. Live the lies here.
Andrew Knowles, partner and co-founder of the corporate communications consultancy Shoebridge Knowles Media Group (SKMG), has won the PR category in the 2021 B&T 30 Under 30 Awards. Knowles received the award at a ceremony in Sydney last night, claiming victory in a highly competitive field that included leading executives from some of Australia's biggest […]
WPP AUNZ says its nextgen leaders program isn't solely open to the company's crawlers and sycophants.
JCDecaux announces Adobe partnership. Which, admittedly, isn't as interesting as, say, a Dannii Minogue partnership.
VGood is a "nut-free, chickpea based range of snacks". Absolutely perfect for boring everyone with your dietary habits.
To its credit, this NOVA pretty press photo totally debunks the "face for radio" adage.
There is more talent in this 30 Under 30 winners list than a Manpower strip show at Panthers World Of Entertainment.
Boutique PR and digital marketing agency Compass Studio announces a host of new clients this month including B Lab Australia & New Zealand and Verve Super. 
Vision Australia unveils LEGO Braille Bricks. B&T doubts it'll stop you treading on the painful little buggers, however.
For those not in the know, beta testing is a technological term for "we've got no effing idea if this is gonna work".