What Does The DNA Of A Marketing Director Look Like?
The marketing landscape is undergoing arguably its biggest ever transformation right now thanks to technology and a renewed focus on customer experience.
Furthermore, as more and more companies realise and embrace the power of digital, CEOs are calling on their respective CMOs to make the transition an easy and successful one.
According to recent research by recruitment specialists Hays, the biggest business challenge facing marketing directors in Australia and New Zealand is improving the customer experience (47 per cent).
This is followed by keeping pace with technology advances (41 per cent), harnessing and interpreting data (40 per cent) and implementing digital platforms and tools (39 per cent).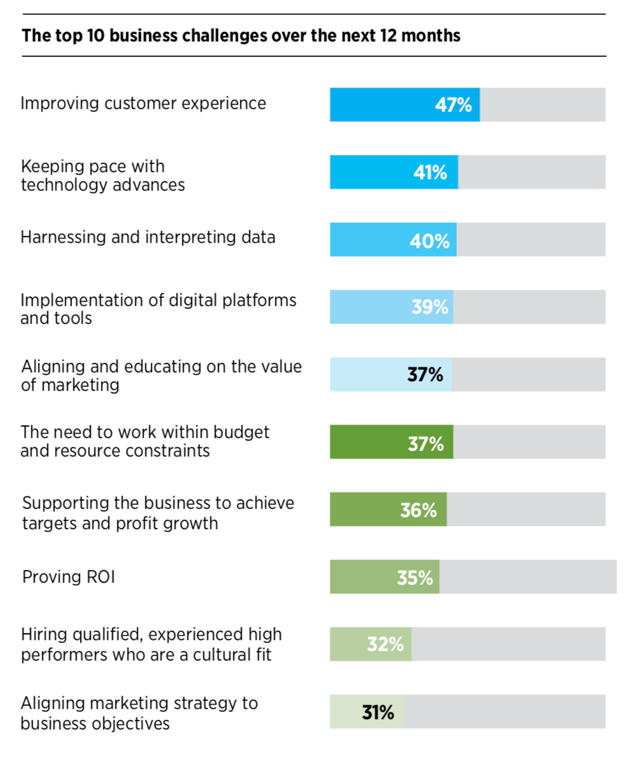 However, these challenges also bring with them opportunities for marketing chiefs – in particular, the ability to have more frequent and personal interactions with customers, according to Hays' senior regional director, Susan Drew.
"Advancements in machine learning, predictive analytics, AI, AR and VR, the Internet of Things, and blockchain will ultimately improve the customer experience and bring precision and accuracy to decision-making," she said.
"This allows marketing to position itself at the heart of an organisation and lead real change."
With customer experience now a core element of a marketing director's role, Drew said digital transformation is the catalyst driving rigour within the marketing department, ultimately making marketing more of a science.
"This in turn is allowing marketing to gain more influence over other departments," she said.
While marketing is gaining more influence in companies across Australia and New Zealand, organisational politics was considered the biggest career challenge (58 per cent) facing marketing directors.
This challenge is well ahead of keeping pace with changes in technology (38 per cent) and a lack of mentoring, support or guidance (31 per cent).
Top skills and traits
In order to tackle all of these challenges, Hays uncovered the top five skills needed to be a successful marketing director, with people management the most important, according to 58 per cent of its survey respondents.
Stakeholder engagement was rated the third most important skill (48 per cent), highlighting the importance of engaging with others across an organisation to collaborate and gain buy-in on strategy.
The second most important skill, sitting between people management and stakeholder engagement, is the ability to develop and drive a marketing strategy (54 per cent).
There are also a number of personal characteristics that survey respondents identified as having helped them succeed in their careers to date.
These include having a proactive and hard-working nature, the ability to solve problems and be collaborative, and resilience.
Hays' report found a number of other interesting facts about marketing directors in Australia and New Zealand.
Of those surveyed, less than half (46 per cent) have always worked in marketing, with 26 per cent aspiring to take on a bigger marketing role and 17 per cent aspiring to becoming CEO.
More than half (59 per cent) of survey respondents have worked outside Australia and New Zealand at some point during their career, including the UK (60 per cent), the US (28 per cent), Asia (25 per cent) and Europe (22 per cent).
Almost all say the overseas experience had 'considerable' (75 per cent) or 'some' (23 per cent) benefit on their career.
According to the study, 77 per cent of marketing directors have developed their digital skills to complement their traditional marketing skills, and 69 per cent consider themselves to be a data-driven marketer.
And it appears marketing directors are typically women in their 30s and 40s. Of those surveyed, 65 per cent are female and 82 per cent were aged between 31 and 50.
To learn more about the DNA of a successful marketing leader, click here.