Local Supply Celebrates Diversity Through Aussie Talent In New Summer Campaign
Sunglasses brand Local Supply has launched its summer campaign for 2017, bringing together four talents from across Australia who embody inclusivity, diversity and creative expression.
The campaign, titled 'For Locals Everywhere' features Sydney's Mitch Orr (one of the masterminds behind Acme Restaurant), Melbourne's Ecca Vandal (a highly-accomplished musician and producer), Brisbane's Olia Burtaev (a synchronised swimmer who represented Australia at the London 2012 Olympics, and Canberra's Genesis Owusu (a 19-year-old hip-hop artist, poet and fashion designer).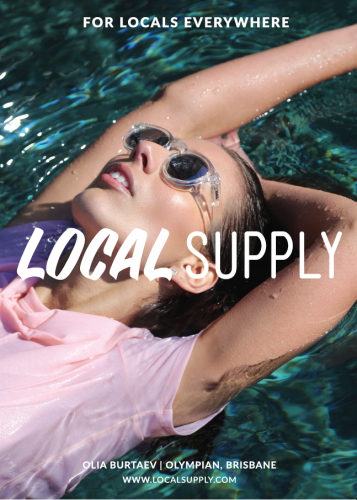 The multi-channel campaign has come to life through out-of-home media, supported with an extensive digital promotion that incorporates the brand's summer look book, social content, videos, native editorials, competitions and ongoing customer activations.
The campaign launches two new sunglasses shapes for summer – The Avenue and The Station – in four core colours: matte tortoiseshell, polished tortoiseshell, matte black and polished black.
Local Supply founder Sean Satha said the campaign is the company's most comprehensive one to date.
"The campaign focuses on talented individuals who are making real social or cultural contributions to connect and engage with our customers in a more authentic way," he said.
Alexander Wu-Kim, marketing manager at Local Supply, added: "'For Locals Everywhere' is a campaign that is first and foremost about the people behind the frames – our customers.
"We wanted to produce a series of stories that our audience can connect with, get inspired by and get something out of. Our brand and products purely acts as the facilitator of these conversations."
In this opinion piece, Jess Miles, Country Manager ANZ of Integral Ad Science, reflects on the questions surrounding consumer data. The ability to collect consumer data online has revolutionised digital advertising by enabling customised targeting strategies and data collection. This reliance on data has been the cornerstone of many audience targeted strategies enabling marketers to […]
After ten years of board leadership of the young entrepreneurial collective Vibewire, Founder & Co-CEO of Disruptors Co. Gavin Heaton is passing the torch to fellow strategy and creative leader Jye Smith, Founder and Director of branding and design studio DOUBLESTAR CO, who will now take over as Board President.
There are now so many podcasts in the world that it would take the average person 98.9 years to find an interesting one.
AnalogFolk has promoted two senior staff, but not promoted enough to secure a spot in the downstairs carpark.
Mr Potato Head goes gender neutral. Barbie apparently happy she's no longer the most marginalised one in the toy aisle.
B&T arrived to work this morning in a chauffeured Mercedes-Benz. Well "chauffeur/government bus driver", same thing.
It's not one but four motoring articles today, dear readers. Call it coincidence as B&T really knows nothing about cars.
Trump supporters are calling for a Coke ban in the US. However, it remains doubtful if that will grow their teeth back.
It's all hot potato and big red cars in the B&T office this morning. Scottish staffer reconsiders visa application.
Last night's TV numbers again appeared to confirm that after 15 years still nobody's watching Bondi Rescue.
Who doesn't love to see Aussies doing well on the world stage! Okay, maybe not Schapelle Corby or Mel Gibson.
Only Jesus' second coming and the next Guns N Roses album officially taking longer than the arrival of VOZ.
Lexer, the Customer Data Platform for brands and retailers, today announced it has raised AU$33.5 million in Series B funding, bringing its total funding to AU$43 million. The round was led by Blackbird Ventures and King River Capital, with Series A investor January Capital also participating. Blackbird's Rick Baker will join the Lexer board. The […]
These new eBay ads have an eerie sense of déjà vu. Worse, a not overly funny déjà vu either.
Thrive PR has announced a string of new hires, none of whom chain smokes or swigs from a Stoli bottle.
Problem with zero alcohol beers is it's all the urine but without the embarrassing one-night stands of full-strength.
B&T's shamelessly namedropping in this headline. Unless you've no idea who they are, then just move to the next article.
Do you own a Jeep Cherokee? Well, watch it instantly devalue by a good 10 grand by simply reading this.
Local women's lifestyle media company receives what all publishers are looking for - a large cheque in an acquisition.
This expert columnist is debunking martech myths. Including the one about Salesforce making you pregnant.
Southern Cross Austereo's profits up 60%! Which certainly made interviewing Grant Blackley today a lot less awkward.
Cummins&Partners has welcomed Romano Beck, who may sound like a swarthy Italian actor but is actually a PR agency.
CarsGuide, Mitsubishi and Wavemaker create virtual road trips that includes virtual car sickness.
Cadbury Crème Eggs join Durex condoms & Frankie Goes To Hollywood on list of things Christians find hard to swallow.
B&T's reporting live from today's Future Of TV event. Not before mistakenly going to the dental hygienist conference.
There can be no denying TV's power as an advertising medium. Putting aside Holey Moley and Plate Of Origin, that is.
Current COVID misinformation includes the vaccine can make you pregnant while developing a Lionel Richie addiction.
B&T's delivering all of last night's TV numbers, dipped in chocolate, rolled in coconut, with a tasty jam-filled centre.
With the Springsteen saga dealt with, Jeep now turns its focus to Michelle Bridges as its next brand ambassador.
WPP AUNZ's results out today made for some pretty sobering reading. That's why B&T read them with a couple of daiquiris.