Local Supply Celebrates Diversity Through Aussie Talent In New Summer Campaign
Sunglasses brand Local Supply has launched its summer campaign for 2017, bringing together four talents from across Australia who embody inclusivity, diversity and creative expression.
The campaign, titled 'For Locals Everywhere' features Sydney's Mitch Orr (one of the masterminds behind Acme Restaurant), Melbourne's Ecca Vandal (a highly-accomplished musician and producer), Brisbane's Olia Burtaev (a synchronised swimmer who represented Australia at the London 2012 Olympics, and Canberra's Genesis Owusu (a 19-year-old hip-hop artist, poet and fashion designer).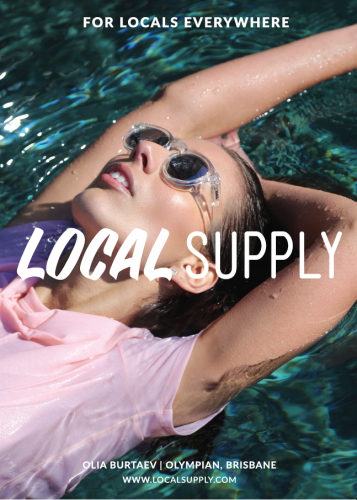 The multi-channel campaign has come to life through out-of-home media, supported with an extensive digital promotion that incorporates the brand's summer look book, social content, videos, native editorials, competitions and ongoing customer activations.
The campaign launches two new sunglasses shapes for summer – The Avenue and The Station – in four core colours: matte tortoiseshell, polished tortoiseshell, matte black and polished black.
Local Supply founder Sean Satha said the campaign is the company's most comprehensive one to date.
"The campaign focuses on talented individuals who are making real social or cultural contributions to connect and engage with our customers in a more authentic way," he said.
Alexander Wu-Kim, marketing manager at Local Supply, added: "'For Locals Everywhere' is a campaign that is first and foremost about the people behind the frames – our customers.
"We wanted to produce a series of stories that our audience can connect with, get inspired by and get something out of. Our brand and products purely acts as the facilitator of these conversations."
Global media network Eastern Standard Times had their official launch event on Thursday (23/6) night at the Lucky Kwong restaurant in Sydney's South Eveleigh, with the focus being placed on how this platform will provide Asian communities in Australia with a greater insight on what they need to know. Editor-in-chief Keshia Hannam, who served as […]
Thank god we have Korean boy bands because some of the country's leading brands lead a lot to be desired.
Woolies' marketing supremo celebrating with an iceberg lettuce or two after being named one of the world's best CMOs.
Russians set to queue for bread in their thongs as Nike becomes latest western capitalist dog to exit the country.
Ads might soon be coming to Netflix. Although we're quite sure Messrs Warburton, Sneesby etc will be having none of it.
Ready the tissues at this incredibly powerful and brave mental health initiative.
DOOH continues to prove the hot category in adland. That said, B&T's still got a soft spot for towed plane banner ads.
Were your school days full of drawing penises on the blackboard and afternoon detentions? Relive the good times here.
ACT Responsible celebrated 4 Champions for Good from the agency, advertiser, NGO and public sectors who have made an impact in the social and environmental areas and helped improve the world through personal contributions or creative campaigns. "It is not an Award. There is no competition and there is no winner. The goal of this […]
The AFL proved a ratings winner for Seven last night. Just not in Sydney, were no one gives a shit unless the Swans win.
If B&T ever had an award for effectiveness, it would go to our publican for his 5-6pm half-price pints happy hour.
On the third day of the 2022 Cannes Lions International Festival of Creativity, the "Unfiltered History Tour" campaign by VICE Media walked away with yet another Grand Prix, this time in the Social & Influencer Lions. The campaign, which was held in partnership with the British Museum by the Dentsu Creative teams of Mumbai, Bengaluru […]
Advertising

Marketing

Media

Technology
Is food your business? Well, why not sink your teeth into the Australian Impact Awards' food category.
Advertising

Marketing

Media

Technology
Do you loathe an overachieving colleague? Completely ruin their afternoon by making them do a Best of the Best entry.
The state of adland to be laid bare in new doco. Sadly it doesn't have Sir Martin in the lead role of wanton spinster.
Moro is, of course, the olive oil brand & thankfully not the unpleasant chocolate found in the Cadbury's Favourite pack.
Atomic 212º's Asier Carazo talks the Cannes experience in this diary piece. And not just paying $42 for a baguette.
Bomb again at Cannes this year? Glean some lessons here & be thankful you don't need to fork out for any Brasso Polish.
Wake-up with 10's Natasha Exelby & Lachlan Kennedy! Which is far better than waking up with that stranger from the pub.
It's a chant of "Aussie, Aussie, Aussie" around Cannes' Pointe Croisette today. There's possibly a bit of vomit too.
B&T's Nancy Hromin is in Cannes and managed to bag a seat at probably this year's highlight event – an audience with the one-and-only, Paris Hilton! The socialite took to the stage alongside CEO of VaynerX and Vayner Media, Gary Vaynerchuk, and Swan Sit the board director of Edgewell, Novabay and Far Niente. The trio […]
COVID's not merely enhanced our love of toilet paper and Uber Eats, but changed logo design argues this correspondent.
Tech company Google has announced a number of new updates to its News and Search features that will give users greater control and more validated information in the stories they see on their screens. The look of Google News will be changing dramatically, giving way to the side of the screen for a bar that […]
While the marketing industry continues to keep its glaze focused on the South of France and the Cannes Lions International Festival of Creativity, a few thousands of kilometres further away in Manhattan there's another "festival" going on. NFT.NYC is the biggest conjunction of Web3 artists and investors in the world and by the looks of […]
Lisa Wilkinson joins Lisa McCune and Craig McLachlan in having a Logies win utterly destroy their careers.
Mistakenly head out for a coffee only to end up in a gay sex sauna? You've now got this new Google feature to blame.
B&T can barely afford to buy GQ let alone anything in it, but all is forgiven when Brad's on the cover.
You either love first-party IDs or you've never actually heard of them. This one's clearly for the former.
Do you avoid Twitter for your anonymous trolling due to its word limits? Get set to be an utter prick with this news.
There's only one place to be for any self-respecting adlander on a Wednesday & that's the pub. Ok, maybe watching Gruen.
It appears the heat's gone out of Rupert and Jerry's love life. Rupert still denying it had to do with climate change.
Mastercard to release an album that sadly won't include ABBA's 'Money, Money, Money' or Joe Dolce's 'Shaddap Your Face'.
Study finds marketers lacking skills in data privacy. Not scared to fire-up the paper shredder if things get really bad.
Now in its 16th year, Future Lions, AKQA's annual Cannes Lions competition to unearth the next generation of creative talent, has announced the winners and Grand Prix. The awards ceremony is taking place during the iconic Cannes Lions International Festival of Creativity. This year's Grand Prix winner is Ten Week Tee, the team will now […]
Cannes is too often a lot of hot air from entitled, white rich people. But it can also do good, like this initiative.
It's promotions galore in the QMS sales team today, as discussions turn to the merits of the Audi over the Golf GTI.