Local Supply Celebrates Diversity Through Aussie Talent In New Summer Campaign
Sunglasses brand Local Supply has launched its summer campaign for 2017, bringing together four talents from across Australia who embody inclusivity, diversity and creative expression.
The campaign, titled 'For Locals Everywhere' features Sydney's Mitch Orr (one of the masterminds behind Acme Restaurant), Melbourne's Ecca Vandal (a highly-accomplished musician and producer), Brisbane's Olia Burtaev (a synchronised swimmer who represented Australia at the London 2012 Olympics, and Canberra's Genesis Owusu (a 19-year-old hip-hop artist, poet and fashion designer).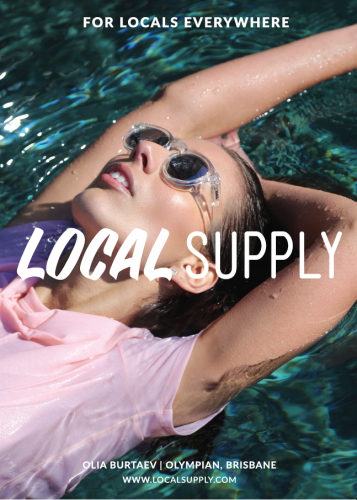 The multi-channel campaign has come to life through out-of-home media, supported with an extensive digital promotion that incorporates the brand's summer look book, social content, videos, native editorials, competitions and ongoing customer activations.
The campaign launches two new sunglasses shapes for summer – The Avenue and The Station – in four core colours: matte tortoiseshell, polished tortoiseshell, matte black and polished black.
Local Supply founder Sean Satha said the campaign is the company's most comprehensive one to date.
"The campaign focuses on talented individuals who are making real social or cultural contributions to connect and engage with our customers in a more authentic way," he said.
Alexander Wu-Kim, marketing manager at Local Supply, added: "'For Locals Everywhere' is a campaign that is first and foremost about the people behind the frames – our customers.
"We wanted to produce a series of stories that our audience can connect with, get inspired by and get something out of. Our brand and products purely acts as the facilitator of these conversations."
The latest NGINX campaign is live as The Misfits Media Company, and NGINX creates parodic 'investigative reporter' content with Dan Ilic on the streets of Sydney. The Misfits recently partnered with the APAC marketing team at NGINX to take an investigative deep dive into the world of mobile apps as the good, bad and (even) […]
Trade publisher AMT Pty Ltd has announced the acquisition of Radio Today, the Australian media and marketing sector's go-to source for radio news, analysis, ratings and jobs. AMT currently publishes Radioinfo in Australia & New Zealand, Asia and Africa, and was a key partner in bringing the annual Radiodays conference to Asia. Radio Today will continue to […]
You can now buy Paddle Pop-themed pyjamas. Although Magnum, Gaytime or Zooper Dooper arguably sounds a lot sexier.
IVE Group announces new acquisitions & yet further confirmation it's not spent lockdown watching bad daytime television.
Mediahub Australia has made its most significant restructuring to date, as it positions itself to professionally manage the changing world of broadcast technology and consumer viewing habits. The most significant new appointment, and one of many, is Scott Jolly being promoted to the role of chief operating officer. As COO, Jolly now has full responsibility for the […]
For Melbourne, the past 18 months have been largely dictated by the COVID-19 pandemic and lockdowns. Despite this, The Trade Desk has managed to establish one of its most successful offices. Here, The Trade Desk lead director, client strategy, Kali Guillas [pictured], explains how the Melbourne office has managed to thrive. We are in a […]
Independent creative agency Two Gs, started by creative directors Matt Geersen and John Gault, has been appointed by Mad Mex.
Reports Seven & 10 were chasing the NRL rights appear untrue. Again, not the first nor last time B&T's spun you a line.
Who doesn't love to have a beer brand on the agency's books? Well, zero-alcohol and fruit-infused aside, that is.
Krystyna Frassetto appointed MD of M&C Saatchi's Sport & Entertainment and can quote Don Bradman's batting average.
Australian Comedian Hannah Gadsby has slammed Netflix executive, Ted Sarandos after he used Gadsby's presence on the platform to defend Dave Chappelle's new comedy special on Netflix.  Chappelle's recent comedy special, The Closer, which debuted on Netflix last week, has been met with backlash, after Chappelle used his special to discuss transgender and gay people, […]
Acast has announced its partnership with Samsung Electronics Australia to produce and distribute the company's first branded podcast within the Australian market. The Rule Benders podcast will feature conversations with extraordinary Australians who have bent the rules, defied convention, and redefined what is possible. Rule Benders is a six-week branded podcast campaign, with a new […]
Skateboarding TV reporter owns the internet. Stranger yet, not one do-gooder moaning about his lack of helmet.
It's said only the lawyers win in these defamation cases, but the lawyers' BMW dealership & Tiffany jeweller also win.
Think your non-existent savings and massive credit card debt deserve a lot better? Give this Bankwest spot a look-in.
DocuSign Australia this week unveils its first work with independent creative agency, Hardhat, encouraging people to 'Next time, DocuSign'. Spearheading the campaign is an influencer series featuring entrepreneurial business leaders Janine Allis, Jules Jund and Emma Isaacs sharing stories of oversights and slip ups during important business deals. The three 'That time I screwed up' […]
Do you ever watch The Block and secretly concede "my relationship simply could not survive a bathroom renovation"?
Global experience design agency Imagination, has expanded its Sydney team, with the appointment of two new key hires. Ashley Diamond (pictured below), with over 18 years experience across large scale events and broadcast quality content production, joins as project director to continue driving the growth of Imaginations' largest clients. "The people, the work and the […]
Lockdown got you thinking you'll never leave the house again? DoorDash (& Jimmy Brings) makes it a distinct possibility.
First of the Chrissie ads are here! So brace yourself for an avalanche of turkeys, nauseating families & Curtis Stone.
Switch, an award-winning digital agency has announced the appointment of Matt Watson as its technical director. Watson joins Switch at an exciting time as the business focuses on its growth strategy and bringing the best talent in the market to deliver exceptional outcomes for customers. Watson is the most recent talent appointment by Switch, after […]
Gumtree, CarsGuide & Autotrader announce leadership changes, all of whom can get you a top deal on a 2018 Suzuki Swift.
Rolling Stone Australia publisher The Brag Media has announced that the Sailor Jerry Rolling Stone Australia Awards will be back for a second year in 2022, with a star-studded party to reunite the music industry following extended lockdowns. For the first time, a free live event series will spearhead the return of live music in […]
Adland declares time's up for fossil fuel polluters. B&T stresses that doesn't extend to the service station meat pie.
This easy survey is a mere five minutes of your time. Okay, 10 minutes if you're a bit on the dopey side.
Has COVID made you look deep down inside yourself? If it hasn't, why not just steal from this 109-page Leos report.
DDB Melbourne nabs Katie Firth for managing partner role. Goes against the typical Melbourne all black for press photo.
Independent brand communications agency, Magnum & Co, has today announced that Director and Co-owner, Katie Barclay, has acquired the business as Founder, Chairperson and majority shareholder, Michelle Hampton, exits.
Dettol today announced it has developed a play-based program, 'Catch a Habit', to teach Australian children to adopt good hand hyg