How To Win With Video Advertising In 2021
As a consumer in 2021, video is unavoidable. Subscription Video On Demand (SVOD), Broadcast Video On Demand (BVOD) and Advertising-Based Video On Demand (AVOD) services are at your fingertips, while linear TV still attracts millions of eyeballs each day.
With this in mind, advertisers must think about how they can leverage video across multiple channels to reach this massive (and engaged) video audience.
But with so many different channels available for video advertising, as well as the option of long and short-form video, it can be a challenge for advertisers to come up with the right strategy. So what's right for you when it comes to video?
We caught up with independent advertising platform Amobee to shed some light on how advertisers can make the most out of their video campaigns.
Know your objectives
Video is a highly effective medium to gain attention and get a message across to consumers. According to IAB Australia, video advertising investments increased by 17.2 per cent in 2020 compared to the previous year, which shows that marketers value this form of advertising.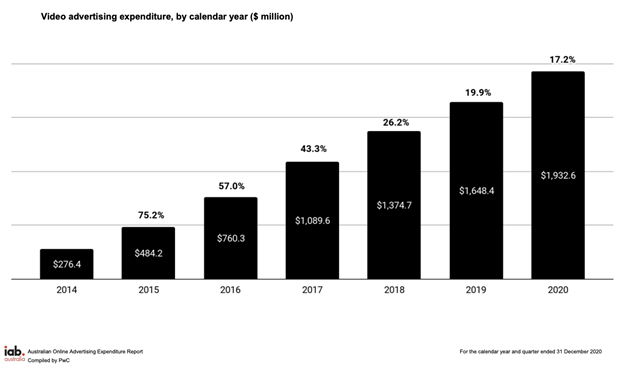 But what about ad length and effectiveness?
There's no doubt that both short-form and long-form ads each have their strengths. The real question marketers should be asking is, "What do I plan to achieve with my video ad?" While the message, medium and form are all important factors, ultimately, a campaign's success depends on the goal it set out to achieve in the first place.
Looking at data from Amobee's platform, it's evident that long-form video is gaining popularity, growing from 40 per cent of video in 2019 to 60 per cent in 2020. However, more traditional verticals like FMCG are still opting for short-form video, while entertainment, telco and technology brands are typically favouring long-form on BVOD.
According to Amobee senior lead, platform Leo Madden [pictured below], consumers today are getting better at filtering content they are exposed to and marketers need to have clearly defined goals to cut through the noise.
"While time is a premium commodity, shorter is not always better. Short-form works best for simple messages, general reminders and driving brand awareness. Long-form, on the other hand, has proven to be more effective for brand building and making long-term connections with consumers," comments Madden.
Focus on your audience
In the age of visual content, there are more ways to consume video content than ever before. It's a common misconception that TV audiences are getting smaller given that younger audiences favour the convenience of video streaming online over appointment-based programming of linear TV. However, the device in which they consume content on-demand is still largely a TV – a connected TV.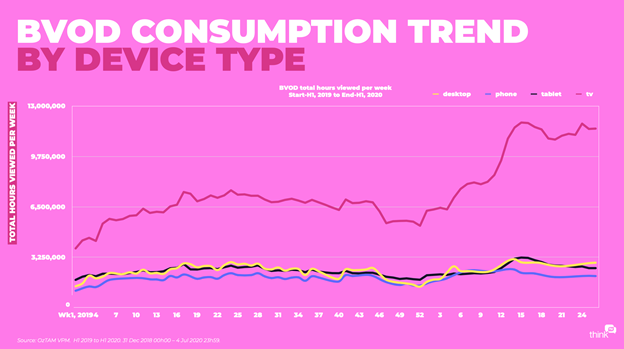 While linear TV will remain strong and continue to take up the majority of media budgets, consumers' increasing time spent on BVOD will drive marketers to allocate more ad spend to CTV through BVOD.
Based on data on Amobee's platform, the percentage of BVOD in overall programmatic buys has gone up from 30 per cent in 2019 to 45 per cent in 2020. Across both short and long-form video, share of voice for BVOD has increased by 50 per cent. This has in part been aided by the growing adoption of CTV.
"We have seen a large shift in the available supply, adoption and now budgets for CTV and expect this trend to continue – particularly as digital TV is the topic of the moment," Madden said.
"Historic supply and forecasting constraints for BVOD in an RTB environment slowed growth but now advertisers using the AmobeeTV platform can forecast and reserve supply as they would linear TV. This allows for securing larger trading positions across traditional and digital with confidence," he adds.
Plan and measure across all devices
Few brands have a holistic view of their video campaigns and even fewer understand which campaigns are driving conversion. While advanced technologies have allowed marketers to easily activate both short-form and long-form video ads across TV, digital and social platforms, many trading teams are still doing them separately and in siloes.
"It's been proven that consumers are screen agnostic. They follow the content, regardless of the device," said Madden. "By implementing a total screens approach to activating video campaigns, advertisers can measure the effectiveness of each channel, minimise media wastage and extend reach."
Real and reliable video planning is only possible when you can access supply and demand together. By consolidating all of video all in one place, advertisers will be able to understand and streamline the consumer journey across all channels.
To win in 2021 (and beyond), advertisers need to take a converged approach to engage audiences as they move across linear TV, connected TV and other smart devices.
Amobee is a global advertising technology company reinventing advertising for the converging world. We provide end-to-end campaign planning, management and optimisation across TV, digital and social media. Learn more about Amobee by visiting amobee.com
Advertising

Marketing

Media

Technology
B&T Awards judge William Leach is on the lookout for "bullshit". Hopefully he doesn't read our daily newsletter then.
Spikes Asia has announced the appointment of Jenny Lau as events director. Based in Singapore, Lau will take overall responsibility for Spikes Asia.  Lau (pictured) has worked within the Asia-Pacific advertising industry for more than 20 years and brings a deep understanding of the trends and issues affecting the regional advertising and marketing industry. Lau […]
Global ecommerce and marketplace specialist Pattern has ranked a group of 50 brands selling on Amazon.com.au based on a set of best practice criteria it has developed. Pet brand Zenify topped the ranking in Pattern's Amazon Australia Benchmarking Report, scoring 82 per cent of the possible marks against a set of criteria designed to measure […]
Fifth Dimension Consulting has announced the expansion of its executive leadership team in response to the organisation's significant growth over the last 18 months. Lyndall Spooner has moved from the position of managing director to the role of chief executive officer (CEO).  As CEO, she will lead Fifth Dimensions' innovation arm, as well as the […]
GoDaddy Inc. has today announced the Australian launch of GoDaddy Studio, a new content creation tool designed for small and medium businesses to create beautiful visual content for their business for all platforms. Compatible on both iOS and Android mobile apps and desktop, GoDaddy Studio includes thousands of customisable templates and easy-to-use tools, providing small […]
B&T encourages FMCGs to tackle plastic waste, except when it comes to tarpaulins, cling wrap or novelty fake dog poo.
IntelligenceBank nabs prestigious industry award that sadly comes with neither sash, tiara or swimsuit competition.
Today, the National Association for the Visual Artists (NAVA) launched a new campaign, Sit For An Artist, urging everyone who is e
Street Poster and OOH provider Revolution360 has been awarded a 7+ year contract with Sydney Trains for its bespoke road-facing advertising assets.
It's top branding tips from Gumtree's Erin Holt. Who can also get you a top deal on a slightly worn leather recliner.
Study finds searches for insurance are on the up. And here's B&T thinking it would've been Lil Nas X or Emmy frocks.
Gnomes R Us and Haggis-In-A-Cup conspicuous by their absence in LinkedIn's list of hot new start-ups.
72andSunny ups the team with four new hires. Could've even been five if that unsuccessful pitch had gone the other way.
Seismic has announced an expanded New Zealand (NZ) presence to support the transformation of sales and marketing teams, and enable the nation's employers to focus on upskilling their workforces to overcome a digital skills shortage. The company has also signed NZ-based specialist consultancies, Fresh Perspective Sales (FPS) and Jumping Fox Interactive, as its first two […]
If only AstraZeneca & Pfizer scientists could manage to distil their products into an M&M-like sugar-coated confection.
"Did the earth move for you?" gags doing the rounds after today's earthquake. Unless you actually did get laid, that is.
Are The Inspired Unemployed making money from their new podcast? If so, is it being declared to Centrelink, B&T poses?
No one's a greater advocate for inclusion than B&T. Hell, we even have Adelaidians on staff as proof we'll take anyone!
Know who'd make terrific contestants on The Masked Singer? Henry the Octopus or Mr Blobby.
If anything, at least real estate house inspections provide an opportunity to laugh at your neighbour's appalling decor.
When they're charging you a $350 call-out fee to arrive a week late, it beggars why these tradies are so angry.
When it comes to nuclear submarines, Mars Rovers and warped celebrities, America has no peers. Less so with beer.
JCDecaux wins Sydney Trains contract. Rather than ads, B&T would prefer to see repeats of I Dream Of Jeannie or ALF.
The Lab expands executive team who can now look forward to spending more time in totally pointless executive meetings.
In the absence of Batman and Robin, it appears Commissioner Gordon can now rely on TikTok to fight the baddies.
A handy batter, Eric Weight is the perfect addition for InMoment as the office cricket team prepares for a tough summer.
Alex Huntley, Booktopia's head of customer experience, recently appeared at software company Freshworks' recent digital CX summit RE:SOLVE. During the summit, Huntley shared his thoughts on future-proofing customer service architecture.Huntley sat down with B&T to discuss Booktopia's partnership with Freshworks and how it has helped their platform develop. B&T: Why did Booktopia first decide to partner […]
The Edison Agency has made four new appointments in its Sydney office to service the continued growth across key account The Arnott's Group and the recent appointment to Nestlé Oceania's strategic packaging design roster. Over the past 12 months, the culmination of strategic and creative work across the Uncle Toby's brand and continued growth of […]
Much like how one can always manage to lose individual socks, the metaverse remains one of the great modern mysteries.
SCA has announced a new smart speaker experience for the Hit Network, with Tom and Olly's Guide to Lockdown. A voice-activated way to get inspiration and information on fun activities that can be done at home, the guide is curated to appeal to a wide audience. Smart speaker users will find a range of ideas […]