How To Win With Video Advertising In 2021
As a consumer in 2021, video is unavoidable. Subscription Video On Demand (SVOD), Broadcast Video On Demand (BVOD) and Advertising-Based Video On Demand (AVOD) services are at your fingertips, while linear TV still attracts millions of eyeballs each day.
With this in mind, advertisers must think about how they can leverage video across multiple channels to reach this massive (and engaged) video audience.
But with so many different channels available for video advertising, as well as the option of long and short-form video, it can be a challenge for advertisers to come up with the right strategy. So what's right for you when it comes to video?
We caught up with independent advertising platform Amobee to shed some light on how advertisers can make the most out of their video campaigns.
Know your objectives
Video is a highly effective medium to gain attention and get a message across to consumers. According to IAB Australia, video advertising investments increased by 17.2 per cent in 2020 compared to the previous year, which shows that marketers value this form of advertising.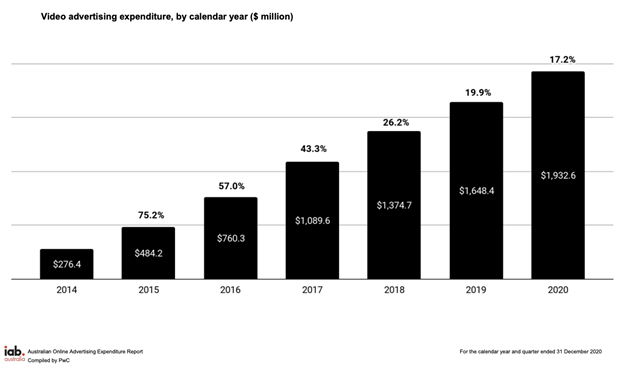 But what about ad length and effectiveness?
There's no doubt that both short-form and long-form ads each have their strengths. The real question marketers should be asking is, "What do I plan to achieve with my video ad?" While the message, medium and form are all important factors, ultimately, a campaign's success depends on the goal it set out to achieve in the first place.
Looking at data from Amobee's platform, it's evident that long-form video is gaining popularity, growing from 40 per cent of video in 2019 to 60 per cent in 2020. However, more traditional verticals like FMCG are still opting for short-form video, while entertainment, telco and technology brands are typically favouring long-form on BVOD.
According to Amobee senior lead, platform Leo Madden [pictured below], consumers today are getting better at filtering content they are exposed to and marketers need to have clearly defined goals to cut through the noise.
"While time is a premium commodity, shorter is not always better. Short-form works best for simple messages, general reminders and driving brand awareness. Long-form, on the other hand, has proven to be more effective for brand building and making long-term connections with consumers," comments Madden.
Focus on your audience
In the age of visual content, there are more ways to consume video content than ever before. It's a common misconception that TV audiences are getting smaller given that younger audiences favour the convenience of video streaming online over appointment-based programming of linear TV. However, the device in which they consume content on-demand is still largely a TV – a connected TV.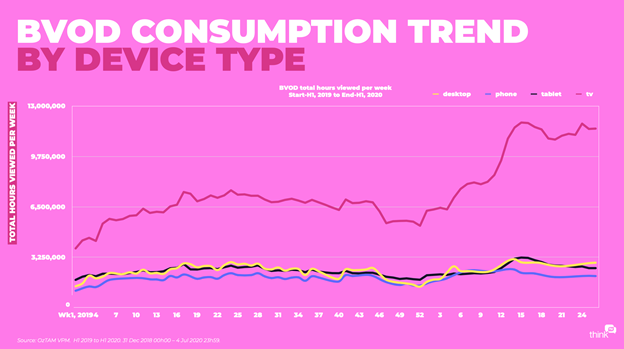 While linear TV will remain strong and continue to take up the majority of media budgets, consumers' increasing time spent on BVOD will drive marketers to allocate more ad spend to CTV through BVOD.
Based on data on Amobee's platform, the percentage of BVOD in overall programmatic buys has gone up from 30 per cent in 2019 to 45 per cent in 2020. Across both short and long-form video, share of voice for BVOD has increased by 50 per cent. This has in part been aided by the growing adoption of CTV.
"We have seen a large shift in the available supply, adoption and now budgets for CTV and expect this trend to continue – particularly as digital TV is the topic of the moment," Madden said.
"Historic supply and forecasting constraints for BVOD in an RTB environment slowed growth but now advertisers using the AmobeeTV platform can forecast and reserve supply as they would linear TV. This allows for securing larger trading positions across traditional and digital with confidence," he adds.
Plan and measure across all devices
Few brands have a holistic view of their video campaigns and even fewer understand which campaigns are driving conversion. While advanced technologies have allowed marketers to easily activate both short-form and long-form video ads across TV, digital and social platforms, many trading teams are still doing them separately and in siloes.
"It's been proven that consumers are screen agnostic. They follow the content, regardless of the device," said Madden. "By implementing a total screens approach to activating video campaigns, advertisers can measure the effectiveness of each channel, minimise media wastage and extend reach."
Real and reliable video planning is only possible when you can access supply and demand together. By consolidating all of video all in one place, advertisers will be able to understand and streamline the consumer journey across all channels.
To win in 2021 (and beyond), advertisers need to take a converged approach to engage audiences as they move across linear TV, connected TV and other smart devices.
Amobee is a global advertising technology company reinventing advertising for the converging world. We provide end-to-end campaign planning, management and optimisation across TV, digital and social media. Learn more about Amobee by visiting amobee.com
Beauty YouTuber James Charles has had his YouTube account demonetised after allegations surfaced that he sexted minors. Charles has more than 25.5 million subscribers on YouTube, where he gained popularity for his makeup videos. He is worth an estimated US$22 million. Since February, a number of boys under the age of 18 have accused Charles […]
You can now transfer all your old crap on Facebook. Although it might be better to just delete some of the old photos.
In his latest guest post, B&T regular Robert Strohfeldt skewers marketers' latest buzzword – purpose… I used to flick through the various newspapers cartoons each day – reckon it would be tough trying to create a cartoon each day, based on a major news story, that is both funny and insightful. Since the PC mob […]
MILO Cereal has launched its first major marketing campaign for its newly launched Protein cereal, via independent creative communications agency Connecting Plots. Building on MILO's brand message of fuelling active kids, the new campaign platform, 'Beast Mode – Activated', evolves the master brand's focus on team sports. This aims to celebrate how MILO Protein helps […]
Women Leading Tech winners were lauded at a gala lunch today. And, right on cue, the damn Powerpoint preso didn't work.
This columnist has thanked the internet for keeping us connected. The NBN fails to get a mention, unsurprisingly.
Flight Centre has unveiled a new look and a global brand campaign that poses a tongue-in-cheek challenge to Aussie travellers. The launch also marks the brand's first global campaign across Australia, New Zealand, the UK, Canada and South Africa, highlighting Flight Centre's collective travel expertise. Created by Flight Centre Australia's in-house creative team, 'There's Nowhere […]
This is one of those rather unpleasant stories B&T doesn't enjoy running. We'd far prefer to be bringing you cute dogs.
This GroupM tech news will have you thinking you're in a scene from Star Trek minus the skivvies and the elongated ears.
More racism allegations on the Neighbours set, as Alf quickly adds a spicy lentil dahl & papadums to the diner's menu.
Facebook set to release a Clubhouse competitor. That's an audio-based social media app & nothing at all to do with golf.
Coles continuing to flog its insurance. And if it's as good as its BBQ chooks then you're in for a juicy stuffing.
Here's ways marketers can help young Aussies without once mentioning the insidious smashed avo on gluten-free chia rye.
B&T enjoys BlueScope's Steel Profile magazine for the innovative design, the Sudoku puzzle and the spongecake recipes.
marie claire says "magazine covers will never be the same", as Fishing World editor weighs up the salmon over the trout.
Plans for the next Mad Max revealed with news Chris Hemsworth is in and Tina Turner is out.
Does your mum still make a roast dinner whenever you visit? It's much like Australian television - samey but delicious.
Have you been waiting for the opportune moment to robot dance around the office? Get set to immediately Rockit here.
It's the latest revolution in shopping that will again have you questioning the size of your Mastercard statement.
The number of Domino's pizza boxes in Initiative's wheelie bin a testament to the research into this cannabis study.
Prince Philip's funeral enjoys impressive TV numbers despite an absence of sideline comments from Brad 'Freddy' Fittler.
Comedienne Julia Morris once again proves that title's a bit of a stretch in slightly painful home loan ad.
Here's what high-performing marketers did during the pandemic. Although the low-performing ones would've been funnier.
Wineries can now access voice AI. And after a few bottles, you can voice them back with some Celine or an Adele number.
Here are three tips to a happier workplace that don't include booze, leaving early & repeats of Hey Hey It's Saturday.
B&T's calling this report "a turning point for makers of the saga". Even if it's actually a review for Godzilla Vs Kong.
Quintis is apparently a maker of sandalwood products and not a really bad misspelling of Australia's national airline.
Image lead story
It's even more photos from Thursday's 30 Under 30! Re-live all the action, the bad dancing and the stodgy paella here.
Is it just us but are the disadvantages of social media starting to heavily outweigh the advantages?
Most fights are either about money or a bottle of rum is involved. We'll leave you to decide where this falls.