LEGO Revises Its Iconic 1981 'What It Is Is Beautiful' Campaign In Celebration Of International Women's Day 2021
Ever wanted to see your kid on that famous LEGO ad from 1981? Now you can, says the company, thanks to a new ad campaign. To mark International Women's Day, LEGO is launching a new  campaign focusing on young female builders.
The print campaign is based on LEGO's now iconic 1981 "What it is is beautiful" advertisement that featured a young girl proudly holding her newly-built creation. Check out the original – and now 40 year old – ad below: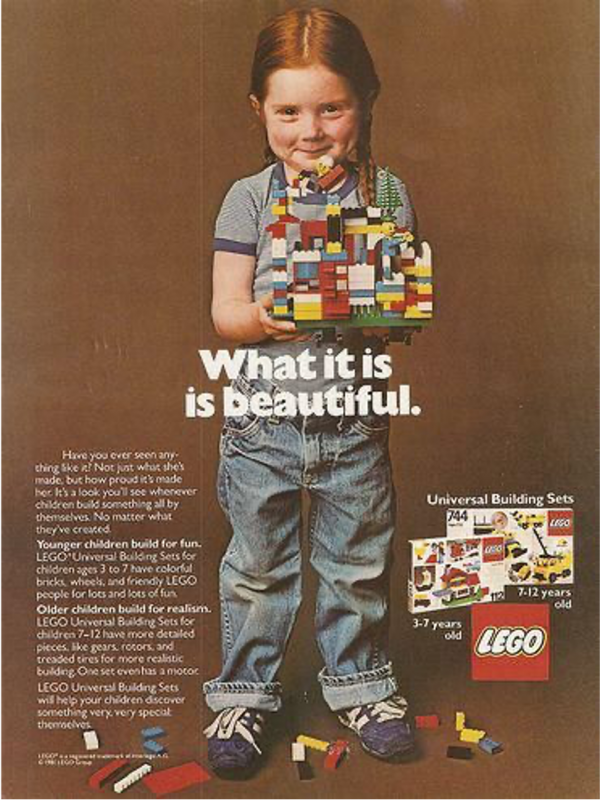 The new campaign will allow parents to submit images of their children holding their designs, along with a few keywords, and the website will then generate a unique poster based on the image that will be emailed back.
Called 'Future builders', you can check the site out here.
And check out the very modern and 2021 take on the original '81 ad below: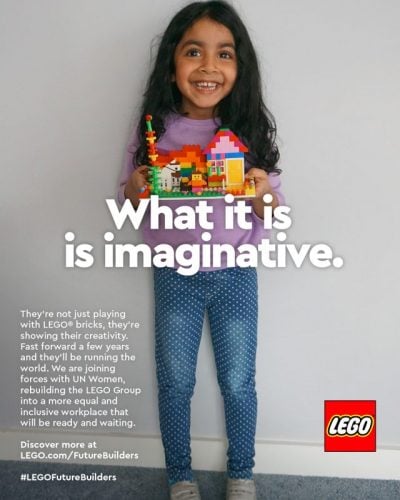 Research from the latest LEGO Play Well Study shows that 73 per cent of parents believe gender differences are driven more by societal expectations than biology with many children seeking to positively challenge gender stereotypes in society, the LEGO Group is committed to supporting them and creating a more inclusive and diverse workforce that will live up to their ideals and expectations.
Julia Goldin, global chief product and marketing officer at the LEGO Group commented: "At the LEGO Group, we believe children are our role models. We look to them for inspiration every day and want to help them break down gender stereotypes and create opportunities for everyone. Celebrating people helps empower people, and through this campaign we, along with the help of parents and caregivers, want to celebrate the skills and creative potential of today's young women – the next generation of amazing female leaders!"
As well as recently introducing its Responsible Workplace initiatives, the LEGO Group has signed-up to the UN Women's Empowerment Principles to help guide how it can better empower women and girls, accelerate gender equality, and encourage more young girls to believe they can achieve anything they set their hearts on.
Freedom Foods and 72andSunny Sydney have launched the first advertising campaign for Australia's Own range of plant-based beverages. The campaign introduces a new visual world and identity for the brand and captures the healthy, positive feeling you get when spending time in nature and when consuming Australia's Own certified-organic, plant-based beverages. As well as featuring […]
B&T is chatting with the wonderful Jessica Rowe. Due to time pressures, we thought it best not to mention Eddie McGuire.
Do you take your UEFA Champions League football bloody seriously? Well, you may not like this Ed Kavalee announcement.
Concerning news of an Ashes boycott this summer. As Seven primes Big Bang Theory repeats as a precautionary measure.
Yes, B&T's overdoing it with cricket stories today. Which, admittedly, is better than overdoing it with insurance ads.
Forget all the hassles of wireless-free streaming, the Fetch Mini 4K set top box is here! And with bubble wrap, too.
Not-for-profit, for-purpose agency Silver Lining is launching a fundraising challenge that asks Australia to 'Do Nothing to Do Something for Mental Health'.
B&T is no fan of the recent proliferation of online sports betting apps. Except when we win, then we bloody love them.
When B&T thinks Summer Bay, we think "love, exciting & new, come aboard, we're expecting you". Or is that The Love Boat?
If you're in the media planning game, B&T can't recommend this book enough. Manu's 'French Bistro' is also excellent.
This article carries themes of prophylactic use, crossdressing & gay sex. Nothing a few Hail Marys can't fix, B&T says.
Apple unhappy about EU's uniform phone charger threat. Still turning blind eye to flogging power cables for 120 bucks.
Did you perhaps take an ecstasy tablet in your misspent youth? B&T warns this ad could bring it back on 15 years later.
Get the frock or suit to the dry cleaners & hook yourself up a gram, Commercial Radio Awards now a mere 142 days away.
Vegan snack brand threatened with lawsuit over purple packaging. Has reportedly enlisted Grimace as its legal counsel.
Are you paying too much for search marketing? Discover the awful truth here. Or, alternatively, look at the invoice.
Nine creatives from APAC are among the 94 finalists from 27 countries in The One Club for Creativity's prestigious Young Guns 19 competition, celebrating international creative professionals age 30 or younger. The finalists from APAC are: Hiu Ching Kung, graphic designer, Hong Kong Lam Ieong Kun, graphic designer, illustrator, indego design, Macau Raxenne Maniquiz, graphic designer, illustrator, Santa Maria (Philippines) Kiyotaka […]
Dubai is THE place for adventurous travellers. While its prison system is the place for REALLY adventurous travellers.
Ben's provides fluffy, stodge-free rice each time & the ideal accompaniment to your fluffless, stodgy curry disasters.
Qantas marketer Jan Consul no longer blagging 20% off flights to Maroochydore after joining the Agnes Media team.
OOH transit company Adflow has announced the success of the first phase of its regional expansion program. Adflow's regional footprint has increased by 60 per cent to now include 65 regional locations. With 9.1 million people living regionally in Australia (growth of 1.1 per cent experienced in the 19/20 Financial year) and most regional centres […]
Freshworks, a leading software company, has started trading on the Nasdaq Global Select Market, marking an important milestone for the company. The company priced its IPO at US$36 per share (AU$49.76), raising about US$1 billion (AU$1.4B), resulting in a total market capitalisation of AU$13.7 billion  (US$10B). Freshworks, which was founded in India, has strong roots […]
Independent creative agency, SLIK, has made significant changes to its full service creative offering with four hires across management, creative and production.
B&T warns this article contains rather racy imagery. But as you're working from home, a trip to HR's not on the cards.
News unveils 'The Power of Brand Content' research. The title arguably giving away the fact that it's a huge fan of it.
Has a partner complained of incessant flatulence, pungent urine or performance issues? This nutrition podcast may help.
Black Friday Cyber Monday (BFCM) is the biggest player in the holiday shopping game and Google's most recent research suggests consumer interest for the peak sales season starts much earlier than retailers may realise. The pandemic has fundamentally changed buyer behaviour over peak sales season, with Google suggesting that global consumer interest in Black Friday […]
This ode to pubs is so visceral and raw you can almost smell the chunder, the beer-soaked carpet & the urinal blocks.
RMIT Pitch Night returns! And if you ever needed a reason to break out the cocktail shaker, this has to be it.
Australia falls to 14th on best Netflix library list. However, we're still tops for skin cancer rates & shark attacks.