LEGO Revises Its Iconic 1981 'What It Is Is Beautiful' Campaign In Celebration Of International Women's Day 2021
Ever wanted to see your kid on that famous LEGO ad from 1981? Now you can, says the company, thanks to a new ad campaign. To mark International Women's Day, LEGO is launching a new  campaign focusing on young female builders.
The print campaign is based on LEGO's now iconic 1981 "What it is is beautiful" advertisement that featured a young girl proudly holding her newly-built creation. Check out the original – and now 40 year old – ad below: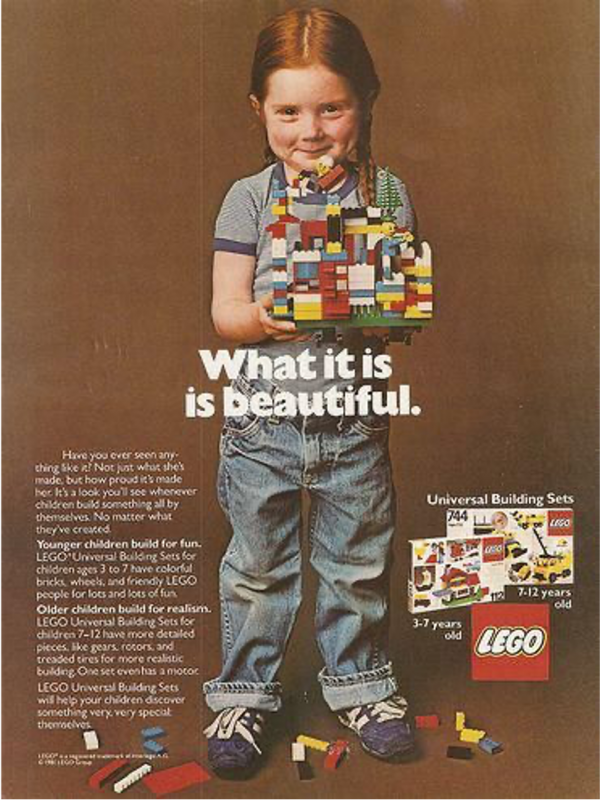 The new campaign will allow parents to submit images of their children holding their designs, along with a few keywords, and the website will then generate a unique poster based on the image that will be emailed back.
Called 'Future builders', you can check the site out here.
And check out the very modern and 2021 take on the original '81 ad below: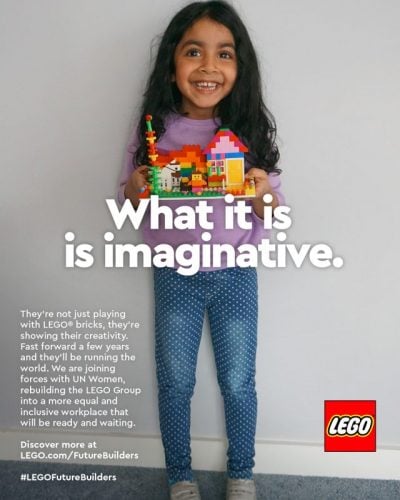 Research from the latest LEGO Play Well Study shows that 73 per cent of parents believe gender differences are driven more by societal expectations than biology with many children seeking to positively challenge gender stereotypes in society, the LEGO Group is committed to supporting them and creating a more inclusive and diverse workforce that will live up to their ideals and expectations.
Julia Goldin, global chief product and marketing officer at the LEGO Group commented: "At the LEGO Group, we believe children are our role models. We look to them for inspiration every day and want to help them break down gender stereotypes and create opportunities for everyone. Celebrating people helps empower people, and through this campaign we, along with the help of parents and caregivers, want to celebrate the skills and creative potential of today's young women – the next generation of amazing female leaders!"
As well as recently introducing its Responsible Workplace initiatives, the LEGO Group has signed-up to the UN Women's Empowerment Principles to help guide how it can better empower women and girls, accelerate gender equality, and encourage more young girls to believe they can achieve anything they set their hearts on.
Today, Integral Ad Science (IAS), a global leader in digital ad verification, released its Media Quality Report (MQR) for H2 2020, providing transparency into the performance and quality of Australian digital media, alongside global comparisons. Integral Ad Science's H2 2020 MQR highlights brand safety, ad fraud, and viewability trends across display, video, mobile web, and […]
Quintis Sandalwood has appointed Illuminate as its global PR partner following a competitive pitch process. Proudly Australian, Quintis produces and markets Indian Sandalwood oil, logs, chips and powder products across the world to major companies in industries such as fragrance, aromatherapy, cosmetics, handicrafts and Traditional Chinese Medicine industries. Illuminate will be responsible for a global communications […]
Image lead story
Hopefully the weekend has given everyone enough time to recover from B&T's 30 Under 30 awards and prepare themselves for our official photo dump! We shared some of the highlights last week, and now you can peruse all of the pictures taken on the night. Thank you to everyone for attending this year's awards, and […]
Is it just us but are the disadvantages of social media starting to heavily outweigh the advantages?
Most fights are either about money or a bottle of rum is involved. We'll leave you to decide where this falls.
Kinderling Kids Radio (Kinderling) has announced the completion of its move from DAB+, where it launched six years ago, to a direct-to-consumer streaming model, accessible online or through the Kinderling Kids iOS and Android app. The Parent Brand, the parent company of Kinderling Kids and Babyology, made the decision to shift as streaming and on-demand […]
Flashtalking, the leading global independent platform for ad management, data-driven creative, and unified insights, has announced the appointment of James Whitbread as its JAPAC Sales Director.
SPECIALIST AUSTRALIAN PR AGENCY LITTLE BIRD PR SELECTED AS PR PARTNER FOR THERMOMIX 20TH ANNIVERSARY
NSW government launches multicultural gambling awareness campaign. But not enough to actually want to ban it.
Globally award-winning, indie agency RUN, have launched the New Zealand National Influenza Immunization Campaign, running over the next 8 weeks across TV, digital, social, print and press.
Do your ideas sound great at the brainstorming stage only to fall flat at the execution? You'll empathise with this.
One week to got to nominate for B&T's CMO Power List! And fear not, it's all quite anonymous so you don't sound crawly.
Apparently the UK's in the grip of massive gnome shortage. Surely they could do something with potatoes in the interim?
Most people over 60 stay on top of their health with regular check-ups. Whether it's eyes, prostate or breasts, they realise at their age it's important. But one that gets ignored is hearing. They'd rather live with gradual hearing loss, and continually ask what, huh, pardon or sorry until it seriously impacts their life and […]
Creative communications agency Connecting Plots has been appointed by Casella Family Brands to handle the social media accounts for [yellow tail] wine in Australia. The win follows an audit of the Casella Family Brands social activities, which led to [yellow tail] rethinking its approach to social media and how it aligns with its overall marketing […]
Byron Bay residents call for a boycott of proposed Netflix doco. Seem less concerned about fleecing tourists, however.
Publicis chief pours water on ongoing Havas merger rumours; yet his windowsill begonia in desperate need of urgent TLC.
Experts say the pandemic's taught us about the highs & lows of tech. Not to mention keeping extra loo rolls on hand.
v2food, has appointed HERO's B.B.E as the lead strategic and creative agency for the brand following a competitive pitch process. v2food is an Australian pioneering food technology business with a global vision to feed the planet sustainably. After launching nationally in 2019, v2food has been on a mission to offer Australians an easy alternative to meat […]
Australians "disheartened" by emoji diversity. Thank god they weren't asked about house prices or vaccine rollouts.
It's more cause advertising from the insurance companies. Still nothing on the fine print of their policies.
Magnite (Nasdaq: MGNI), the largest independent sell-side advertising platform, today announced it has been working with Adform, the only independent global ad management platform covering all aspects of the digital campaign lifecycle, to scale first party identifiers in privacy-safe ways. With the pending elimination of third-party cookies, the industry must establish future-proof identity solutions for publishers and buyers.
The Commercial Producers Council is delighted to announce the appointment of Martin Box (pictured) as its new Co-Chair, effective immediately. Box, Head of Production at Airbag, joins Co-Chair Pip Smart, and fills the vacancy left by Lucas Jenner who steps aside from the Co-Chair role after four years of service, in accordance with the CPC's […]
Award-winning indie agency 3rdspace launches in the UK. Let's just hope its awards translate over there.
MAFS is done & dusted for 2021! Still, expect the contestants to return on 'Survivor' or I'm A Celeb...' anytime soon.
Bad news out of SBS today for cycling and football fans. Thankfully, says it's 100% committed to the train enthusiasts.
The venerable SMH celebrates 190 years in print. Not entirely certain it'll get to the double ton, however.
Google considers appeal after federal court rules it misled Australians. B&T bets it was ably abetted by its legal team.
Nine unveils impressive quartet of judges for State Of Originality. Yet another reason not to hand in dirge, really.
Brexit, COVID, Big Phil and now Cuthbert The Caterpillar Cake! This is really resting the will of the British people.