Channel Seven Apologise For Chinese Flag Mistake
Another day, another Olympic pool size whoopsie. Channel Seven has issued an apology to the Chinese-Australian community after the broadcaster accidentally used the Chilean flag during a News Segment
Having already upset Chinese viewers in Australia by cutting to a commercial break during China's entrance during the Opening Ceremony. Channel 7 is in the poop again when  Australia's Olympic broadcaster accidentally used Chile's flag, instead of China's, during a projected medal tally graphic.
A Change.org petition received over 9,000 signatures said:  "I think for anyone who works in the media and broadcasting industry, what is a national flag of China should be the absolute last thing for them to get it wrong. And a step further to say that this is a once in four years event, Channel 7 has four years to prepare and the very basic fundamental element is to get every country's name and flag right at least.
"The Chinese Australian community calls on Channel 7 to issue an apology on your national broadcasting services to resolve this problem and please make sure in the next 16 days of the Olympics, not only to China but to all the countries that participate in the Rio Olympic, no same mistake will happen again.
"For almost half million Chinese people, the third largest country of birth in Australia, I am sure that I am not the only one saw this mistake on your program."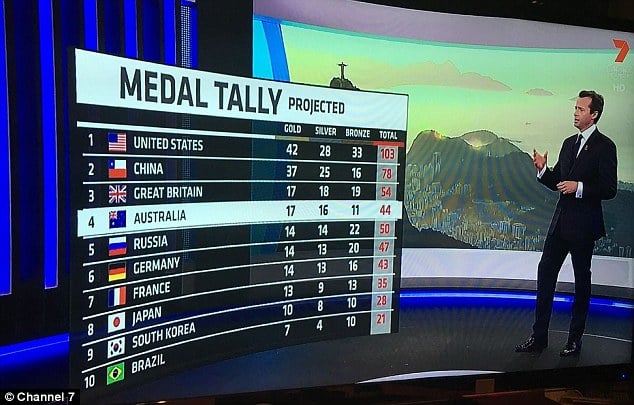 A Seven spokesperson told Chinese news agency Xinhua: "It was a mistake – and to the people who have been offended by it, we apologise unreservedly to them."
Comments on the petition claim the mix-up was intentional: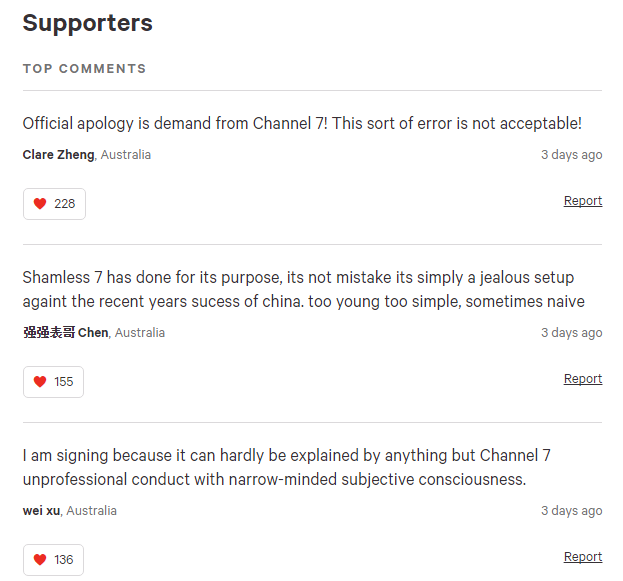 Excitable Chinese media in Oz in huff & puff over Channel 7's flag gaffe. Author questions 'hidden motives' #Rio2016 pic.twitter.com/86N2TqFPTh

— Bill Birtles (@billbirtles) August 7, 2016
Yet another channel 7 stuff up. Definatley not the Chinese flag on medal count@pm_live pic.twitter.com/hyjo1jL7JQ

— Mitchell Griffin (@MitchCamGriffin) August 6, 2016