Outrage As French Magazine Charlie Hebdo Mocks Death Of Syrian Toddler
The French satirical magazine Charlie Hedbo has published two cartoons mocking the drowning of Syrian toddler Aylan Kurdi.
Earlier this year Charlie Hebdo was targeted by terrorists who killed 12 people working at the publication. The phrase Je suis Charlie (French for "I am Charlie") trended worldwide as a slogan of support for the publication and free speech.
Eight months after these attacks on the publication, the magazine's latest issue, titled "Welcome Migrants" mocks the death of drowned three year old boy who was escaping Syria. The image of Aylan al-Kurdi's body went viral and drew attention to the refugee crisis around the world.
Charlie Hebdo's cartoon of the drowned three-year-old features the caption "So close to the goal" and near the body is a billboard advertising McDonald's Happy Meal saying: "Two children's menus for the price of one."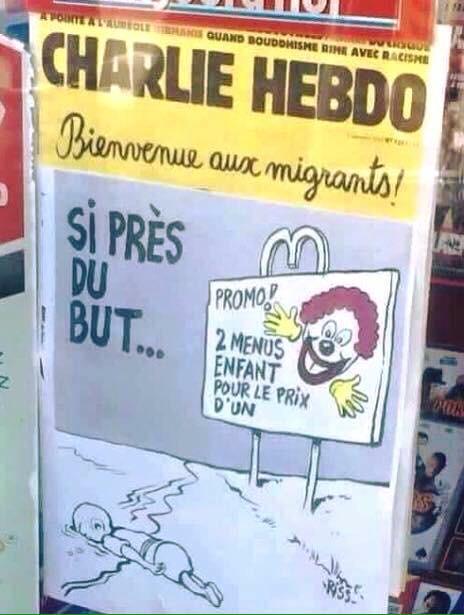 The second page of Charlie Hebdo is a cartoon of Jesus walking on water next to the legs of a drowning child. The captain reads: "Christians walk on water….Muslim kids sink."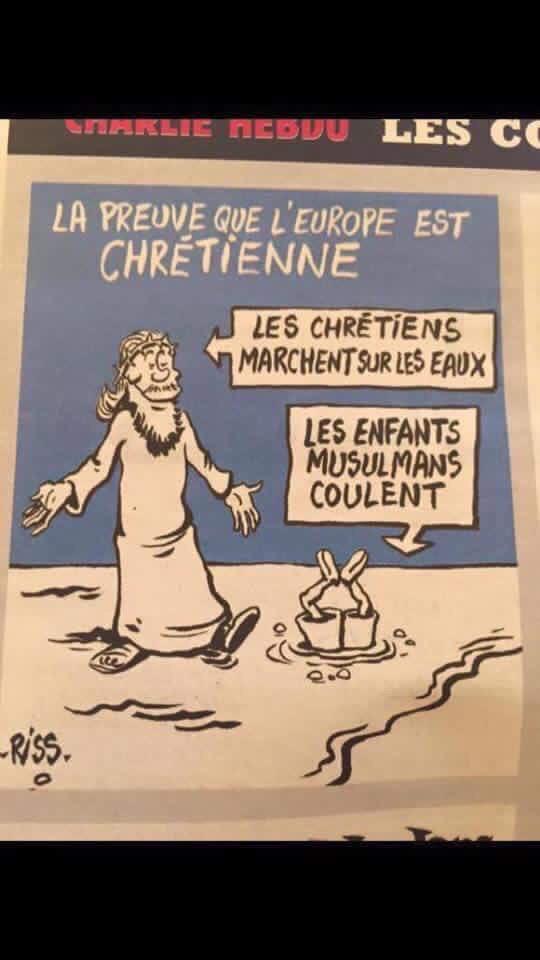 The cartoons were drawn by artist Laurent "Riss" Sourisseau who survived January's shootings despite being hit in the shoulder. He is chaperoned at all times by armed, plain-clothed police since the attack on the Charlie Hebdo headquarters.
Social media has erupted attacking the publication's images:
Your friendly reminder that satire punches up and not down & that Charlie Hebdo and their racism are not satire.

— Arnessa (@Rrrrnessa) September 14, 2015
Have Charlie Hebdo ever created cartoons of "dead White European babies" ? Where are those ironic cartoons? Where are those depictions?

— C-ORE out SEPT 18TH (@MykkiBlanco) September 14, 2015
Charlie Hebdo mocks the death of Syrian kid Aylan Kurdi. The reason I was never Charlie – #JesuisCharlie? disgrace! pic.twitter.com/Em1qdodFQR

— Gaurav Pandhi (@GauravPandhi) September 14, 2015
#CharlieHebdo's newest cover: (reads) "So close to his goal." As if these people are after anything but their lives. pic.twitter.com/a1YHgBKhob

— ubeyd sakin (@ubeydsakin) September 14, 2015
@Triska It's cowardice, pernicious cowardice hiding behind the panacea of satire. #CharlieHebdo @Charlie_Hebdo_

— joe (@clark_theory) September 14, 2015
Anyone still want to be #JeSuisCharlie now? http://t.co/0PqN3xNGNa

— Feroz Khan (@zoomnclick) September 14, 2015
The #CharlieHebdo cover mocking the death of #AylanKurdi, the drowned Syrian toddler, is puerile, disgraceful and outrageous.

— Dr. Hassan Qadri (@DrHassanQadri) September 14, 2015