NewsMediaWorks Brings Back 'The Truth Builds Trust' Campaign
The first iteration of NewsMediaWorks' campaign, 'The Truth Builds Trust', which promotes of the value of authentic news environments to advertisers, has generated more than 30,000 unique visits to the website and will return in 2019.
The first of a multi-stage campaign, 'The Truth Builds Trust' has been underwritten by Australia's leading news media publishers: News Corp Australia, Fairfax Media and Seven West Media, and has been prominent in the vast majority of national, metropolitan, community and regional newspapers and news websites.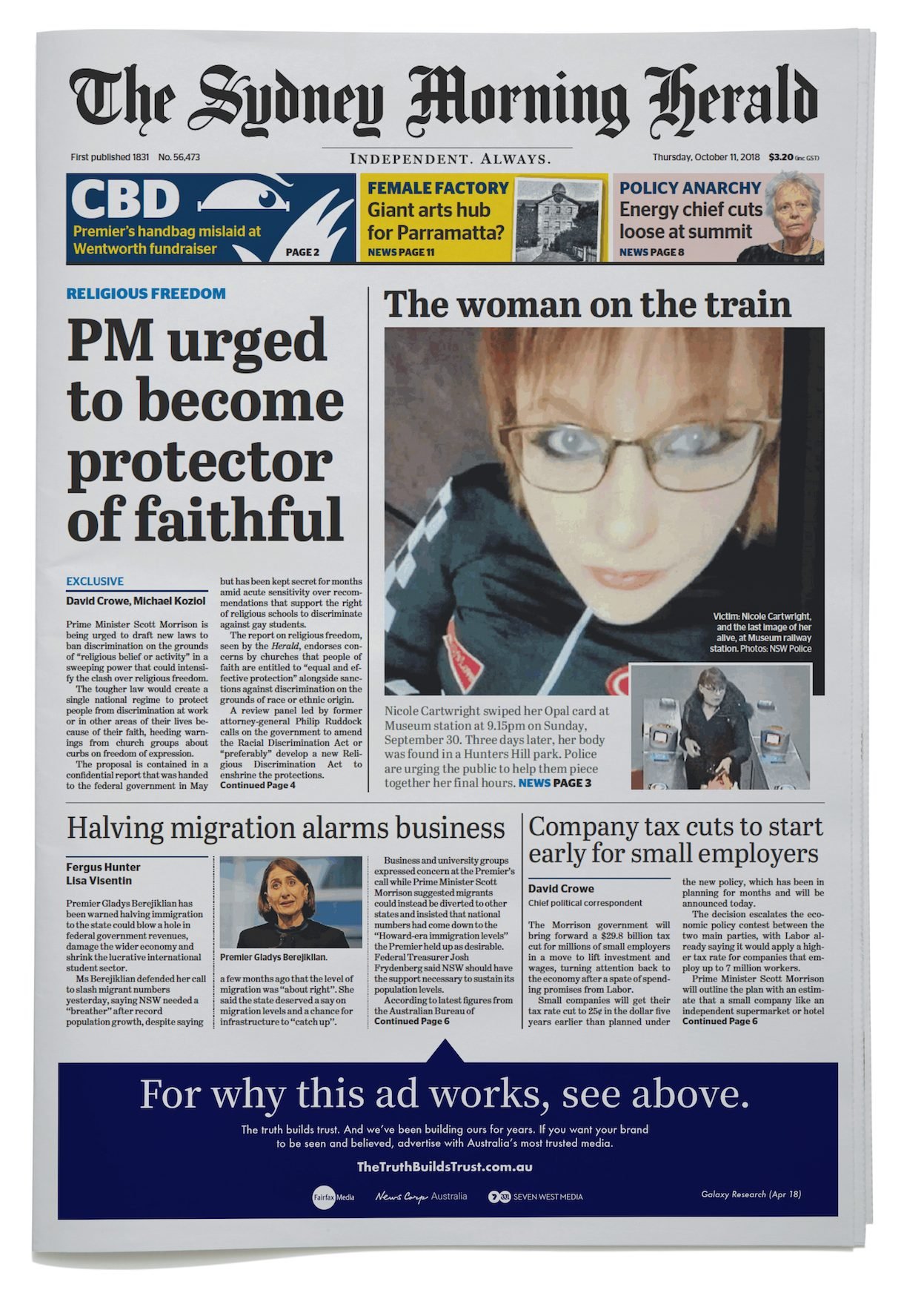 In addition, The Guardian Australia and The Saturday Paper have become members of NewsMediaWorks and joined the fray.
The next stage of the campaign will point to the findings of the third ADTRUST study conducted by Ipsos that is currently in market.
The second study, which was released hard on the heels of the Cambridge Analytica and Facebook scandal in July, unequivocally demonstrated that readers rate newspapers and news websites above all other media as the most trustworthy.
Further, readers asserted this trust positively impacts their regard for advertising.
NewsMediaWorks CEO Peter Miller declared 'The Truth Builds Trust' campaign a success.
"Advertisers are more than ever before hell-bent on maximizing returns. These ADTRUST findings should be a vital input in their media selection," he said.
"We have experienced heavy traffic to the thetruthbuildstrust.com.
"This indicates we have spiked a great deal of interest from advertisers who, as a result of our study, are now better equipped to challenge media plans that emphasise risky social over the sure thing of authentic news media.
"The same study revealed that users of news websites similarly rated the content and advertising as far more trustworthy than social media, which of course has faced a series of well-documented batterings this year.
"We definitely wanted to capitalise on the well-founded doubts that users and advertisers have now formed around the dependence on social media. It is at heart a positive campaign for Australian news media."
NewsMediaWorks partnered with strategic agency Thinkerbell on the campaign.
"Thinkerbell found an ingenious way to use our members' newspapers and websites to tell our story," Miller said.
It featured a range of executions that asserted why trusted journalism is important for advertisers, including: "It's what's on the other page that makes this space so powerful", "For why this ad works, see above" and in digital "Surround your brand with articles your customers trust".
The latest Q3 News Media Index, based on data collated by Standard Media Index (SMI), revealed the continued improvement in news media ad revenue due to the re-evaluation of news media by marketers and agencies.
Jimmy Hyett, founder and CEO of indie media shop This Is Flow, dropped by the B&T offices recently to chat about (almost) everything with Greg 'Sparrow' Graham. The agency has been on something of a roll recently picking up several new client wins, including A2 Milk and AirAsia. The pair also discussed the merits and […]
Digital marketing agency Rocket has announced the appointment of Samantha Dodson (lead image) as creative director. This hire builds on existing growth in Rocket's creative team in 2023 and will further empower Rocket to drive client growth through high-performing creative and digital campaigns. Ex-Ogilvy and DDB, as well as creative lead at BlueMelon, Dodson brings […]
Free TV has welcomed the federal government's ongoing commitment to ensuring that all Australians can access their local free television services on connected TVs through the introduction of legislation to implement a prominence framework in coming days. Free TV CEO Bridget Fair (lead image) said: "Right now, Australian viewers are being steered in the direction […]
You'd be forgiven for thinking that radio presenters had already reached their creative potential by livening up the morning commute of drivers across the country, but that is not the case.  About ten years ago,  Nova 96.9  presenter Michael "Wippa" Wipfli realised that he had a saucy, undiscovered talent, just waiting to come out.  The […]
Burger King in the UK has taken a unique approach to Christmas, releasing a Christmas carol sung by a car satnav. The campaign, by London agency Bartle Bogle Hegarty, includes an almost eight-minute remake of Chris Rea's hit "Driving Home for Christmas" that it's retitled "Driving (Thru The) Home (Of The Whopper)". The hypnotic track […]
New research has revealed that businesses are not acting quickly enough to preserve customer trust following a data breach, and that failure to effectively engage customers in a way that matches their expectations will result in irreparable long-term damage to brand reputation. Porter Novelli Australia, in partnership with Quantum Market Research, has conducted research to […]
Beauty brand Sephora has divided the internet after posting an ad for an adult toy to its global Instagram page which has more than 20 million followers. Since posting the advert, Sephora has since stopped allowing comments on the post, but thankfully (for B&T readers) we managed to grab a few before that happened. The […]
New research has revealed the most controversial TV commercials which have sparked outrage across the US, with big names such as Pepsi and Dove making the list.   The findings, compiled by journey advertising platform illumin also includes a new ranking that identifies which states have made the most complaints about TV commercials over the past […]
A recent survey Pilot conducted shows that shame remains a solid barrier to men seeking professional help for sexual performance issues, so they started a campaign encouraging men to put it all out there, loud and proud. Pilot is a digital healthcare clinic, and since 2019, Pilot has given over 100,000 Aussie men convenient access […]
Creative agency FRED & FARID Shanghai has partnered with the international brand Guinness to make a mark on the Chinese market by envisioning and developing "A Whole Universe" – a visual odyssey honouring one of the most iconic beers. There are briefs that one cannot turn down, like the one to introduce the most iconic […]
Craig Reucassel (left) of The Chaser and dear friend of B&T, will take over hosting duties on ABC Sydney breakfast radio, with James Valentine returning to afternoons and Indira Naidoo handing over control of her evening show to producer Renee Krosch. Reucassel has produced three seasons of War on Waste for ABC TV since 2017 and last […]
New-generation media agency 27 Degrees Media has been appointed to manage digital media for national tyre retailer Tyreright in one of its first Australian client signings. Lead Image: Loan Morris – 27 Degrees Media CEO Under the partnership, 27 Degrees Media will be responsible for all digital media strategy, planning and buying, along with influencer […]
The Works has announced the launch of 'Question Everything' a new brand platform and campaign for their newest client, Archie Rose. As a nine-year-old independently owned and operated Australian multi-spirit distillery, Archie Rose has garnered a devoted following among existing customers, with a reputation primarily built on white spirits – particularly gin. However in line […]
Brisbane performance agency farsiight has announced the launch of its new market positioning, Growth for Good, in response to a changing business landscape, marking a departure from a "growth at all costs" mentality that has defined the industry in recent years. Agency founders and brother duo, Josh and Ben Somerville, envision Growth for Good as […]
Australia's largest privately owned transit media supplier, GoTransit Media Group, now offers unprecedented options for transit advertising in Newcastle – on both land and sea following their successful tender to supply interior advertising inside the popular Stockton Ferries. The national transit media company is already well acquainted with the thriving NSW market, having successfully operated […]
Heritage and People's Choice have launched People First Bank, the new name for positive change in banking Australia's largest customer-owned bank has unveiled its new brand, announcing that Heritage and People's Choice will be unified under the new name of People First Bank. Chairman Michael Cameron said the highly anticipated new brand offered a compelling […]
We're not sure how many logophiles read B&T, but this one's for you. That's a lover of words, not a lover of logging.
It's the B&T Award winners all in video form! We're putting the slurring down to their excitedness.
Planning your own what's hot/what's not for 2024 list? There's some good ones here if plagiarism is on your what's hot.
Don't ever really go beyond what's asked? Loathed by colleagues? Bone idle, in fact? The 'great slow down' is calling.
L'Oréal Groupe Australia and New Zealand have announced one of the largest investments to the Great Barrier Reef Foundation to pioneer new coral restoration efforts in the region. L'Oréal Groupe Australia and New Zealand have announced today a new partnership with the Great Barrier Reef Foundation (GBRF), to help coral reefs withstand the devastating impacts […]
It's B&T's quick 10 with marketing guru Sherilyn Shackell. And, believe it or not, AI not mentioned once.
whiteGREY's Magdalina Triantafyllidis jumps ship to rival Hardhat. Fear not, B&T double checked the spelling.
Effective immediately, S4Capital's operating brand Media.Monks, a digital-first marketing and advertising services company, has appointed Matthew Godfrey to lead its APAC Content practice. With over 15 years of experience leading innovative businesses in the Asia-Pacific region, Godfrey will support a best-in-class senior leadership team across the region as EVP, head of content, APAC. He joins […]
Despite a new $200 million contract extension, Kyle still getting away with behaviour that would get anyone else sacked.
Still hold on to a perverse dream of sport mega stardom? Perhaps the National Pickleball League could be your ticket?
It's B&T's top sporting moments of 2023. Also read - the sporting moments that Australia appeared to do well in.
Who hasn't suffered their very own dessert disaster? Although it is typically reborn as a tasty trifle.
Is Gwyneth mad or just a genius self-promoter? Find out here with this latest bit of genius self-promotion.
Chandra Sinnathamby, Adobe's director, digital media B2B strategy & GTM, Asia-Pacific, explains how the tech firm is empowering its small business customers with new AI tools, including its Adobe Firefly tools. In today's fast-paced digital landscape, small businesses face numerous challenges when it comes to creating captivating content that resonates with their audience. Despite the […]
Seven unveils its summer cricket line-up. Seemingly far less concerned the Tests won't run the five days.
They're typically hideous people you'd avoid at all costs, but it appears it's not stopped MAFS contestants cashing in.
Study finds teens less selfie-obsessed than we thought. Still refusing to eat anything that's not grammable, however.
Work for OMD? You can feel suitably chuffed on these numbers. If not, don't rage too hard or you'll get a peptic ulcer.
We're fast approaching tennis season in Australia, but will it be sullied by a dearth of bratty mens players?
Fiftyfive5's Elodie Myers jumps ship to rival. The sling back recliner and window seat said to have sealed the deal.