NewsMediaWorks Brings Back 'The Truth Builds Trust' Campaign
The first iteration of NewsMediaWorks' campaign, 'The Truth Builds Trust', which promotes of the value of authentic news environments to advertisers, has generated more than 30,000 unique visits to the website and will return in 2019.
The first of a multi-stage campaign, 'The Truth Builds Trust' has been underwritten by Australia's leading news media publishers: News Corp Australia, Fairfax Media and Seven West Media, and has been prominent in the vast majority of national, metropolitan, community and regional newspapers and news websites.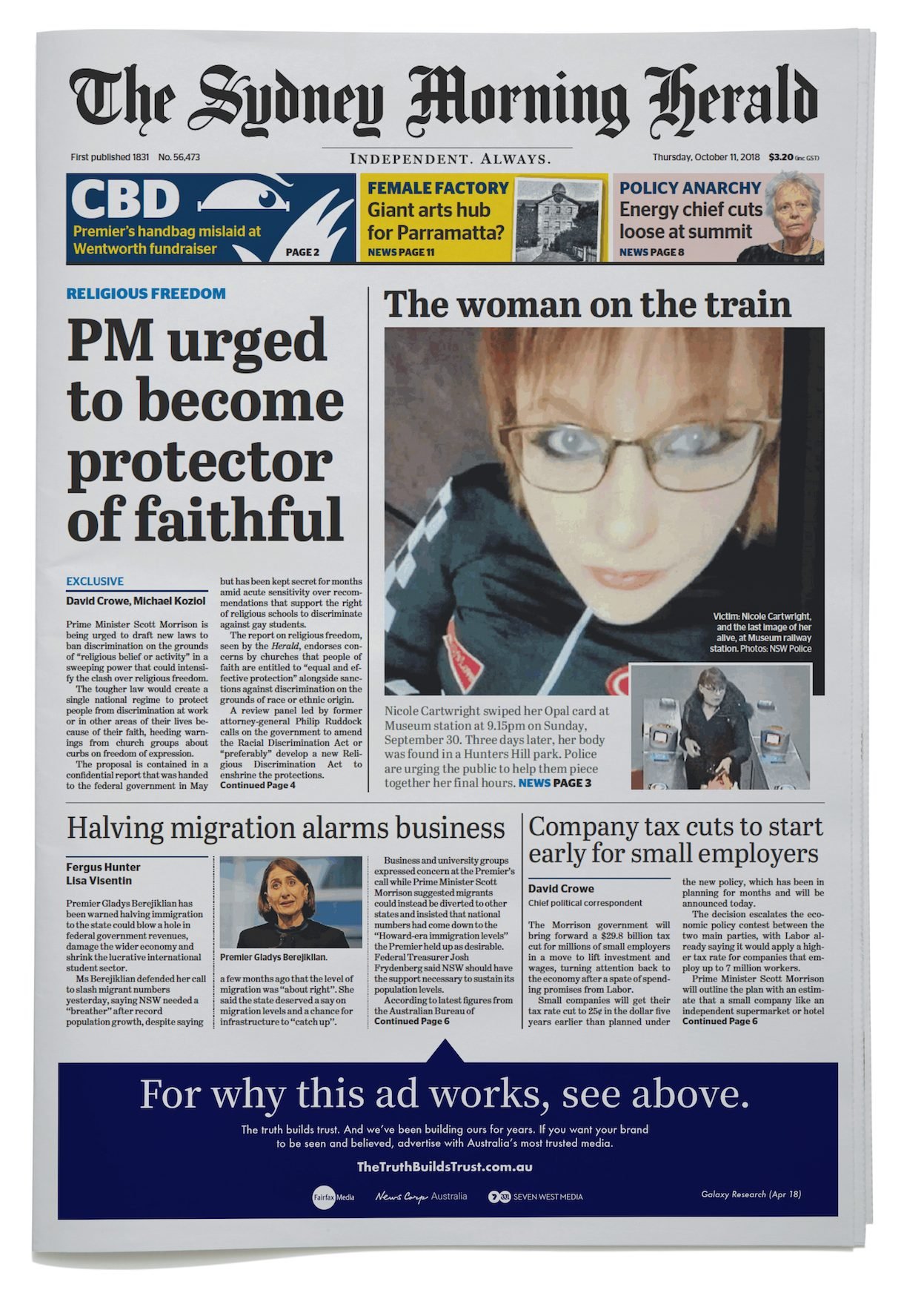 In addition, The Guardian Australia and The Saturday Paper have become members of NewsMediaWorks and joined the fray.
The next stage of the campaign will point to the findings of the third ADTRUST study conducted by Ipsos that is currently in market.
The second study, which was released hard on the heels of the Cambridge Analytica and Facebook scandal in July, unequivocally demonstrated that readers rate newspapers and news websites above all other media as the most trustworthy.
Further, readers asserted this trust positively impacts their regard for advertising.
NewsMediaWorks CEO Peter Miller declared 'The Truth Builds Trust' campaign a success.
"Advertisers are more than ever before hell-bent on maximizing returns. These ADTRUST findings should be a vital input in their media selection," he said.
"We have experienced heavy traffic to the thetruthbuildstrust.com.
"This indicates we have spiked a great deal of interest from advertisers who, as a result of our study, are now better equipped to challenge media plans that emphasise risky social over the sure thing of authentic news media.
"The same study revealed that users of news websites similarly rated the content and advertising as far more trustworthy than social media, which of course has faced a series of well-documented batterings this year.
"We definitely wanted to capitalise on the well-founded doubts that users and advertisers have now formed around the dependence on social media. It is at heart a positive campaign for Australian news media."
NewsMediaWorks partnered with strategic agency Thinkerbell on the campaign.
"Thinkerbell found an ingenious way to use our members' newspapers and websites to tell our story," Miller said.
It featured a range of executions that asserted why trusted journalism is important for advertisers, including: "It's what's on the other page that makes this space so powerful", "For why this ad works, see above" and in digital "Surround your brand with articles your customers trust".
The latest Q3 News Media Index, based on data collated by Standard Media Index (SMI), revealed the continued improvement in news media ad revenue due to the re-evaluation of news media by marketers and agencies.
Meanwhile, we're saying goodbye to the city of Brisbane as a whole as we emotionally prepare for State of Origin III.
In this opinion piece, Patrick Sim, senior vice president for the APAC and MEA regions at Epsilon (pictured above), talks about ways companies can go about building lasting relationships with their clients. If there's one thing that companies have learnt from the pandemic is the importance of keeping customers happy and having them continuously come […]
Everyone's CFO says the exact same thing after he finally finishes shredding tax documents.
The temptation to make a gold digger joke here is strong, but thankfully we aren't witty enough to think of one.
Think your better then everyone? But, it's awkward to bring up in meetings! We have the outlet for you.
In exchange for helping bassike reach B Corp, TGA expects free invites to the inevitable party celebrating the status.
It's very challenging to take Enero group seriously when their ASX tag is literally just 'EGG'.
Imagine not wanting to show a full season of cricket where each game can easily go on for around four hours!
The study makes no mention of how many times you can drunk dial a customer before they start blocking your number.
With Sales signing off, Tracey Grimshaw might now be the offical Queen of blazers and looking slightly concerned.
Revolut appears to have gotten most of the way through revolution and then given up right at the conclusion.
If your management style is modelled after Cruella de Vil. You can keep your coats, but you should try being nicer.
Much like betting on horses, News Corp realises that since they're in for eighty, they may as well be in for a hundred.
Aspen now calling in sick, stealing office pens and finally telling the cash cow what he really thinks of him.
Non-alcoholic is a term guaranteed to cause moans in the B&T team, but the animals in the ad are cute, so this one's ok.
Social Motive could have been the name for a new branch of the climate change awareness movement. Missed opportunity.
It seems like the good people at InMobi have finally decided to go all Yahoo on us.
Here at B&T we like our medical advice from our footy stars and our spiritual advice from our reality stars.
Neighbours will be there for one another! Until someone makes a noise complaint then Grimshaw gets a call.
We can only assume the Sick Bay mural is more Banksy inspired than Pepper Pig. Though the pig has more cache than Banksy
Advertising

Marketing

Media

Technology
Think you've missed your chance at fame, glory and Linkedin bragging rights. Think again.
Across the world, rising costs are causing anxiety and financial struggles for consumers. The worldwide impact of inflation is affecting their outlook and behaviour. More than half of consumers globally are struggling financially because of inflation and the increasing price of fuel, housing and everyday goods. Russia's war on Ukraine intensifies their concerns around supply-chain […]
Making people's lives easier one update at a time. Because nowadays it's all about accessibility, right?
Anyone who wants to ban TikTok clearly doesn't understand how cool Anna Paul is.
It's nice to know the Sunshine State might finally be using said sunshine for something productive.
The world is actually burning, but sure let's be mad at the protestors.
Here at B&T, we love to remind you about all the fancy friends we have. Mainly because they never cop to it in public.
The new series will allow Sydneysiders to appreciate Melbourne from their couches, just the way we like it.
This comes as part of a wider plan to steal Texan culture, with Sydney set to take on plentiful Cowboy boots and rodeos.
Bonuses were decided after staff declined MAFS merch as a thank you.
Armstrong proving that even a Logie can't save you from boring meetings with your bosses.
Thank you MasterChef for normalising cooking while crying.
Bringing the "future" to Australia's business industry.
If Sedona can acquire some Milk, Eggs and Flour as well, they'd be on their way to a nice crepe recipe in the C suite.
Campbell will be called to drive the Jaywing to success. That's not a phrase out of a sci-fi series by the way.
Cause there's nothing that will make you feel better about yourself than seeing Em Rata on stage.