NewsMediaWorks Brings Back 'The Truth Builds Trust' Campaign
The first iteration of NewsMediaWorks' campaign, 'The Truth Builds Trust', which promotes of the value of authentic news environments to advertisers, has generated more than 30,000 unique visits to the website and will return in 2019.
The first of a multi-stage campaign, 'The Truth Builds Trust' has been underwritten by Australia's leading news media publishers: News Corp Australia, Fairfax Media and Seven West Media, and has been prominent in the vast majority of national, metropolitan, community and regional newspapers and news websites.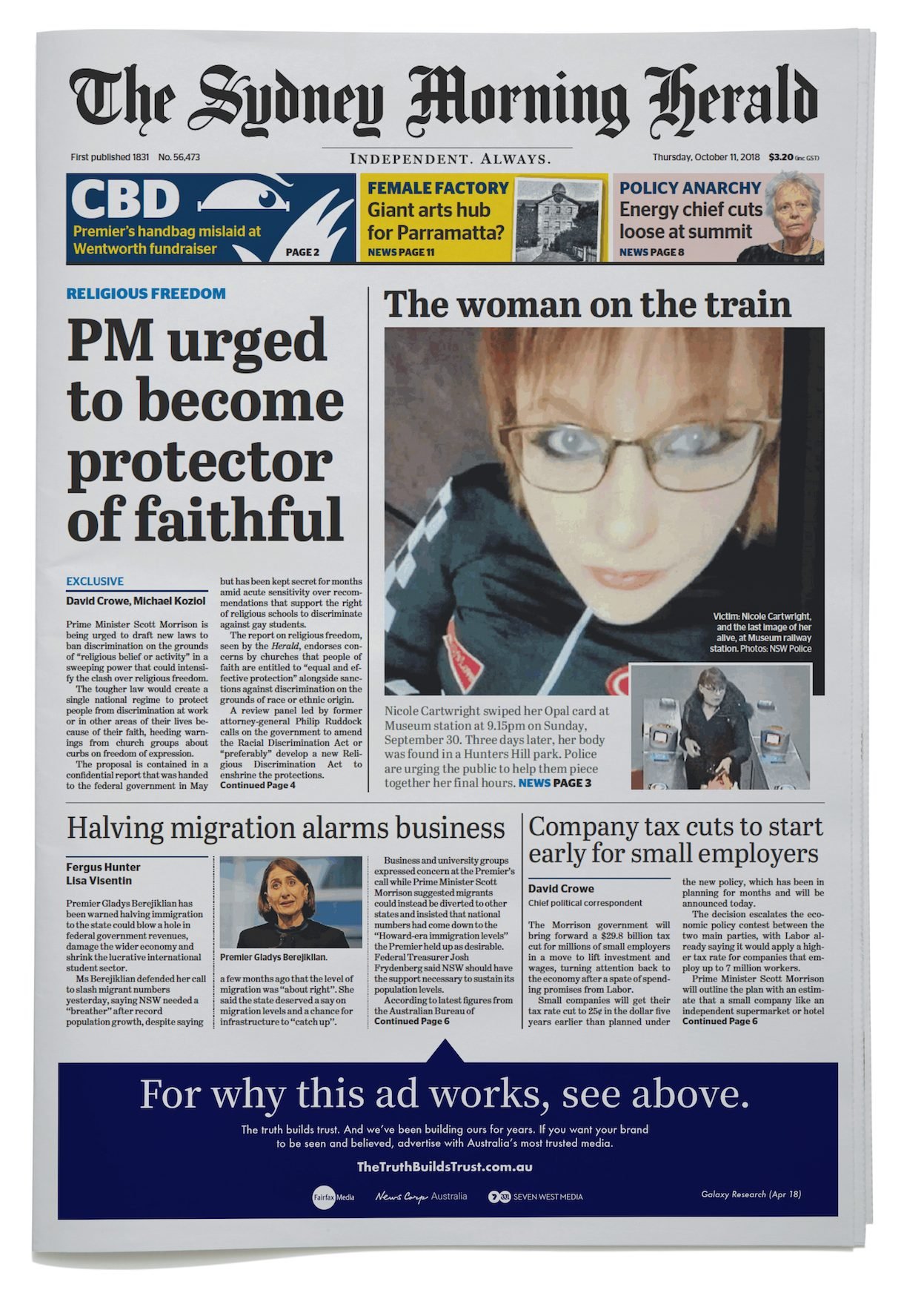 In addition, The Guardian Australia and The Saturday Paper have become members of NewsMediaWorks and joined the fray.
The next stage of the campaign will point to the findings of the third ADTRUST study conducted by Ipsos that is currently in market.
The second study, which was released hard on the heels of the Cambridge Analytica and Facebook scandal in July, unequivocally demonstrated that readers rate newspapers and news websites above all other media as the most trustworthy.
Further, readers asserted this trust positively impacts their regard for advertising.
NewsMediaWorks CEO Peter Miller declared 'The Truth Builds Trust' campaign a success.
"Advertisers are more than ever before hell-bent on maximizing returns. These ADTRUST findings should be a vital input in their media selection," he said.
"We have experienced heavy traffic to the thetruthbuildstrust.com.
"This indicates we have spiked a great deal of interest from advertisers who, as a result of our study, are now better equipped to challenge media plans that emphasise risky social over the sure thing of authentic news media.
"The same study revealed that users of news websites similarly rated the content and advertising as far more trustworthy than social media, which of course has faced a series of well-documented batterings this year.
"We definitely wanted to capitalise on the well-founded doubts that users and advertisers have now formed around the dependence on social media. It is at heart a positive campaign for Australian news media."
NewsMediaWorks partnered with strategic agency Thinkerbell on the campaign.
"Thinkerbell found an ingenious way to use our members' newspapers and websites to tell our story," Miller said.
It featured a range of executions that asserted why trusted journalism is important for advertisers, including: "It's what's on the other page that makes this space so powerful", "For why this ad works, see above" and in digital "Surround your brand with articles your customers trust".
The latest Q3 News Media Index, based on data collated by Standard Media Index (SMI), revealed the continued improvement in news media ad revenue due to the re-evaluation of news media by marketers and agencies.
Advertising

Marketing

Media
There's sure to be some tears with the reveal of the Young Lions competition. Even more so if you actually entered.
There is more talent in this 30 Under 30 winners list than a Manpower strip show at Panthers World Of Entertainment.
Partner Content

Technology
Undoubtedly one of the most overused slogans in marketing's and advertising's history is John Wanamaker's iconic "half the money I spend on advertising is wasted; the trouble is I don't know which half". And it's a credit to the quip's longevity that last year the line celebrated a real milestone – its 100th birthday. But […]
The SingularityU Australia Executive Program will take place this may, celebrating leadership at the intersection of the values of humanity and the value of technology. The Elon Musks, Apples and Xeros of the world are taking risks for humanity and creating new  technologies that streamline and beautify business operations. They simplify life by providing basic […]
Brisbane media professional and former OMD Australia Account Director Taylor Fielding (pictured) has officially launched TFM Digital. TFM Digital is a specialist media agency based in Newstead which primarily provides media buying services, and strategy development, to businesses chiefly, but not exclusively, within the franchise sector. Prior to the launch of TFM Digital, Fielding spent […]
This twerk video has divided the B&T office this morning. By that we mean "hilarious" to "absolutely f@cking hilarious".
The Australian camera accessory brand, Urth, famed for their focus on sustainability, has appointed Croud as their new digital marketing partner, in order to power global and local growth.
Leading mobile creative technology companies, VMG Digital and TreSensa Technologies, join forces to fuel best-of-breed playable Facebook Ads to help clients drive app installs.
Eight in ten Aussies (86%)* believe telling a furphy is a unique part of Australian culture, now Furphy is on a mission to celebrate the art of storytelling and uncover the nation's best furphies. 
B&T's on the hunt for Australia's top marketers! Sure, not as interesting as Australia's top yodellers or log rollers.
Image lead story
Judging by the hangovers in the B&T office today you can count yourself damn lucky we even managed this photo thingy.
B&T would've added sacre bleu to this Publicis headline, however, we have no idea what it means or how to spell it.
Canva owners set to become even more obscenely billionairey after doing latest thing.
In this day & age of tech behemoths & media barons, it's nice to see the humble old photojournalist getting a look in.
Look, it's top tips to harnessing your Gen Y and Z employees sans any Spanish Inquisition torture techniques.
Launch marketing specialists Five by Five Global have been appointed by FutureFeed to develop their brand, international certification trademark and go to market strategy. The innovative livestock feed ingredient developed by CSIRO, Meat and Livestock Australian and James Cook University uses a specific genus of seaweed, Asparagopsis, which significantly reduces methane emissions in ruminant livestock. […]
Excellent hair clearly part of the recruitment process, as Clems Melbourne announces 10 new hirsute starters.
B&T hosted the 30 Under 30 awards last night AND is bringing you last night's telly numbers. Live the lies here.
Andrew Knowles, partner and co-founder of the corporate communications consultancy Shoebridge Knowles Media Group (SKMG), has won the PR category in the 2021 B&T 30 Under 30 Awards. Knowles received the award at a ceremony in Sydney last night, claiming victory in a highly competitive field that included leading executives from some of Australia's biggest […]
WPP AUNZ says its nextgen leaders program isn't solely open to the company's crawlers and sycophants.
JCDecaux announces Adobe partnership. Which, admittedly, isn't as interesting as, say, a Dannii Minogue partnership.
VGood is a "nut-free, chickpea based range of snacks". Absolutely perfect for boring everyone with your dietary habits.
To its credit, this NOVA pretty press photo totally debunks the "face for radio" adage.
Boutique PR and digital marketing agency Compass Studio announces a host of new clients this month including B Lab Australia & New Zealand and Verve Super. 
Vision Australia unveils LEGO Braille Bricks. B&T doubts it'll stop you treading on the painful little buggers, however.
For those not in the know, beta testing is a technological term for "we've got no effing idea if this is gonna work".
Einsteinz Communications announced today it has joined the Global tech PR agency network, the With Global Alliance.
For the record, Yubo is a social platform & not to be mistaken with drunk NRL fans more commonly referred to as 'yobbo'.
Super Simple Stories answers all the questions you never knew you had about technology innovations
The AFL is delighted to welcome Therabody as its Official Recovery Partner of the 2021 Toyota AFL Premiership Season. Therabody's industry-leading devices and research will be integrated into pre-match training and post-match recovery routines to help prevent injuries and help improve overall athletic performance. Therabody will also become the naming partner for the end-of-season AFL […]