Check Out The Final Ministry Of Sports Marketing Program!
Get your activewear on and make sure you've stretched because it's less than two weeks till the first Ministry of Sports Marketing conference and awards! The finalised program and speakers are lined up and ready to hit the ground running.
The Awards and the conference will be held on Tuesday 19th July at the Royal Randwick Racecourse, Sydney. Make sure you grab tickets to the conference and awards here. Use the code BANDT to save $100 on tickets.
International speakers:
John Hess, Nike Golf global senior brand director.
Kelli Masters, founder of US sports agency Kelli Masters Management (KMM).
Murray Barnett, World Rugby head of broadcast, commercial and marketing.
Gavin McGarry, president of Jumpwire Media US.
Local speakers:
Darren Birch, general manager commerical operations and marketing at the AFL
Rebekah Horne, chief digital officer at the NRL.
Jonno Simpsons, head of sport and food at Twitter Australia
Jeremy Loeliger, the new general manager of the NBL.
Jack Watts,  CEO of Bastion Collective Marketing ANZ.
Ben Slack, head of international business at Tennis Australia.
Geoff Jones, CEO of live entertainment organisation TEG.
Clive Dickens,  chief digital officer at Seven West Media.
Wade Maris, vice president of media at Perform Group.
Andrew Clarke, agency director at Octagon Australia
Tracy Whitelaw, manager of digital media – Gold Coast 2018 Commonwealth Games
Ken Leverenz, President of sales and marketing for Getty Images ANZ
Ryan Pierse, photographer at Getty Images
Adam Ireland, digital consultant Stackla
Michael Thomson, general manager participation and sustainable sports at Australian Sports Commission
A massive thanks to MKTG and all our wonderful sponsors (below).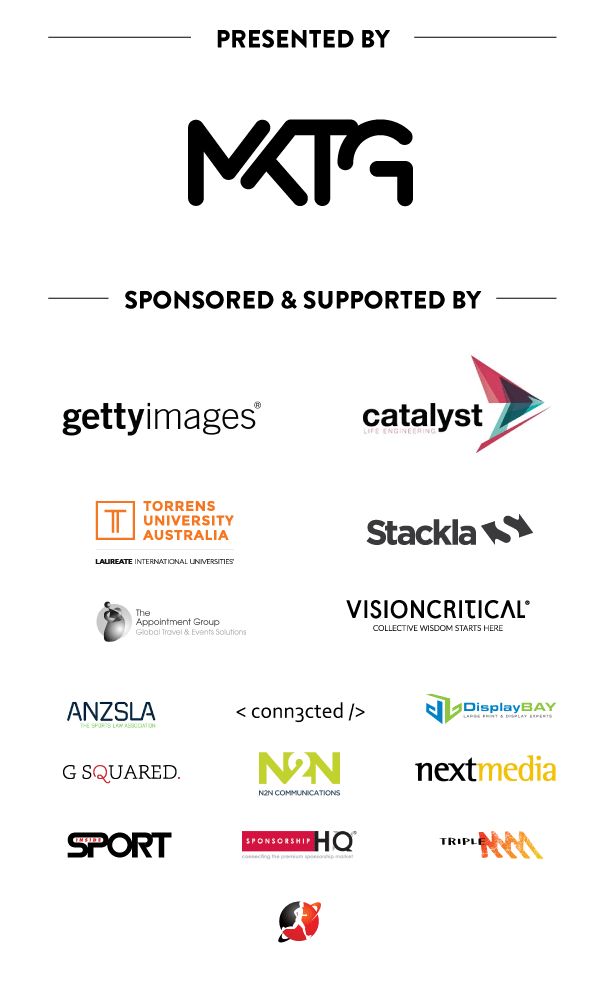 It's going to be a cracker of a day and evening. So give this little link a click and find out more about Ministry of Sports Marketing conference coming up on July 19. Follow the social pages –B&T's Twitter, MSM Conference's Twitter andFacebook – for more information and updated stories.