It's B&T's Homage To The Best Of PETA Campaigns And Complaints
Animal rights group PETA has a long history of using nudity and violence to grab your attention.
So in honour of some of the outlandish things the group has done, here's a list of some of the most controversial, and ridiculous, campaigns PETA has embarked on for animal rights.
Here's The Rest Of Your Wool Coat (2015)
This ad has all of the characteristics of a PETA ad. Bearded hipster? Check. Blue steel face? Check. Bloodied animal? Check. Controversy? Check.

Agriculture minister, and hater of Johnny Depp's dogs, Barnaby Joyce said: "This idea that the whole industry is just a morass of brutality to animals is a lie.
"These shearers who were helping me lamb mark yesterday, they just get so sick of people lying about their industry and lying about them."
BWVAKTBOOM (2012)
Probably the worst thing ever is PETA's PSA campaign: Boyfriend Went Vegan And Knocked The Bottom Out of Me (BWVAKTOOM). Essentially a vegan diet gives you god-like sex powers, the ad features a heavily bruised girlfriend wearing a neck brace. Because becoming vegan means you'll f**k the life out of someone, or fruit or a wall.
Go vegan and knock your girlfriend around a bit.
Stop Swearing At Sheep (2015)
This week, New South Wales farmer Ken Turner received a formal complaint from PETA and the RSPCA. An undercover RSPCA worker at Turner's farmer captured footage allegedly showing Turner verbally abusing his sheep while he sheered them.
Speaking on Macquarie Radio, Turner said that he didn't realise sheep were able to be offended by swearing.
"I still haven't had a sheep come up to me (to complain)- they didn't even look offended to me after they were shorn," he said. "They just walked down to the paddock, grazed intently and I didn't notice any distress attached to them."
Stay Firm and Fresh (2012)
Willy vegetables. It's a scary as it is confusing. "In honour of World Vegan Day, watch this spicy video that gives a wink to the sexual health benefits of going vegan by showcasing men enthusiastically and proudly showing off some healthy protrusions from their trousers," said PETA.
All Animals Have The Same Parts (2010)
Classic PETA advertising features half naked women because hyper-sexualisation of women will surely help your claim. Vegan and ex-Baywatch star Pamela Anderson has been a PETA spokesperson.
In the ad Anderson is clad in a teeny tiny bikini and covered in black texta drawings that mimic a butcher's diagram. The ad was banned in Canada for being sexist.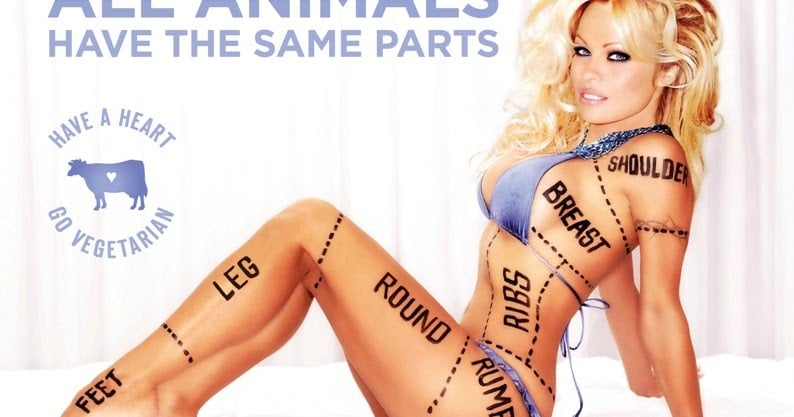 Dissection Kills (2015)
Noah Cyrus, 15 year old younger sister of Miley Cyrus, featured in poster campaign for PETA's youth division, PETA2, posing as a corpse being dissected.
"Because I love all animals so much, people should realise they don't have to cut into something to learn about it," Noah said in a statement to PETA. "You should ask your teacher for other humane alternatives…You'll learn so much more off of the computer. If you have the other option, why not take it?"
Fur is Dead (2008)
Instead of having naked women posing in their ads, sometimes PETA just decides to beat the shit out of a women to get their point across. PETA argued that the video poses the question, 'what if you were killed for your coat?'
Save the whales (2009)
PETA's campaigns also include fat-shaming people into not eating meat. During the 'save the whales' campaign, PETA said: "luckily, we know the secret to getting—and maintaining—a killer beach bod. So, to help residents and tourists 'lose the blubber' we're launching a brand-new billboard urging people to go vegetarian."
So essentially PETA campaigns use white women, either naked or being attacked, to promote becoming vegetarian.
Did we miss another pervy PETA ad? Tweet us @bandt