It's B&T's Homage To The Best Of PETA Campaigns And Complaints
Animal rights group PETA has a long history of using nudity and violence to grab your attention.
So in honour of some of the outlandish things the group has done, here's a list of some of the most controversial, and ridiculous, campaigns PETA has embarked on for animal rights.
Here's The Rest Of Your Wool Coat (2015)
This ad has all of the characteristics of a PETA ad. Bearded hipster? Check. Blue steel face? Check. Bloodied animal? Check. Controversy? Check.

Agriculture minister, and hater of Johnny Depp's dogs, Barnaby Joyce said: "This idea that the whole industry is just a morass of brutality to animals is a lie.
"These shearers who were helping me lamb mark yesterday, they just get so sick of people lying about their industry and lying about them."
BWVAKTBOOM (2012)
Probably the worst thing ever is PETA's PSA campaign: Boyfriend Went Vegan And Knocked The Bottom Out of Me (BWVAKTOOM). Essentially a vegan diet gives you god-like sex powers, the ad features a heavily bruised girlfriend wearing a neck brace. Because becoming vegan means you'll f**k the life out of someone, or fruit or a wall.
Go vegan and knock your girlfriend around a bit.
Stop Swearing At Sheep (2015)
This week, New South Wales farmer Ken Turner received a formal complaint from PETA and the RSPCA. An undercover RSPCA worker at Turner's farmer captured footage allegedly showing Turner verbally abusing his sheep while he sheered them.
Speaking on Macquarie Radio, Turner said that he didn't realise sheep were able to be offended by swearing.
"I still haven't had a sheep come up to me (to complain)- they didn't even look offended to me after they were shorn," he said. "They just walked down to the paddock, grazed intently and I didn't notice any distress attached to them."
Stay Firm and Fresh (2012)
Willy vegetables. It's a scary as it is confusing. "In honour of World Vegan Day, watch this spicy video that gives a wink to the sexual health benefits of going vegan by showcasing men enthusiastically and proudly showing off some healthy protrusions from their trousers," said PETA.
All Animals Have The Same Parts (2010)
Classic PETA advertising features half naked women because hyper-sexualisation of women will surely help your claim. Vegan and ex-Baywatch star Pamela Anderson has been a PETA spokesperson.
In the ad Anderson is clad in a teeny tiny bikini and covered in black texta drawings that mimic a butcher's diagram. The ad was banned in Canada for being sexist.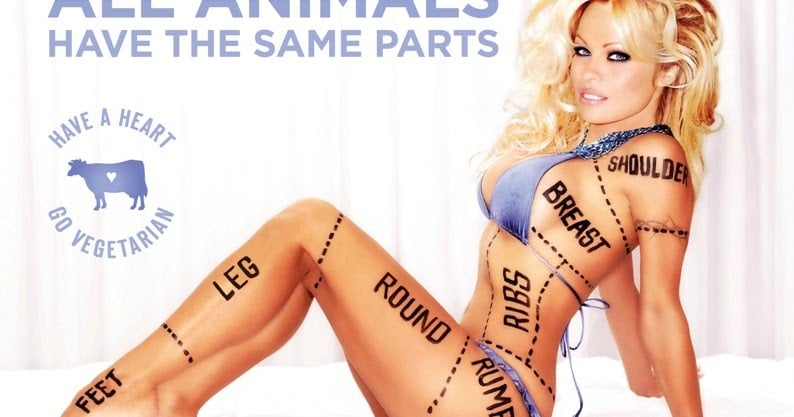 Dissection Kills (2015)
Noah Cyrus, 15 year old younger sister of Miley Cyrus, featured in poster campaign for PETA's youth division, PETA2, posing as a corpse being dissected.
"Because I love all animals so much, people should realise they don't have to cut into something to learn about it," Noah said in a statement to PETA. "You should ask your teacher for other humane alternatives…You'll learn so much more off of the computer. If you have the other option, why not take it?"
Fur is Dead (2008)
Instead of having naked women posing in their ads, sometimes PETA just decides to beat the shit out of a women to get their point across. PETA argued that the video poses the question, 'what if you were killed for your coat?'
Save the whales (2009)
PETA's campaigns also include fat-shaming people into not eating meat. During the 'save the whales' campaign, PETA said: "luckily, we know the secret to getting—and maintaining—a killer beach bod. So, to help residents and tourists 'lose the blubber' we're launching a brand-new billboard urging people to go vegetarian."
So essentially PETA campaigns use white women, either naked or being attacked, to promote becoming vegetarian.
Did we miss another pervy PETA ad? Tweet us @bandt
B&T's calling on adland to get the nation vaccinated. Admittedly, that excludes conspiracy theorists & flat earthers.
Queensland University of Technology (QUT) Business School has launched a new brand platform, developed by BCM Group, built to encourage prospective students to upskill, invest in themselves, and nurture their inner entrepreneur.
Jacqueline Gonzales [featured image] is the Head of Global Marketing at Squarespace. In this piece, she shares her best pieces of advice for launching a campaign globally. It's estimated that we see between 6,000 to 10,000 ads every single day. In today's digital landscape we're constantly bombarded by so many different brand messages from every […]
Sarah Hanson-Young now Australia's most prolific serial litigant. And, it has to be said, she's got bloody good lawyers.
Queensland now considering adding "and just f@ck off" to its famous tourism tag "beautiful one day, perfect the next".
You can now get a phone delivered in an hour! Perfect for the bone idle or coke dealers getting hacked by the fuzz.
It's top tips on staying connected to customers during lockdown! Unless you hate them. Then that's a whole other matter.
Parents call out unhealthy food Olympics marketing. No one concerned about crotch grabbing in the Greco-Roman wrestling.
Thanks to the Olympics, all of a sudden skateboarding's cool again. Arguably good news for X-rays & plaster casts, too.
The Olympics again prove the world's just a big global family. Albeit a squabbling, semi-racist, passive-aggressive one.
Ben Fordham set to dose-up on the Temazepam and warm milk, as an extra week of sleepless nights awaits radio ratings.
Star Wars star becomes a centaur in Burberry ad & the jokes are writing themselves. Well, crude penis jokes, that is.
Ultimately, will the human thumb grow to resemble a sweet potato given its repeated workout on TV remote controls?
In further proof you should never attempt a rebrand over a pub session comes opr's return to original Ogilvy name.
It sounds like 6am Agency founder Gillian Fish will need to get up at 5.30am after taking on two new roles.
WeMoney is now not only the place to learn how to budget but a place to improve your financial literacy, with a raft of well-known fin-influencers now making content on the WeMoney platform to teach, share tips, tricks as well as find bargains. 
Advertising

Marketing

Media
Flight Centre rolls out overly optimistic campaign that doesn't feature typical cheesy actors pretending to be pilots.
A Sportsbet ad promoting safe gambling was certainly a rough outsider paying around $67.
Gotta hand it to Alan, he's been banned or sacked from every media outlet in the country & is still impeccably tailored.
There's medals for real sporting success, while B&T's Olympic wrap awards the blunders, the foot in mouths & the idiots.
Arguably, you need look no further than those utter morons last Saturday to realise Australia's tepid ad vax response.
From the audio producer of The Teacher's Pet comes The Elements, a new Acast Creator Network podcast hosted by Thredbo survivor Stuart Diver. The Elements is a  podcast that journeys into the heart of surviving a natural disaster and will be hosted and distributed by the creator-first podcast company Acast as part of the Acast Creator […]
Calls for Rebel's Afterpay ad to be banned. And throw in the diabolical 'Cats' & 'Pitch Perfect 3' while you're at it.
UnLtd unveils industry stepathon challenge. Admittedly, industry piggyback & leapfrog challenge a no-go at the moment.
NBA star Kyrie Irving has clearly been reading from the Shane Warne School of how to totally embarrass a major sponsor.
If you could somehow combine the Olympics, an amateur cookery contest & Lego assembly, would you have the ideal TV show?
Need to be the cleverest person at the next inter-company Zoom meeting? Astound colleagues by stealing freely from here.
Refinery29 Australia unveils Getty Images partnership. Sadly, no ceremonial sword, horses or any ribbon cutting either.
Facebook outlines plans to create a "Metaverse". Apparently, Mark's currently on Tatooine looking for Obi-Wan.
Wai Kwok named CEO Of Enero's Orchard and, by all reports, everyone is way cool with the idea.