Weekly Ad Round-Up: It's B&T's STD Special
For some reason three different ad campaigns about STDs were released into the itchy groin world this week, each ad takes a different approach to talking about genitals- some use zombies, some celebrities and others use Outdoors.
The good
A new PSA series from Funny or Die and WomanCare Global features actresses Jessica Biel, Joy Bryant and Whitney Cummings making heaps of birth control pills, IUDs and condom jokes.
"Lack of education and social stigmas have led to confusion and uncertainty about contraception and reproductive health," Biel, who is also a producer of the series, said in a statement. "We thought the best way to encourage women to get educated and start the conversation around our bodies was to make it comically clear that people like me, and other non-experts, should not be the source for this information."
Mission accomplished.
The Zombies
Who cares about The Walking Dead or any other zombie show, at B&T we're much more scared of STDs.
To encourage the good people of Omaha to get checked for STDs an organisation, Get Checked Omaha has launched the STD Zombie campaign. It's a weird campaign.
The Bad
AIDS Health Foundation has accused Tinder and Grindr of spreading sexually transmitted diseases. The billboard features silhouettes of people with the words "Tinder, Chlamydia, Grindr, Gonorrhea" on their head.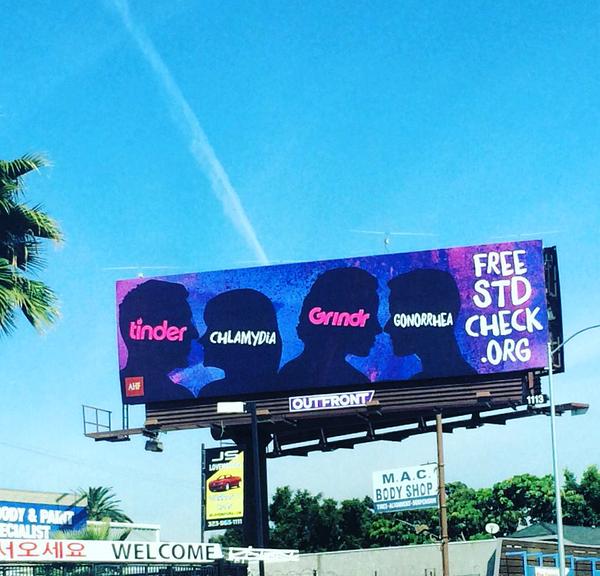 "In many ways, location-based mobile dating apps are becoming a digital bathhouse for Millennials wherein the next sexual encounter can literally just be a few feet away—as well as the next STD," Whitney Engeran-Cordova, the AIDS Health Foundation's public health division director, said in a statement.
"While these sexual encounters are often intentionally brief or even anonymous, sexually transmitted diseases can have lasting effects on an individual's personal health and can certainly create epidemics in communities at large."
If someone could explain to us why there are so many STD ads in one week that would be very helpful. Tweet us @bandt