Tinder And Grindr Swipe Left On Billboard Accusing Dating Apps Of STDs
Popular dating apps Tinder and Grindr have been lampooned by AIDS Health Foundation in a billboard in Los Angeles accusing the apps of spreading sexually transmitted diseases.
The billboard features silhouettes of people with the words "Tinder, Chlamydia, Grindr, Gonorrhea" on their head.
"In many ways, location-based mobile dating apps are becoming a digital bathhouse for Millennials wherein the next sexual encounter can literally just be a few feet away—as well as the next STD," Whitney Engeran-Cordova, the AIDS Health Foundation's public health division director, said in a statement.
"While these sexual encounters are often intentionally brief or even anonymous, sexually transmitted diseases can have lasting effects on an individual's personal health and can certainly create epidemics in communities at large," the statement continued.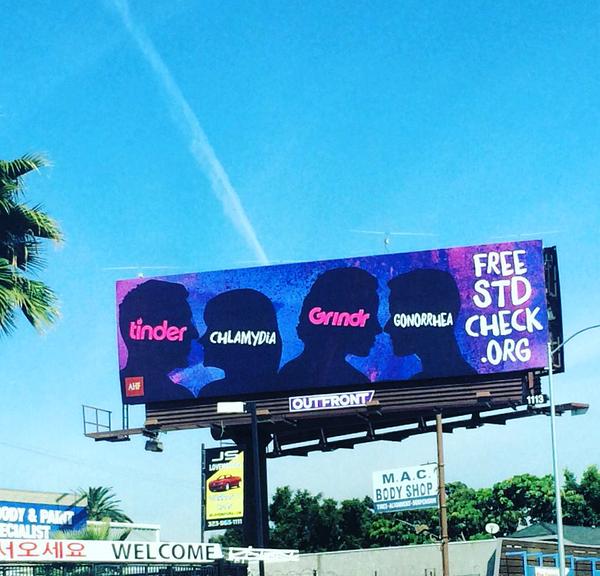 Unsurprisingly Tinder and Grindr are unimpressed with the billboard. Tinder has sent a cease and desist letter to request the billboard be removed:
"These unprovoked and wholly unsubstantiated accusations are made to irreparably damage Tinder's reputation in an attempt to encourage others to take an HIV test by your organisation," Tinder lawyer Jonathan Reichman said in a letter to the foundation.
Grindr has pulled the foundation's advertising for free STD testing from the website. In a statement Grindr said:  "We were surprised at the approach [the foundation] took, and paused the campaign in order to speak with them and assess our relationship.
"As one of the world's largest gay platforms, we take this issue very seriously. At the end of the day, we are all on the same side in this issue, and strive to work with our partners and advocacy groups to achieve similar goals. A more connected and informed gay community is a better thing for us all."