Six Lessons For The CMO: Foundation Capital's Joanne Chen
Foundation Capital is a 20 year old Venture Capital firm in San Francisco that are investors in Responsys, AdRoll and TubeMogul among others. According to partner Joanne Chen, we are entering the decade of the CMO and she identifies six keys to unlock CMO potential.
The explosion of media channels, changes in consumer behaviour and the erratic path to purchase have created opportunities to make marketing more efficient through technology.
In the next ten years, CMOs are forecast to spend more than CIOs in technology and their expenditure is predicted to increase ten fold to $120 billion globally. In 2015, technology represented one per cent of this total spend. It's predicted that by 2025, technology will comprise 25 per cent.
According to Chen, they don't differentiate between marketing technology and advertising technology. Both are ultimately controlled by the CMO.
We've certainly seen this reflected in the growth in marketing technology start-ups. In 2011, there were 150 marketing technology start-ups in the US. In 2016, this number has increased to 4,000.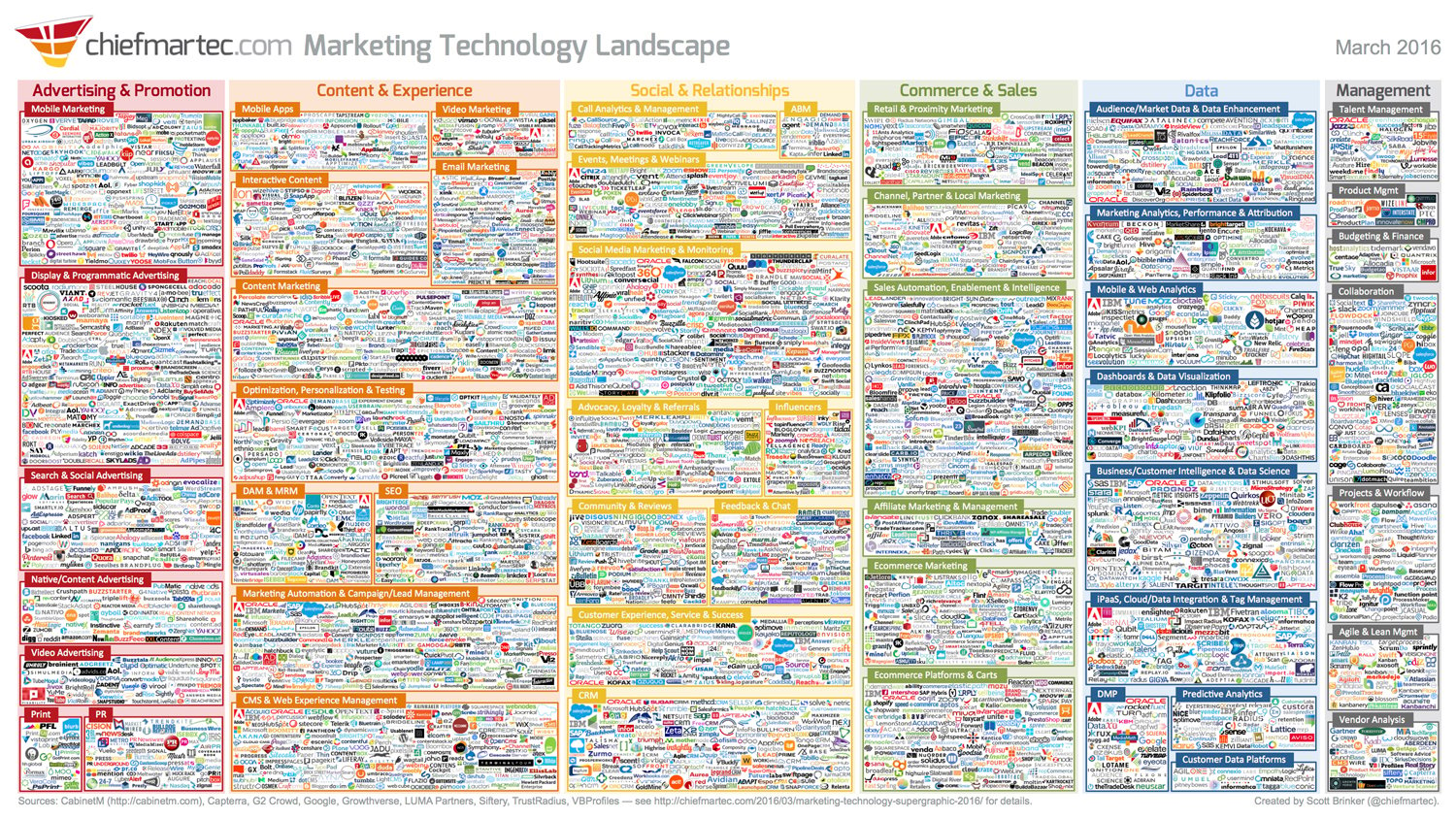 6 Lessons for the CMO
1. ROI is King
In the perfect world of the future, CMOs will understand the ROI for each dollar spent, for each campaign across channel and what that drives in business impact.
This is no easy problem. If I buy a pair of Nike shoes on Amazon, I may walk into a store, see someone else buy a pair, admire my friends newest pair and eventually decide to buy my own on Amazon.
How does Nike attribute this purchase and find out how much they spent on me as an individual to drive this behaviour?
Data is the main problem and it's tricky to unify these data points to a singular person when we live in an online and offline world. There is still a large proportion of time when marketeers have no idea what consumers are doing.
2. Hire Math Men, not Mad Men
According to Chen, CMOs want to buy advertising programmatically. She predicts we will move to more of a stock exchange model but there is still a little way to go in improving transparency and the fact that agencies still largely lack skills to work in the world of software. Hiring the right talent will be key.
3. Publish or Perish
Traditional advertising has been largely push advertising. Ads annoy people, especially younger generations and it's getting easier to avoid advertising with ad blockers and on demand TV.
Content is far more powerful in the new world and the future lies in the ability to deliver relevant content that is interesting to an individual, at the right place at the right time.
Chen predicts all brands will use content marketing in their marketing and the main challenge is creating content at scale, across formats that's relevant to the audience. To achieve scale, technology or machines are going to be instrumental and there's no one really solving that problem yet.
Once the content has been created, the distribution and measurement of this content will also be important.
4. Mass personalisation is not an oxymoron
It's widely accepted that mass personalisation is the future of marketing but this is still expensive to do at scale.
There is insufficient data today on how customers interact with brands and even when that problem is solved, there's still a need around creating content that can be personalised and scaled. Not to mention concerns around privacy.
5. Close the Deal
Marketing will evolve from playing a demand generation role to becoming a real driver of revenue and growth. Marketing will have increasing responsibility over sales where sales just becomes order-taking.
6. The revolution will not be televised
The biggest change in the last 12 months is the way that media has evolved from linear TV to streaming video. And we're seeing a shift in the way that video is distributed too with Snapchat, Facebook and Virtual Reality (VR).
CMOs have to think about the development of cross-platform video and a VR strategy and blur the line between content and advertising. That's hard. Scalable, personalised video content is difficult.
However we are starting to see progress in these areas.
Perhaps the solution to creating personalised video could be Virtual Reality (VR). It gives power to the consumer to choose what they experience. Chen recently produced her wedding video in virtual reality. She thinks her children will think that's normal.
Just last month, Twitter began live streaming TV in the US with deals signed with NBA basketball, NHL hockey and college sports. They are also live streaming the US Presidential debates. Watch this space.
Calls to ban kangaroo leather, as crocodiles say they're none too happy being turned into $10,000 Hermès handbags.
The Wellness Rebellion with Maz Compton and Dr Sam Hay is a reset on everything we know about our health and wellness, uncovering the truth and debunking the trends with science-based wellness information to improve your everyday wellbeing. Each episode in the new weekly podcast series will see Compton and Dr Hay discuss a wellness […]
The Fin Review infuriates social housing advocates. The Fin Review unhappy it's being read by social housing advocates.
Outbrain unveils new tool to rate quality of advertiser content. Sadly, no blender attachment for smoothies included.
Land Rover voted most successful luxury car brand on social media. Sadly, the Camira or Sigma failing to get a mention.
ABC comes in from 10-1 long shot to be first past the post in its defamation win against Racing NSW boss.
To become the PR Institute boss, one has to name Krug Grande Cuvée & Hervé Deschamps' Belle Epoque Brut.
Icon Agency appoints Andrew North, who apparently goes by the names of Andrew, Andy & 'Northy', but not 'The Dogster'.
Garnier, part of the L'Oréal Group, has named Hotglue as its official Australian digital partner. Hotglue will lead the brand's always-on strategy and creative content development across digital & social media, including influencers, eCommerce and brand campaigns.
M&C Saatchi Melbourne appoint new creative duo who, despite looking remarkably like brothers, apparently aren't related.
B&T would've thought our own John Laws was a contender here, despite no one actually listening to John since 1981.
New initiative dispels tech's image of being full of wheezy men with Red Bull addictions who live with their parents.
Proving the podcast is THE hottest thing in media right now comes this news. It's like what the smashed avo is to food.
Dentsu's Q1 numbers are in and B&T has sliced, diced and de-boned the data and served them sashimi-style here.
Growing up queer can be tough for many young people. Despite much progress, three out of four (75 per cent) Australian LGBTQIA+ youth still experience some form of bullying or discrimination. Indigenous Australians and those from non-English speaking backgrounds are the two most likely groups to experience discriminatory behaviours. Findings from the LGBTQIA+ Health Australia […]
If it's any consolation for Craig, B&T thought he was very good in the ABC's delightful 'The Doctor Blake Mysteries'.
Are Media partners with Special K to promote humour! And that's the weight-loss cereal, not the nightclub drug.
Advertising

Marketing

Media
Look, it's a cheat sheet on how to win a B&T Award that doesn't require writing the answers in Biro on your inner thigh.
Judging by the cattiness and infighting, the ABC would make an excellent fly-on-the-wall comedy series.
As you'll discover, B&T's Women Leading Tech winners don't just win a trophy & having to fix everyone's work computer.
Who wouldn't love to see Eurovision come to Australia? With Canterbury Leagues and Rooty Hill RSL the perfect venues.
Sure, B&T struggles changing the pods in the coffee machine, but we're still delivering this astute tech analysis.
Malcolm Treanor [featured] is the COO of Aussie media technology company WINR. In this piece, he looks at how the industry is moving to a first-party data model and what this might mean looking forward. It's been almost 30 years since the first banner ad was served on the web. And my, how things have […]
Union, WPP AUNZ's bespoke national group model created to service Bankwest, has launched a new national brand campaign for the visual-style terms and conditions the financial institution developed with the University of WA in a bid to make T&Cs more engaging for customers. Bankwest has rolled out visual terms and conditions for its Bankwest Easy […]
You'll learn two things from this. One: B&T employs a parochial South Australian. Two: we're not sure of the other one.
InMoment, the global leader in Experience Improvement (XI), announced it has been named a Leader in The Forrester Wave: Customer Feedback Management Platforms, Q2 2021 evaluation.
Apparently Pepsi regularly beats Coke in taste tests. Although it's considered a draw if you add a good slug of bourbon.
Data reveals where NSW spent its $100 vouchers & it appears if the RONA don't get ya then the diabetes probably will.
Harris Coffee builds on its 'Made for Australia' platform. Odd, given it originated in South America.
It's time to meet the tenacious, tantalising, terrific Tina Tsang. And it's time to revel in B&T's awesome alliteration.