Saltmine Design Gives Activia Yoghurt A Makeover
Saltmine Design Group has won two new packaging projects for Dairy Company, Danone.
Saltmine was briefed to re-invigorate the Activia core range and then following on from this, to create the new packaging for the launch the brand into the large tub segment of the market.
Activia is well known for its probiotic goodness and low fat offering but Danone wanted to increase the taste appeal of the Activia range by bringing the ingredients to life on pack and making them look more appetising for the consumer. Saltmine increased flavour cues by bringing the creamy yoghurt and plump, juicy fruit to the forefront. While doing this they also introduced the new, simplified, global Activia logo to the Australian packs.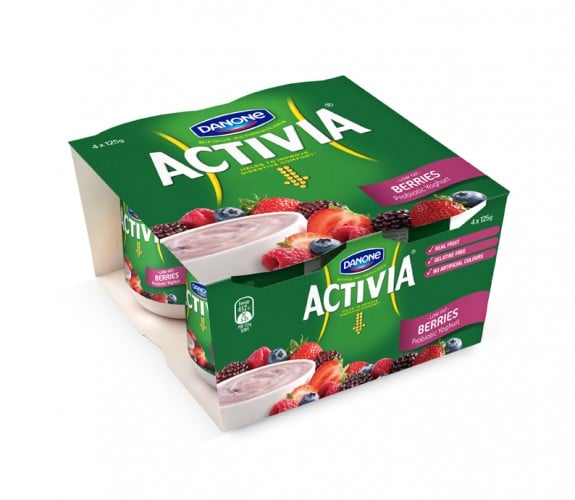 Following on from the core range refresh, Activia saw an opportunity to enter the large tub market to capture family sharing occasions by providing better value for money for the whole family. Activia consistently scores well in blind taste tests and it was critical for Saltmine to bring the great taste to life on pack.
The new design features the simplified Activia logo held within the central device on pack and accompanied by a "bursting with probiotic goodness" claim. The movement coming from the fruit gives the idea that it's an explosion of taste. The yoghurt and fruit splat interspersed together reinforce the natural goodness and the freshness of the product. This bold modern treatment is unique for the category. The sub-range name uses a bold font in a ribbon device to create maximum impact on shelf. It also has a smooth flowing quality to it. Variant colour is integrated with the flavour name banner and the other product claims in the top corner.The new Large Tubs are clear plastic to highlight the product itself.
Danone said: "Not only have Saltmine reinvigorated the core range by bringing the taste to life, they've taken the brand to another level with the taste explosion on pack of the new Large Tubs. We look forward to seeing the product in market as it launches this month."