Resolution Media's Kate Gamble Wins 30 Under 30 Grand Prix
What a cracking evening it was last night, celebrating all the achievements of a number of young-guns from a plethora of different areas of our industry.
Here at B&T, we want to say a massive congratulations to all those who entered, were shortlisted and who won.
Kate Gamble, business director at Resolution Media took out the Grand Prix last night, telling B&T afterwards how encouraging it was to see so many people supporting young talent in the industry.
"It's a good night out, but it's also the chance to be appreciated, which is nice," she said.
"It means a lot more than that, because what I wrote in my entry, it's about what we can do as an industry to make the whole industry better. And to be nominated on the merit of that really feels quite amazing."
Chairman of The Newspaper Works, principal sponsor of 30 Under 30, and CEO of APN News & Media, Michael Miller, gave the opening address to the jam-packed room at the Art Gallery of NSW last night.
Explaining how influence doesn't depend on popularity, social media followers, but it's about providing engagement with an audience, Miller exemplified how events such as 30 Under 30 help shape the future industry influencers.
"Events like the 30 under 30 are important in identifying, developing and inspiring Australia's future media, marketing and communications influencers and I applaud David and his team at B&T for driving this initiative," he said. "An investment in these awards is an investment in the future of our industry, which The Newspaper Works is proud to sponsor.
"News media has a long history in influencing, and like news media, you here this evening have the opportunity to shape the industry's future ‐ to influence positive outcomes, to better consumer behaviour, to shape our identity and to drive industry issues.
"Our industry today needs more influencers and I am urging you today to be the change that will define our industry's future. Use your influence, your credibility and your personal brand to impact quality outcomes, change and progress – just as news media has done since they began rolling off the presses.
"
On behalf of everyone at The Newspaper Works, I'd like to congratulate you on your recognition as finalists for B&T's 30 under 30 and wish you all the best tonight, and for your careers ahead."
Check out all the winners here.
Thank you to all our sponsors and judges who made the night possible.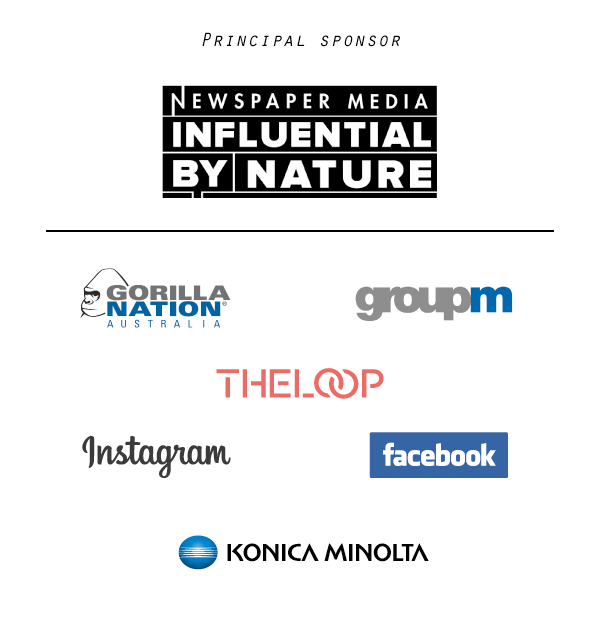 A new player has arrived on the Brisbane scene – and it's growing fast. Colony is a strategic communications advisory that started in Port Moresby in 2015, working with major Asia-Pacific clients like the Brian Bell Group, Digicel and Puma Energy. To build a greater capacity to support the Port Moresby office and serve these […]
Mitch Churi has finally nabbed a prime time radio slot on KIIS after slogging it out on nights. Churi will now be taking over the airwaves on KIIS from 7-10 pm on weekdays. So you'll be able to hear him discuss all things celebrity and pop culture while making dinner – what a vibe. Churi […]
AnalogFolk Group Launches Behavioural Transformation Consultancy, MindWorks Consulting. Focused on delivering improved business outcomes, the consultancy applies behavioural economics to both marketing strategy and organisational design. In a rapidly changing world, companies need to be nimbler than ever before, reading and reacting at pace to changing market conditions, competitor landscapes and customer needs. New technologies […]
Brisbane's B105 promising even more Powderfinger, as Ellie Angel joins the breakfast crew.
Apparently "nothing unites like lamb". Except if you're a vegan, animal liberationist or the world's top tennis player.
If Ash Barty wins this year's Australian Open, at least the republican movement has their first president of Australia.
Microsoft's CFO writing a massive $US69 billion cheque this morning. Still confused if that has nine zeroes in it or 10.
It's a fine line with customer service - none at all or the annoying salesperson that trails you the moment you walk in.
If B&T ever visited a gym & required some form of post-workout snack, we'd possibly consider YoPro Frozen Dessert tubs.
B&T only watches Love Island for serious industry research and in-depth analysis such as this. Oh, and for the perve.
Nurofen launches new campaign celebrating Aussie heroes. Still, no sign of 3am kebab operators or even Scotty Boland.
Trainspotting is suddenly cool. And by that we mean the The Ghan or the express to Gosford, not heroin addiction.
A sea shanty has won round four of the Siren Awards. And, no, Captains Pugwash & Birdseye weren't on the judging panel.
Cannes In Cairns has moved, but is the only industry event where you can drink from a coconut & not look like an idiot.
Beloved radio personality, Byron Cooke is back on Melbourne breakfast radio, announcing he will host KIIS 101.1 breakfast this morning and will back behind the mic until February when the Jase & Lauren in the Morning show returns. The announcement follows news regular breakfast co-host, Jase Hawkins, is expecting his third baby any day now. "I've been mates […]
AFL's newly announced crytpo deal has come under fire. Sports betting agencies just happy the heat's off them for a bit.
Howatson+Company appoints Hoang Nguyen as chief data and tech officer & supreme commander of the frozen staff computer.
Enforcing the booster shot not only protects staff & customers, it also helps cull the freaks and conspiracy theorists.
In what could prove bad news for the entire NSW far north coast region, Facebook's reportedly refusing hemp advertising.
Advertising

Media

Technology
For the massive exposure the annual Super Bowl gets, it's surprising how deeply unpopular the game of gridiron remains.
The federal government continues to find few friends among the tech giants. Few friends anywhere, really.
On the upside of the ABC sharing user's data, at least we'll know who the basket weaving, Champagne socialists are.
Advertising

Opinion

Technology
If your game's mobile marketing, then this is a 'must-read'. If not, it's a 'possible read' or 'nothing better' read.
Vice unveils its new leadership team who could easily be mistaken for a bad hip hop troupe from Australia's Got Talent.
Cannes Young Lions is open to all young, dynamic creatives. And if that isn't you, lying could always be an option.
Report finds global volumetric video market set to treble in size. Making this article a veiled share market tip, too.
You can now visit the Australian Open virtually all minus the ludicrous beer prices and Nick Kyrgios' tantrums.
Video gamer Activision Blizzard has sacked a number of employees for gross misconduct. Read all the sordidness here.
TikTok set to debut a Twitter-inspired feature which B&T hopes is celebrities saying dumb things before deleting it.
Instagram beats TikTok for most downloaded app. Still, neither doing much for narcissism and social isolation.