Lipton And Peace One Day Unite For International Day Of Peace 2020
Lipton and Peace One Day united for the UN International Day of Peace on 21 September 2020, to inspire the world to connect and Make Tea Time Peace Time.
Together the organisations created an ambitious global moment of solidarity, with iconic clock towers and landmarks across the planet taken over and lit up with projections encouraging the world to connect and Make Tea Time Peace Time. Installations shone bright around the world, crossing eight time zones, from Sydney, Australia; to Kuala Lumpur, Malaysia; passing by Dubai, UAE; across Europe with London, Paris, Brussels, Berlin, Rotterdam and Amsterdam; followed by Latin America with Mexico, Guatemala, Brazil.
This global call to action is more important than ever as we have all learned to communicate with loved ones while separated and socially distant this year. Lipton advocates having 15 minutes of quality connection every day to help people feel healthier and happier, and it believes peace flourishes when people connect. With more than 311 million Lipton teas* consumed worldwide every day, on 21 September and beyond, Lipton is inviting people to use those moments in their day to unite with others and make time for peace.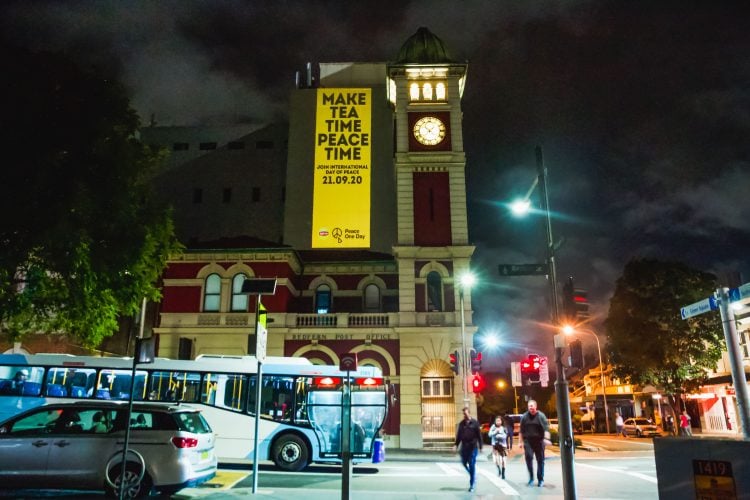 Alongside Pitt Street, Paddy's Market and Redfern train station being lit up with this call to action, Lipton is working with Allan Dixon to encourage his community to Make Tea Time Peace Time by sharing a personal memory of a time they've made peace with someone and the positive impact it's made on their lives.
Jeremy Gilley, Founder of Peace One Day said: "Peace One Day's goal is to raise awareness of #PeaceDay and manifest action, in turn decreasing violence around the world. This year we aim to reach 4 billion people in 24-hours and have gladly partnered with Lipton, to achieve this shared goal. Together, we want to encourage people to make quality connections and cement the 21st September as a day of global unity and intercultural cooperation on an unprecedented scale."
Marc Schroeder, CEO Pepsi Lipton said: "This year's Peace Day feels more significant than ever. We believe peace thrives when people connect and never has it been more important to take time to talk, listen and share.
"We advocate that just 15 minutes of quality connection a day can make people feel happier and healthier. With tea time a natural point of the day for people to come together, Lipton is on a mission to turn billions of tea drinking moments around the world into opportunities for peace time.
"Connection truly is a force and foundation for peace. We hope our involvement with Peace One Day helps inspire people around the world to take the time to connect with others and nurture peace in all its forms today."
Lipton is also encouraging its own global community and network in over 100 markets to become ambassadors for peace and quality connections through an initiative that invites them to show the world how they Make Tea Time Peace Time. A showcase of the best submissions will be streamed to viewers and participants at the Live Global Digital Experience Peace One Day. The free-to-register, one-day event is running on 21 September and is produced by founder Jeremy Gilley and actor Jude Law.
Female founded startup, Ovira, were behind a billboard driving around Sydney this weekend with the words, "You will not silence our pain." Ovira is taking a stand and aims to spark a conversation on women's pain.  The billboard sends a strong message of support to the young woman who was assaulted by ex Knox Grammar […]
Australia's competition watchdog wants more power to control Google and its dominance over the advertising technology space. Today the ACCC has released the long-awaited Digital advertising services inquiry – final report, which comes more than 18 months after the Australian government initiated the inquiry. As was expected, the report looks closely at the dominance of […]
Ludacris, AKA Chris Bridges, has moved from the rap, acting and philanthropy worlds to enter unexpected territory: kid's TV. Ludacris, who acted in Crash and the Fast And The Furious franchise, is the brains (and executive producer) behind new Netflix kid's show, Karma's World. The program follows Karma, an aspiring musical artist and rapper with huge talent […]
Resolution Digital announces two new hires. Expanding its transformation offering & understanding of The Matrix films.
Twitch's union with GroupM arguably gives an insight into the future of media sans anyone wearing a silver jumpsuit.
Mark October 20 in the diaries as Pinterest Creators Festival day. It just so happens to be World Osteoporosis Day too.
It appears cartoonist Michael Leunig now entering his second decade of being woefully unfunny.
Nothing screams ad creative, inner-west single male or "I can't afford an Audi" quite like owning a souped-up VW Golf.
Brilliant copywriting has the power to move, create, inspire! Or, there's this disaster that lands you the lead in B&T.
Six screenwriting creatives from across Australia have been selected as the inaugural participants in the Emerging Writers' Incubator.  The Incubator is an initiative from SBS in partnership with Screen Australia, state and territory agencies Film Victoria, Screen Canberra, Screen NSW, Screen Queensland, Screenwest and the South Australian Film Corporation, and with the assistance of the […]
Omnicom staff now fully trained in Amazon's OMEGA training. Well, excusing the dummies that didn't pass, that is.
The Australasian Writers and Art Directors Association (AWARD) has announced that This Way Up, Australia's Advertising Festival of Creativity, will be rescheduled to August 2022. Yet signature events celebrating the industry's brightest talent and creative work will still go ahead this November. The announcement of the special award winners for this year's AWARD Awards will […]
Last night's episode of The Block fell from Sunday night's viewership, but still easily secured a win in entertainment, and for Nine overall. The episode had a metro audience of 876,000 according to OzTAM, with a spanner thrown in the works of one team's sunken lounge plans (truly devastating for any 1970's conversation pit fans). Contestants […]
Australian start-up Loyalty Republic is introducing Australia's first bank and card agnostic direct earn rewards program to democratise loyalty and make rewards accessible and fair for anyone using a debit card. The Loyalty Republic mobile app will place consumers in control of their rewards earning potential and redemption options, with a simplified model offering 1 point per $1 spent on debit card […]
Amobee has announced a new partnership with Samsung Ads in Australia. Powered by deep analytics and industry-leading technology, the partnership will enable marketers to bridge the gap between linear and digital – from execution to measurement. Samsung Ads' Automatic Content Recognition (ACR) data from over 1.8 million smart TVs, along with Amobee's household data of […]
Here, Zavy's David Bowes explains how advertisers can use insights from social media to ensure their social and content strategies are fit for the road. When we learn to drive, we're taught how to "drive to the conditions". Slow down when its raining, or when there's ice on the roads, reduce your speed on gravel […]
As we're all still working remotely, why not take the opportunity to headbang with gay abandon to this rockin' advert.
Do you regularly throw-up all over yourself? Disguise the fact by owning one of Dr Karl Kruszelnicki's colourful shirts.
Facebook hits pause on Instagram Kids project. Zuckerberg still working on his giant laser & flying monkeys, however.
Having recently found ourselves agreeing with Waleed Aly, B&T finds ourselves strangely agreeing with Kyle Sandilands.
Carat unveils plans to vax developing nations. Which, you'd agree, goes above and beyond the call of a media agency.
Billie Eilish & Nike team for new vegan Air Jordans range that sadly doesn't come with tag "get less meat on your feet".
As if the tote bag, sun visor & leather embossed notepad weren't enough, IMAA members can now enjoy these benefits too.
Coomera Anglican College has risen to become a leader among Gold Coast schools, however, its brand identity was at odds with its history, leadership and bold plans for the future.
Aussie designers are giving iconic logos a pro-vax revamp. Sadly, not enough to stop the rioting in Melbourne, however.
James Horne (main photo) is the CEO of Balance Internet. In this guest post, he says direct-to-consumer DTC brands that endure past the initial launch have a true differentiation, standing out from competitors by driving connection… We've always known that brands need more than a good product and website to stand out from their competitors […]
Australian owned and operated email and SMS marketing software company, Vision6, announced the launch of its first-ever national brand campaign and new brand platform "Simply Reliable". Founded in 2001, Vision6 was one of the first email marketing software providers in Australia and has since been relied upon by thousands of Aussie businesses and organisations for […]
Out-of-Home media company JCDecaux New Zealand has appointed business growth specialist Adam McGregor in preparation for its bid to win upcoming local government street furniture tenders across the country. With contracts for the provision of street furniture including bus shelters across New Zealand up for renewal from late 2022, they collectively represent the biggest advertising […]
Judging by B&T staff, the only known side effect of the vaccine is boring everyone with the news you've been vaccinated.
Queensland Health releases pro-vax campaign. Confirms that interstate tourists can still f@ck off.