Lipton And Peace One Day Unite For International Day Of Peace 2020
Lipton and Peace One Day united for the UN International Day of Peace on 21 September 2020, to inspire the world to connect and Make Tea Time Peace Time.
Together the organisations created an ambitious global moment of solidarity, with iconic clock towers and landmarks across the planet taken over and lit up with projections encouraging the world to connect and Make Tea Time Peace Time. Installations shone bright around the world, crossing eight time zones, from Sydney, Australia; to Kuala Lumpur, Malaysia; passing by Dubai, UAE; across Europe with London, Paris, Brussels, Berlin, Rotterdam and Amsterdam; followed by Latin America with Mexico, Guatemala, Brazil.
This global call to action is more important than ever as we have all learned to communicate with loved ones while separated and socially distant this year. Lipton advocates having 15 minutes of quality connection every day to help people feel healthier and happier, and it believes peace flourishes when people connect. With more than 311 million Lipton teas* consumed worldwide every day, on 21 September and beyond, Lipton is inviting people to use those moments in their day to unite with others and make time for peace.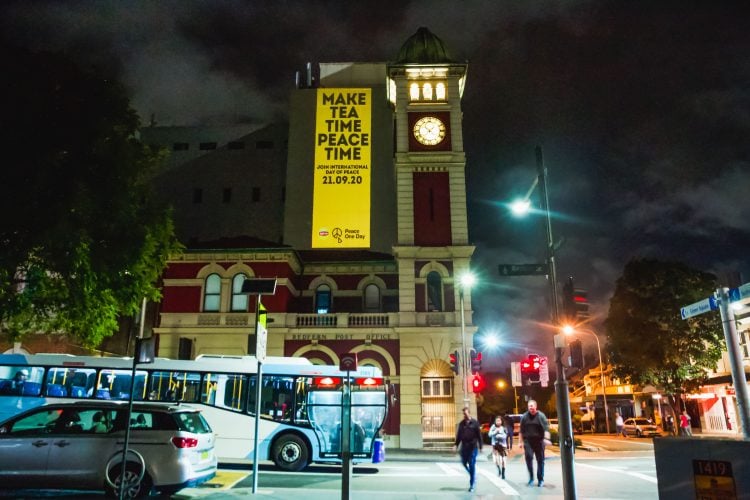 Alongside Pitt Street, Paddy's Market and Redfern train station being lit up with this call to action, Lipton is working with Allan Dixon to encourage his community to Make Tea Time Peace Time by sharing a personal memory of a time they've made peace with someone and the positive impact it's made on their lives.
Jeremy Gilley, Founder of Peace One Day said: "Peace One Day's goal is to raise awareness of #PeaceDay and manifest action, in turn decreasing violence around the world. This year we aim to reach 4 billion people in 24-hours and have gladly partnered with Lipton, to achieve this shared goal. Together, we want to encourage people to make quality connections and cement the 21st September as a day of global unity and intercultural cooperation on an unprecedented scale."
Marc Schroeder, CEO Pepsi Lipton said: "This year's Peace Day feels more significant than ever. We believe peace thrives when people connect and never has it been more important to take time to talk, listen and share.
"We advocate that just 15 minutes of quality connection a day can make people feel happier and healthier. With tea time a natural point of the day for people to come together, Lipton is on a mission to turn billions of tea drinking moments around the world into opportunities for peace time.
"Connection truly is a force and foundation for peace. We hope our involvement with Peace One Day helps inspire people around the world to take the time to connect with others and nurture peace in all its forms today."
Lipton is also encouraging its own global community and network in over 100 markets to become ambassadors for peace and quality connections through an initiative that invites them to show the world how they Make Tea Time Peace Time. A showcase of the best submissions will be streamed to viewers and participants at the Live Global Digital Experience Peace One Day. The free-to-register, one-day event is running on 21 September and is produced by founder Jeremy Gilley and actor Jude Law.
ING Australia has taken on a new tagline, 'Do your thing', with the new brand direction articulating the bank's approach to being there, alongside its customers, as they go about doing the things that matter most to them. ING's head of brand Carly Yanco said: "We've just lived through a year where the everyday things […]
Australia's media agency market has reported softer advertising demand in January as the delayed Australian Open and the continued impact of COVID 19 briefly interrupted the market's COVID recovery. Total media agency ad spend was back 7.3 per cent in January as the Metropolitan TV market – our largest media sector – reported a 5.3per […]
Media strategy specialist Slingshot has won the strategy, planning and buying account for Masterpet, and Endeavour Consumer Health. Masterpet owns pet care brands Black Hawk, VitaPet and Aristopet, while Endeavour Consumer Health includes brands like Red Seal, Pharmacy Choice and Faulding. Slingshot CIO and Partner Simon Corbett (pictured) said that winning the two businesses was […]
Leading South Australian ageing care provider ECH (Enabling Confidence at Home) is shining a light on the need for Australians to talk openly about death with their family members and loved ones to ensure any specific wishes or choices can be fulfilled. Australia faces a significant societal challenge as death continues to be a subject […]
You might have noticed a colourful scoreboard sitting on the B&T homepage this month. Well, allow us to formally introduce ourselves – and it. We're Zavy. And we believe in the promise of social media: brand building by two-way engagement and rich communication. What does this have to do with a scoreboard? We all […]
Virtual consultancy fluid expands its reach into Australia with Brian Shrowder joining global collective of senior communications consultants
WE Communications announces new leadership roles & then communicate it superbly via this expertly penned press release.
Payday lenders are the modern equivalent of hocking a car stereo at Cash Converters.
Here's some foodie news for the gourmands out there. But that's not to suggest anyone can't sink their teeth into it.
JOY appoints Phil Watson & Katie Chandler to leadership team, as headless interloper interrupts accompanying press pic.
B&T has corrected this article and would like to confirm that André Rieu has NOT been named UM's new CEO.
Influencer platform Social Soup launches a new division called Soup Pro that's sadly not being led by Sharon Croutons.
New campaign tackles the very serious issue of sexual misconduct on uni campuses. Toga parties & pingas escape mention.
Here are wise words from IntelligenceBank's Tessa Court. You could say they're both intelligent and bankable.
Full service agency Apparent has expanded its dedicated media division with the appointment of Phoebe Chan as head of media and advertising operations and Jaclyn Ely as client partner, media. Headed by former Naked Communications and Ikon executive John Halpin, Apparent's media division has seen 88 per cent growth over the past 12 months across […]
Crocs once again front & centre of new NT campaign, making it the ideal vacation for anyone wanting a hook for a hand.
GroupM NZ launches AI-powered influencer platform. But not before joyfully popping the box's accompanying bubblewrap.
Facebook unveils new work from Droga5. B&T has not sought comment on it from Josh Frydenberg.
TV numbers are down but are expected to climb as MAFS contestants get stuck into the vino and start their rooting.
Emma Montgomery takes the reins at Leos Sydney. The Clydesdale providing excellent manure for the agency's rose bed.
There's always plenty to learn from an Angela Tangas interview. Admittedly, the Hadron Collider is not discussed here.
These Mark Wahlberg ads are a little lowbrow. Yet, still superior to Daddy's Home and Mark's entire music career.
Jens continues to run the red pen and ruler over WPP's operations. With a splattering of sauerkraut from his sandwiches.
Here's a top initiative done really well. In fact, it would win B&T's "sash of excellence" if we had one.
B&T would love to receive a Visa Digital Gift Card. Or, just send the alcohol, as that's what we'd spend it on anyway.
Identity Graphs have emerged as a way to bring customer data together in a centralised place. But when it comes to marketing and discovering new audiences, this technology is about so much more than collating data, explains smrtr's co-founder and CTO Boris Guennewig. Identity on the internet is a multi-faceted phenomenon. It might exist in […]
What a great privilege to host a summer Olympics. Although Tokyo currently thinking "will this ongoing hell ever end!"
Bundaberg releases new summer campaign, somewhat ironically on the first day of autumn.
Here are top tips on cashing in on the video revolution. Or, you could simply go to the casino and put it all on black.
In this opinion piece, Jess Miles, Country Manager ANZ of Integral Ad Science, reflects on the questions surrounding consumer data. The ability to collect consumer data online has revolutionised digital advertising by enabling customised targeting strategies and data collection. This reliance on data has been the cornerstone of many audience targeted strategies enabling marketers to […]