Lipton And Peace One Day Unite For International Day Of Peace 2020
Lipton and Peace One Day united for the UN International Day of Peace on 21 September 2020, to inspire the world to connect and Make Tea Time Peace Time.
Together the organisations created an ambitious global moment of solidarity, with iconic clock towers and landmarks across the planet taken over and lit up with projections encouraging the world to connect and Make Tea Time Peace Time. Installations shone bright around the world, crossing eight time zones, from Sydney, Australia; to Kuala Lumpur, Malaysia; passing by Dubai, UAE; across Europe with London, Paris, Brussels, Berlin, Rotterdam and Amsterdam; followed by Latin America with Mexico, Guatemala, Brazil.
This global call to action is more important than ever as we have all learned to communicate with loved ones while separated and socially distant this year. Lipton advocates having 15 minutes of quality connection every day to help people feel healthier and happier, and it believes peace flourishes when people connect. With more than 311 million Lipton teas* consumed worldwide every day, on 21 September and beyond, Lipton is inviting people to use those moments in their day to unite with others and make time for peace.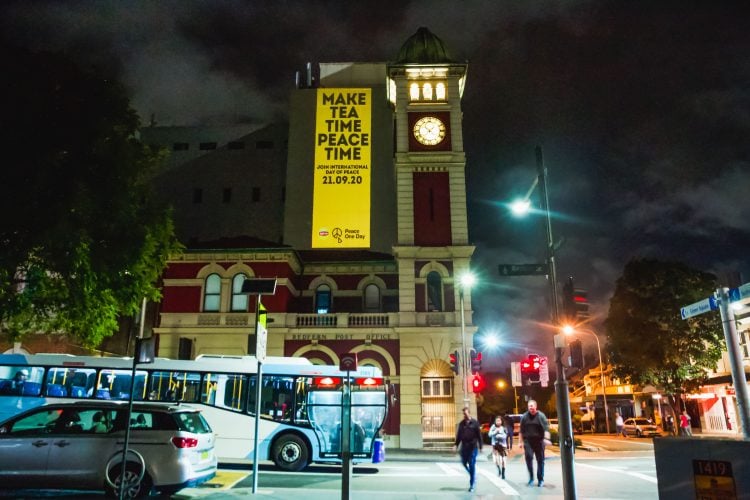 Alongside Pitt Street, Paddy's Market and Redfern train station being lit up with this call to action, Lipton is working with Allan Dixon to encourage his community to Make Tea Time Peace Time by sharing a personal memory of a time they've made peace with someone and the positive impact it's made on their lives.
Jeremy Gilley, Founder of Peace One Day said: "Peace One Day's goal is to raise awareness of #PeaceDay and manifest action, in turn decreasing violence around the world. This year we aim to reach 4 billion people in 24-hours and have gladly partnered with Lipton, to achieve this shared goal. Together, we want to encourage people to make quality connections and cement the 21st September as a day of global unity and intercultural cooperation on an unprecedented scale."
Marc Schroeder, CEO Pepsi Lipton said: "This year's Peace Day feels more significant than ever. We believe peace thrives when people connect and never has it been more important to take time to talk, listen and share.
"We advocate that just 15 minutes of quality connection a day can make people feel happier and healthier. With tea time a natural point of the day for people to come together, Lipton is on a mission to turn billions of tea drinking moments around the world into opportunities for peace time.
"Connection truly is a force and foundation for peace. We hope our involvement with Peace One Day helps inspire people around the world to take the time to connect with others and nurture peace in all its forms today."
Lipton is also encouraging its own global community and network in over 100 markets to become ambassadors for peace and quality connections through an initiative that invites them to show the world how they Make Tea Time Peace Time. A showcase of the best submissions will be streamed to viewers and participants at the Live Global Digital Experience Peace One Day. The free-to-register, one-day event is running on 21 September and is produced by founder Jeremy Gilley and actor Jude Law.