Hotel Giant IHG Unveils New Name As Part Of Updated Brand Identity
Hospitality behemoth IHG has undergone a major rebrand, including a name change, a new visual identity and a re-grouping of its hotel portfolio.
IHG has added the 'Hotels & Resorts' descriptor to its trade name, reiterating the company's collection of 16 brands.
The IHG Hotels & Resorts visual brand identity has been given a makeover with new colours, photography and font to "better tell the stories of the brand and make it more relevant and attractive to consumers – particularly a younger demographic of consumers, as well as hotel owners, colleagues and future talent around the world".
The company's loyalty program, IHG Rewards, has a corresponding new look and feel. The word 'Club' has been removed from its name to reflect "the warm welcome that is available to all".
According to the group, IHG Rewards "will be seen out and about more often and in more places".
IHG Hotels & Resorts is also now presenting its 16 brands in four collections: Lifestyle, Premium, Essentials, and Suites.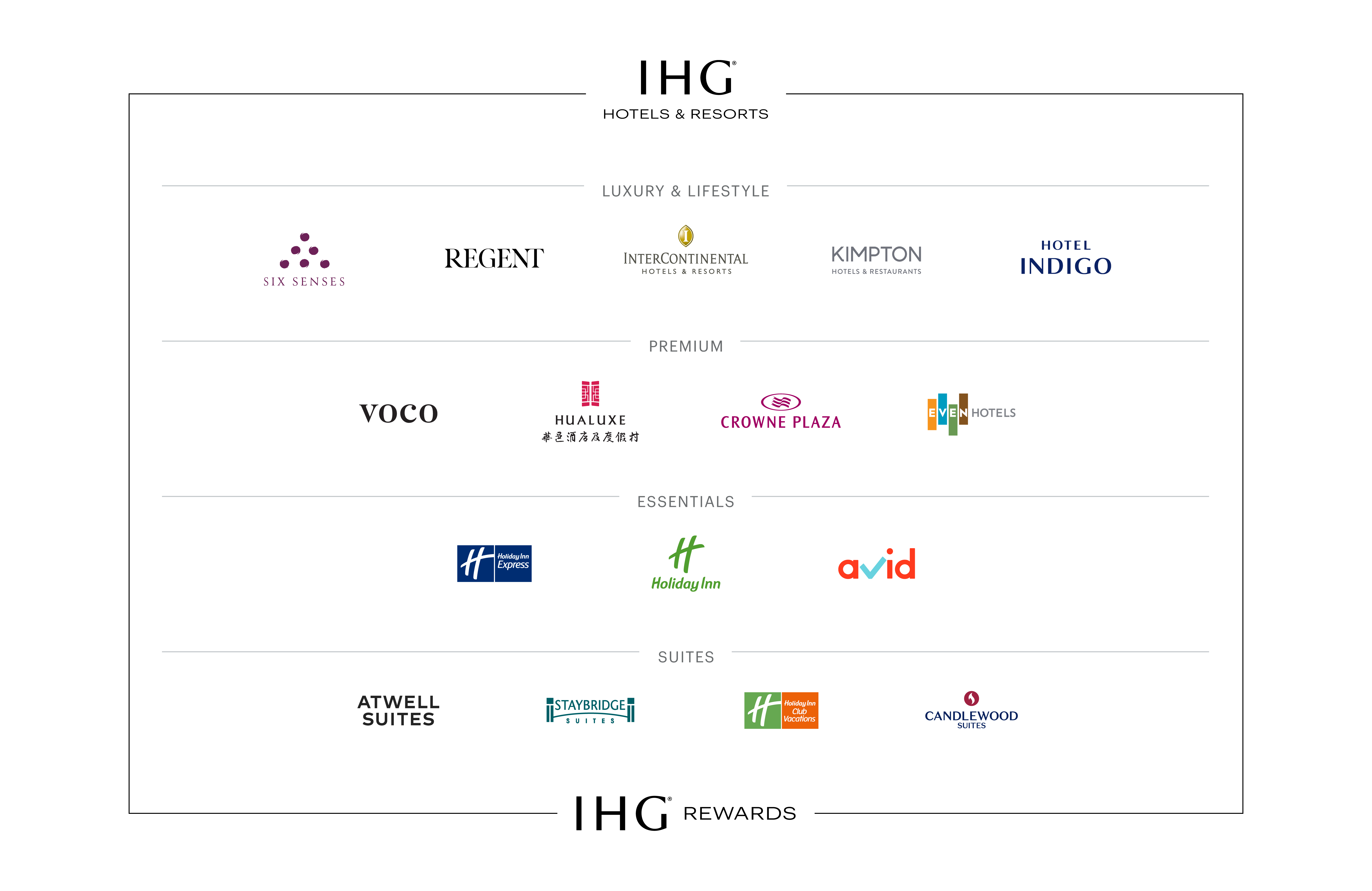 Claire Bennett, chief customer officer at IHG Hotels & Resorts, said: "The travel industry has faced challenges like never before, and while adapting to new realities, we've also stayed true to our roots.
"We have an incredible family of brands, centred around connecting people – strengthening family bonds, forging business partnerships, uniting far-flung friends, and engaging with our communities.
"Our evolved brand articulates how we bring our purpose of 'True Hospitality for Good' to life for our guests, hotel owners, colleagues, and communities.
"So, as we continue to lead through and beyond the pandemic, we're clear who we are, what we stand for and how we can help guests open up their world again when they're ready to travel."
"If you're not entirely satisfied with the stories being told about your community, start writing new ones yourself." So says Kevin Kapeke [pictured], the newest hire for independent, full-service agency Think HQ. It's that philosophy – putting our diverse communities at the centre of campaigns, to ensure communications are truly inclusive – that has led […]
TikTok and Shopify have partnered in Australia to assist Shopify entrepreneurs in extending their business strategies to TikTok and its users The social video platform aims to empower businesses to grow through creative content and storytelling, consolidating in the launch of the  TikTok For Business platform. Brett Armstrong, General Manager Global Business Solutions, TikTok Australia […]
As clarification, this article contains comments from "unnamed sources". Industry parlance for "possibly under crap".
Study finds Gen Ys & Zs "embrace value driven brands". Strangely they also like the music of Shawn Mendes & the cronut.
Woolworths dominates Coles in sales for first six weeks of 2021, as Status Quo's agent waits patiently by the phone.
News of Britney's doco has created an excitement here at B&T not seen since the arrival of our cordless electric knife.
HubSpot's Kat Warboys drops by the B&T office for a chat on all things tech and to critique our lemon drizzle cake.
The media companies continue to jump into bed with the tech giants. It's like a slightly less interesting MAFS episode.
Partner Content

Technology
Study reveals staff prefer training to free lunches. However, fat people did skew the numbers back in favour of lunch.
B&T does warn this comes with a MAFS spoiler alert. In so much as it includes randy, horrible people with bad tattoos.
Hugh Marks heads to North Sydney's Rag & Famish for a cheeky pinot & a packet of beer nuts following Nine's results.
Are you female? Work in tech? Then mark this a "must read". Although B&T stresses it's not mutually exclusive.
SBS' chief programmer declares "give me Great Railway Journeys or give me death" as rickety trains dominate schedule.
B&T chats with the delightful Andy Lee about his new gameshow. Yes, it took all our willpower not to ask about Megan.
If anything, Prince Philip is proof that the secret to a long life is a diet of quality gin, pheasant & casual racism.
Audience intelligence company Quantcast has announced the line-up for its upcoming event, Virtual NOVA: Advertising in 2021 and Beyond. Taking place on Thursday, 4 March at 12pm (EDT), the online event will see Quantcast and leading brands, agencies and publishers discuss the changes underway in the world of advertising and will explore ideas and solutions […]
It's more erudite musings from the wonderful Mark Lollback. Although B&T has removed the bit about the carpet cleaning.
QMS expands both sales and product teams. Meanwhile, sales still lead product 5-3 in interoffice ping pong tournament.
When it's all said and done, at least we know Facebook's boycott lasted longer than Britney Spears' 55-hour marriage.
As much as we feel for Junkee in the Facebook ban, our thoughts are with Wood Whittlers Gazette & Sewerage & Pipe News.
The news we've all been waiting for has arrived.
B&T predicting big things for the hydraulophone, the yatga & the two-stringed lute as Spotify expands into 85 countries.
Here's further proof not all the tech giants are evil, as Zuckerberg announces plans to open Ark Of The Covenant.
The Marketing Academy launch new virtual campus program. Which would certainly make wagging class easier.
On the upside, former triple J-ers Ben & Liam took Nova's cash, on the downside, that landed them in Adelaide.
B&T would like to correct that VIVA! is a wellness comms agency & not an absorbent paper towel as initially reported.
Eurovision returns after its COVID hiatus, as Shannon Noll returns from Carols By Candelight to declare availability.
You'll swell with national pride on this Spikes Asia news. Just don't grab a flag and head to Cronulla is all B&T asks.
Despite Facebook's news ban, Australians still finding a tonne of crap on the internet to mindlessly scroll for hours.
B&T conducts probing interview with Nova's Cathy O'Connor before being gently reminded of her recent move to oOh!Media.