Google Pushes For 13 New Emojis To Better Represent Women
Unicode Consortium, the nonprofit group that approves new entries for the the emoji keyboard), are currently debating which emojis will be allowed in its next update in mid-2017. Durex wants a condom emoji to be included and Google is pushing for 13 new female emojis to highlight diverse female careers and roles.
A group of Google employees have submitted a proposal, titled Expanding Emoji Professions: Reducing Gender Inequality, to the Unicode Consortium which hopes to bring parity between existing male emoji and female emoji.
"We believe we can have a larger positive impact by adding 13 new emoji that depict women across a representative sample of professions. We believe this will empower young women (the heaviest emoji users), and better reflect the pivotal roles women play in the world."
The four Google developers, Rachel Been, Nicole Bleuel, Agustin Fonts and Mark Davis, argue that the female emojis are overwhelmingly stereotypical- there's a bride, nail painting, hair grooming, dancing and burlesque bunnies. The men however are cops, doctors and playing sports.
The new emojis show woman in roles such as doctors, tech workers, mechanics, farmers, educators and rock stars. Check out the selection below: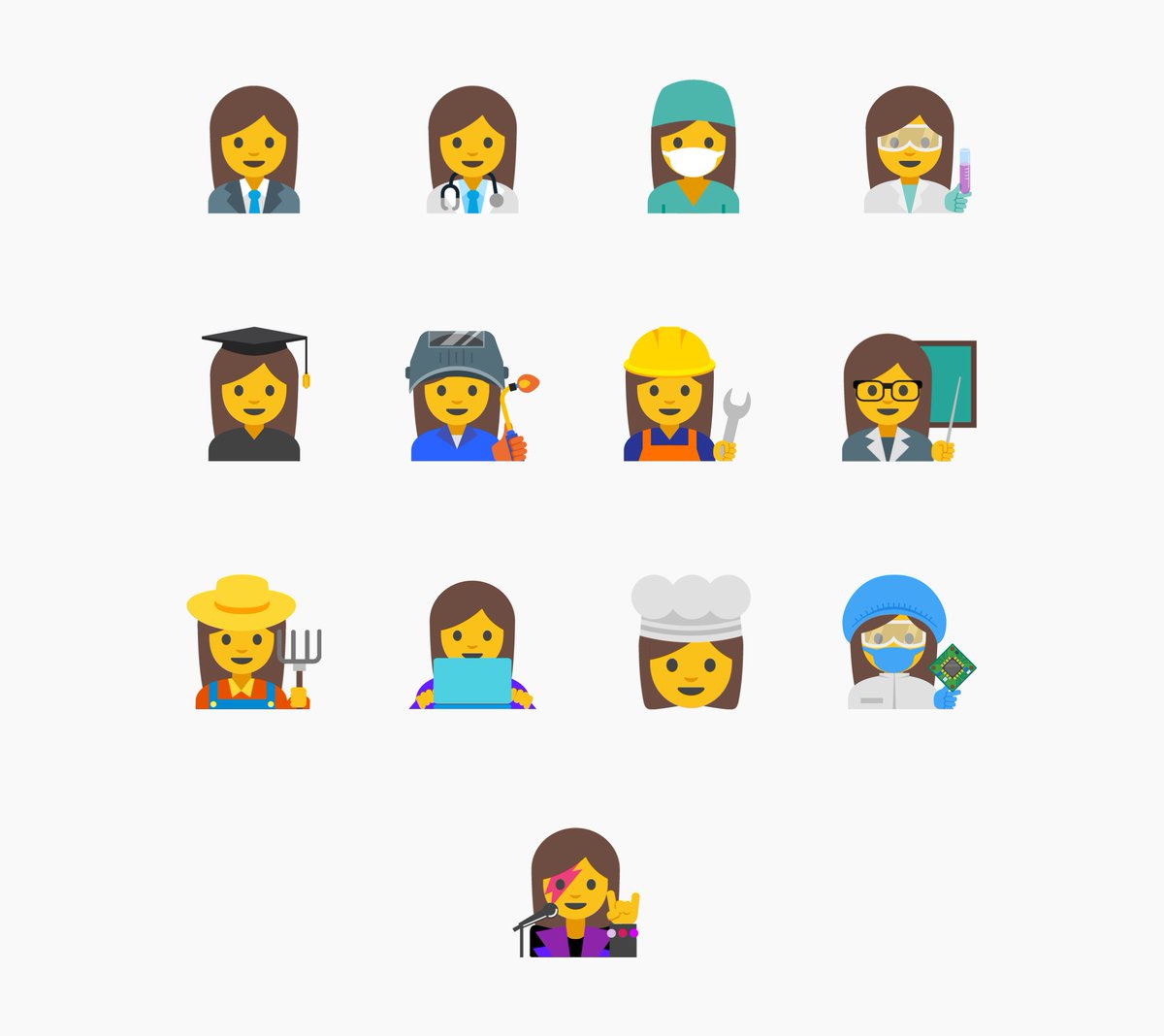 "No matter where you look, women are gaining visibility and recognition as never before," the developers said in a its proposal. "Isn't it time that emoji also reflect the reality that women play a key role in every walk of life and in every profession?"
The proposal is also pushing for gender-neutral options. The proposal said: "We recognize the importance of having an inclusive representation of all people in emoji, whether they identify with a specific gender or not. We believe an egalitarian, sensitive, and compelling representation of gender in emoji is extremely important.
"However, as this is not the focus of this effort, we suggest decoupling the gender-neutral representation of emoji from this proposal. We would encourage other members of Unicode to join us in creating a system of emoji design that can accommodate a broader gender spectrum."