Google Pushes For 13 New Emojis To Better Represent Women
Unicode Consortium, the nonprofit group that approves new entries for the the emoji keyboard), are currently debating which emojis will be allowed in its next update in mid-2017. Durex wants a condom emoji to be included and Google is pushing for 13 new female emojis to highlight diverse female careers and roles.
A group of Google employees have submitted a proposal, titled Expanding Emoji Professions: Reducing Gender Inequality, to the Unicode Consortium which hopes to bring parity between existing male emoji and female emoji.
"We believe we can have a larger positive impact by adding 13 new emoji that depict women across a representative sample of professions. We believe this will empower young women (the heaviest emoji users), and better reflect the pivotal roles women play in the world."
The four Google developers, Rachel Been, Nicole Bleuel, Agustin Fonts and Mark Davis, argue that the female emojis are overwhelmingly stereotypical- there's a bride, nail painting, hair grooming, dancing and burlesque bunnies. The men however are cops, doctors and playing sports.
The new emojis show woman in roles such as doctors, tech workers, mechanics, farmers, educators and rock stars. Check out the selection below: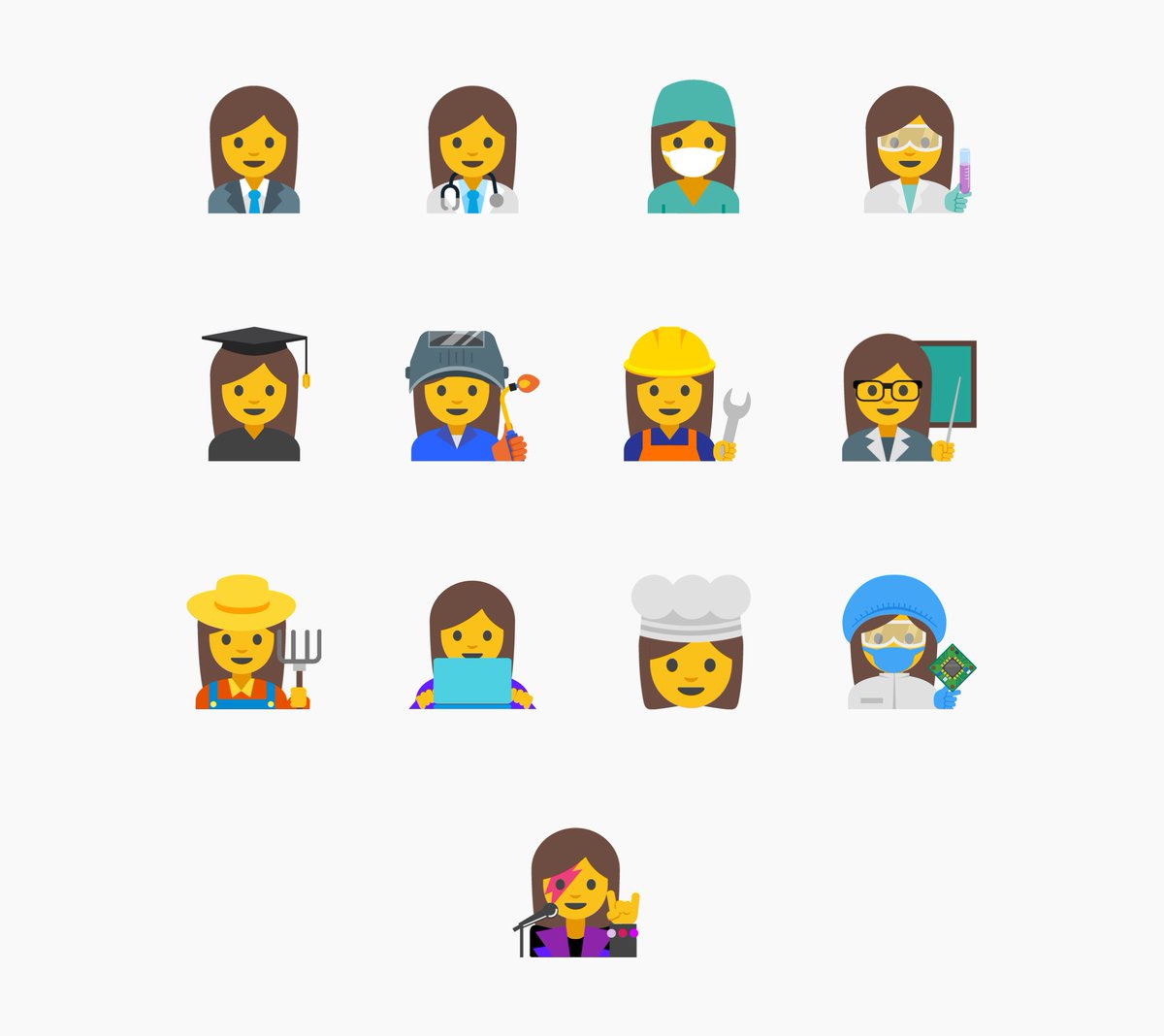 "No matter where you look, women are gaining visibility and recognition as never before," the developers said in a its proposal. "Isn't it time that emoji also reflect the reality that women play a key role in every walk of life and in every profession?"
The proposal is also pushing for gender-neutral options. The proposal said: "We recognize the importance of having an inclusive representation of all people in emoji, whether they identify with a specific gender or not. We believe an egalitarian, sensitive, and compelling representation of gender in emoji is extremely important.
"However, as this is not the focus of this effort, we suggest decoupling the gender-neutral representation of emoji from this proposal. We would encourage other members of Unicode to join us in creating a system of emoji design that can accommodate a broader gender spectrum."
B&T's calling on adland to get the nation vaccinated. Admittedly, that excludes conspiracy theorists & flat earthers.
Sarah Hanson-Young now Australia's most prolific serial litigant. And, it has to be said, she's got bloody good lawyers.
Queensland now considering adding "and just f@ck off" to its famous tourism tag "beautiful one day, perfect the next".
You can now get a phone delivered in an hour! Perfect for the bone idle or coke dealers getting hacked by the fuzz.
It's top tips on staying connected to customers during lockdown! Unless you hate them. Then that's a whole other matter.
Parents call out unhealthy food Olympics marketing. No one concerned about crotch grabbing in the Greco-Roman wrestling.
Thanks to the Olympics, all of a sudden skateboarding's cool again. Arguably good news for X-rays & plaster casts, too.
The Olympics again prove the world's just a big global family. Albeit a squabbling, semi-racist, passive-aggressive one.
Ben Fordham set to dose-up on the Temazepam and warm milk, as an extra week of sleepless nights awaits radio ratings.
Star Wars star becomes a centaur in Burberry ad & the jokes are writing themselves. Well, crude penis jokes, that is.
Ultimately, will the human thumb grow to resemble a sweet potato given its repeated workout on TV remote controls?
In further proof you should never attempt a re-brand over a pub session comes opr's return to original Ogilvy name.
It sounds like 6am Agency founder Gillian Fish will need to get up at 5.30am after taking on two new roles.
WeMoney is now not only the place to learn how to budget but a place to improve your financial literacy, with a raft of well-known fin-influencers now making content on the WeMoney platform to teach, share tips, tricks as well as find bargains. 
Advertising

Marketing

Media
Flight Centre rolls out overly optimistic campaign that doesn't feature typical cheesy actors pretending to be pilots.
A Sportsbet ad promoting safe gambling was certainly a rough outsider paying around $67.
Gotta hand it to Alan, he's been banned or sacked from every media outlet in the country & is still impeccably tailored.
There's medals for real sporting success, while B&T's Olympic wrap awards the blunders, the foot in mouths & the idiots.
Arguably, you need look no further than those utter morons last Saturday to realise Australia's tepid ad vax response.
From the audio producer of The Teacher's Pet comes The Elements, a new Acast Creator Network podcast hosted by Thredbo survivor Stuart Diver. The Elements is a  podcast that journeys into the heart of surviving a natural disaster and will be hosted and distributed by the creator-first podcast company Acast as part of the Acast Creator […]
Calls for Rebel's Afterpay ad to be banned. And throw in the diabolical 'Cats' & 'Pitch Perfect 3' while you're at it.
UnLtd unveils industry stepathon challenge. Admittedly, industry piggyback & leapfrog challenge a no-go at the moment.
NBA star Kyrie Irving has clearly been reading from the Shane Warne School of how to totally embarrass a major sponsor.
If you could somehow combine the Olympics, an amateur cookery contest & Lego assembly, would you have the ideal TV show?
Need to be the cleverest person at the next inter-company Zoom meeting? Astound colleagues by stealing freely from here.
Refinery29 Australia unveils Getty Images partnership. Sadly, no ceremonial sword, horses or any ribbon cutting either.
Facebook outlines plans to create a "Metaverse". Apparently, Mark's currently on Tatooine looking for Obi-Wan.
Wai Kwok named CEO Of Enero's Orchard and, by all reports, everyone is way cool with the idea.
Comms agency Herd MSL announces Foxtel win. Forgoes office party poppers on account of the new $1300 Dyson cordless vac.
DoubleVerify has today announced enhancements to its brand safety and suitability solution that include the introduction of DV's Brand Safety Floor as a turnkey option, extending Brand Suitability Tiers on YouTube, and more. Available to both advertisers and publishers since January 2021, Brand Suitability Tiers allow brands to align suitability settings with their own unique standards, […]