Choice Survey Finds Natural Beauty Products Aren't That Natural
Cosmetics products that are claiming to be natural or organic actually have a very small proportion of anything natural, claims consumer advocacy group Choice.
The article, by senior content producer Karina Bray, went through the cosmetic products at your daily supermarket which claims to be 'natural' or 'organic'.
The findings are not good: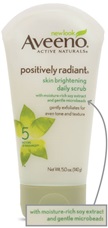 Aveeno Positively Radiant Skin Brightening Daily Scrub
According to CHOICE the 'moisture rich soy extract and gentle microbeads' in Aveeno's product are made from polyethylene. These tiny beads "end up in the sewage system and pass through the treatment system filters into the treated waste water stream and into our rivers and oceans. The particles have been found in the gut and tissue of fish and other aquatic animals such as shellfish, with unknown consequences for the animals and people who eat them."
Sukin
Sukin Organics produces personal care products made from plant-based ingredients and excludes many chemicals, such as parabens, SLS, SLES, mineral oil, and propylene glycol. However, with the exception of its rose hip oil, it doesn't claim any certified organic ingredients.

Nivea Pure & Natural Moisturising Day Cream
Probably the sassiest or snarkiest review from the CHOICE survey is the Nivea day cream containing 95 per cent of natural origin. "Generally speaking, the main ingredients in moisturisers are water, fat, glycerine and alcohol, all of which are readily available from natural sources, so it's not difficult to achieve 95 per cent natural origin."

Burt's Bees
"In the past, testing by the US Food and Drug Administration found traces of lead in Burt's Bees Lip Shimmer products, which raised concerns among natural cosmetics proponents.
"However, as Burt's Bees has pointed out, lead is a potential contaminant in the natural mineral sources used for lip colouring, and while the amounts present are too low to present any risk It says it's continually working to minimise or eliminate lead traces."
Bryan Barron, content and research director at cosmetic review site Paula's Choice, told Choice: "The word 'chemicals' tends to have a fearful, negative connotation among consumers but in truth, everything around us is composed of chemicals. Just like there are good and bad natural and synthetic ingredients, there are good and bad chemicals.
"There are lots of great natural ingredients just as there are lots of great synthetic ingredients – the best products utilise both to the consumer's advantage!"
To see the other natural products, click here.